Nightlife: Improv Asylum's Main Stage Show
Comedy at its finest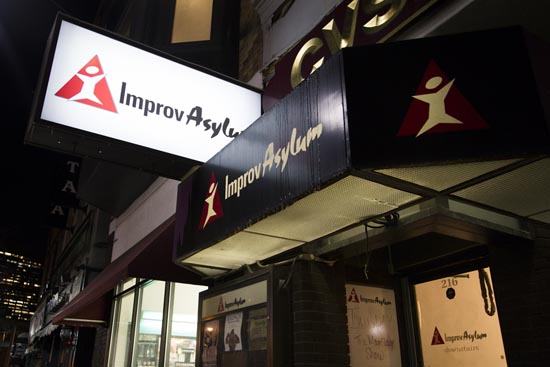 What do you get when you cross the improvised zaniness of Whose Line Is It Anyway? with the over-the-top sketch comedy of Saturday Night Live? The correct answer is the Main Stage Show at Boston's Improv Asylum in the North End.
Improv Asylum has become a Boston institution since it began 17 years ago. During that time the comedy theater has put on more than 6,000 shows for nearly two million people. We dropped by on a recent Thursday night to catch the Main Stage Show, its most popular and longest running event.
The theater, with its small stage surrounded by black chairs, isn't much to look at (it's housed in the old European Restaurant, once one of the North End's most popular eateries). However, that doesn't matter a bit when the cast—veteran performers Christine Cuddy, Brian DiBello, Kelly Dooley, Vicki Hanes, Tim Johnson, and Mark O'Connell—takes the stage. DiBello wasn't performing the night we attended, but even with a man down, the cast's chemistry, energy, and rapid-fire wit had the audience in stiches from beginning to end.
The Main Stage Show is a fast-paced mix of improvised scenes, prewritten sketches, and song-and-dance numbers. The best part of the show is the cast's ability to find the humor, and in many cases the silliness, in mundane activities. That night's highlights included a hilarious pantomime about a woman trying on skinny jeans for the first time while Irene Cara's "Flashdance…What a Feeling" played in the background; a Kafkaesque sketch about a bank robber foiled by a teller who won't let him rob the bank without first opening a savings account; and coverage of the 2024 Olympics, which Boston is vying for, featuring zany, Beantown-centric events, titled, appropriately, "The Irish Exit," "Making Eye Contact with a Stranger on the Street and Smiling at Them," and "Hugging without Touching."
One of the hallmarks of nearly any Improv Asylum show is audience participation. At certain points during the Main Stage Show, the cast invites audience members to shout out ideas—think theatrical version of Mad Libs—that then become the basis for improvised scenes. For example, a suggestion involving the Steely Dan song "Peg" became a nearly four-minute interpretive dance about office romances. A word of advice: if you're shy, it's advisable to sit in the back of the room. Those in the front row are often pulled up on stage to perform with the cast. One man participated in an improvised wedding toast, another was chosen for a red carpet–style interview, with the entire cast using off-the-cuff dialogue to act out his answers.
The latest version of the Main Stage Show, a 90-minute mix of one quarter prewritten sketches and three quarters improvised material, debuted last month. The show's format changes every six to eight months, so there's plenty of time to see the current incarnation before any retooling is done. (The Main Stage Show runs every Thursday, Friday, and Saturday.) That doesn't mean, however, that you should wait a half year before returning, since it's impossible ever to see the same show twice. Audience suggestions vary from night to night, guaranteeing a fresh array of jokes, situations, and conversations at every performance.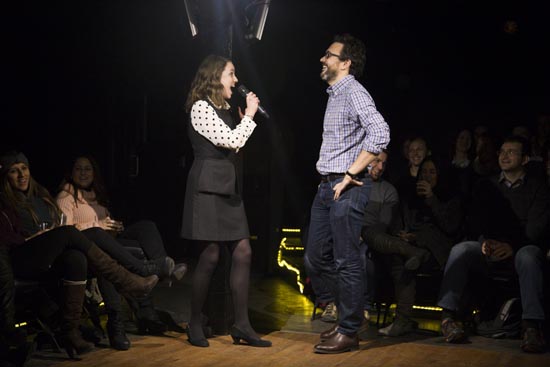 The Main Stage Show is open to anyone 17 or older, but audience members over 21 can also enjoy selections from the bar. The club serves draft beer ($6), bottled beer ($5), wine ($8), and a variety of creative cocktails named for the Main Stage cast ($9 to $12). For example, there's Kelly's Kiss from a Rose ($9), strawberry vodka, soda water, and cranberry juice, Vicki's Valentine ($9), a RumChata root beer float, and Cuddy's Candy Heart ($9), blood orange vodka and ginger ale. Drinks are allowed in the theater and are available before and after shows, as well as during intermission.
In addition to the Main Stage Show, Improv Asylum is the home of several other improvised and sketch comedy shows, including: The Show against Humanity, a "show for horrible people" based on the party game Cards against Humanity; Afternoon Delight, a fully improvised two-act Saturday matinee; and Raunch, an adults-only show that pushes the boundaries of good taste. With eight different shows performed several times each week, we only began to scratch the surface of what Improv Asylum has to offer. We'll be back.
Improv Asylum is at 216 Hanover St., Boston; phone: 617-263-6887. The Main Stage Show plays on Thursdays at 8 p.m. and Fridays and Saturdays at 7:30 and 10 p.m. Depending on the night, tickets for the show are $20 to $27 and can be purchased here. Improv Asylum also has other improvised and sketch comedy shows seven days a week. Find a full schedule of current shows and show times here. Plan to arrive 30 minutes prior to show time. By public transportation, take an MBTA Green Line trolley to Haymarket, and it's about a five-minute walk.
This is part of a series featuring Boston nightlife venues of interest to the BU community. If you have any suggestions for places we should feature, please leave them in the Comment section below.
Samantha Pickette can be reached at pickette@bu.edu.