Vikings: Menacing Marauders or Homebodies?
Forensic anthropologist Emily Peschel says tooth enamel answers the question
Viking lore sets up the ancient Scandinavians as violent plunderers of any land they could sail to, and they sailed to many. But over the past 50 years (beginning with British historian Peter Sawyer's The Age of the Vikings), historians have come around to believing that Vikings were not the barbarians they've often been made out to be. The historic misreading makes sense: Vikings didn't keep many written records, so most of what is known about them comes from people they conquered, who understandably would have held a grudge. In fact, historians now say, Vikings were quite civilized. They practiced excellent hygiene, and they were sufficiently progressive to grant women the right to inherit property and divorce their husbands. They also enjoyed recreational skiing and created one of the world's first chess sets.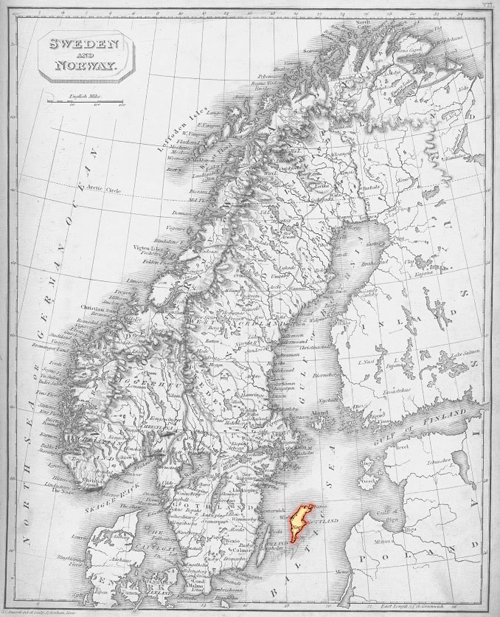 The idea of a kinder, gentler Viking is also supported by research conducted by forensic anthropologist Emily Peschel, whose analysis of skeletons and teeth exhumed from an ancient Viking burial ground in Gotland, Sweden, reveals that most were born and died in the immediate vicinity. Based on what she has seen, Peschel (MED'14) believes that most Vikings were content to farm or to work as tradesmen or craftsmen. Her data may also shed new light on how people interacted with one another at the time the Vikings ruled Scandinavia, between AD 780 and 1070. "While Vikings are known for invading areas and assimilating into the culture, my research showed that people in this port were all local," says Peschel, whose thesis project was funded by a scholarship from the American Swedish Institute. "In a previous dig, tons of artifacts and gold were found in this big trading port, so you would think others would try to take advantage of this economic prosperity. One explanation is that the Vikings in this port didn't allow foreigners to join their community." The Viking skeletons Peschel examined were uncovered by Swedish archaeologist Dan Carlsson over an 18-year period, starting in 1986. The bones came from Ridanäs, one of the largest ports on the island of Gotland, and one that was most active between the 6th and 12th centuries. Carlsson's excavations unearthed thousands of objects, including walrus ivory from the North Sea, silver coins from Islamic markets, and amethyst from the Arabian Peninsula, as well as a manufacturing workshop. The Vikings' skeletal remains had been stored for years in boxes at the University of Gotland. Peschel, who is of Swedish descent and has long had an interest in Viking culture, volunteered for a dig at the Gotland Archaeological Field School, and she asked for permission to study the remains as part of her master's thesis project in forensic anthropology.
Stories etched in bone
The skeletons Peschel studied were from 61 bodies buried in two Viking cemeteries on Ridanäs. Some, she says, had been cut in half by farmers plowing their fields over the years. Others had been damaged by the acidic soil. While still in Sweden, Peschel assessed the age and sex of the remains. She established that there were slightly more females than males, and she gauged the ages of death by studying the skulls' tooth wear ("The more wear a tooth has, the longer the person was alive," she says). Most Vikings in these cemeteries had died in mid-adulthood.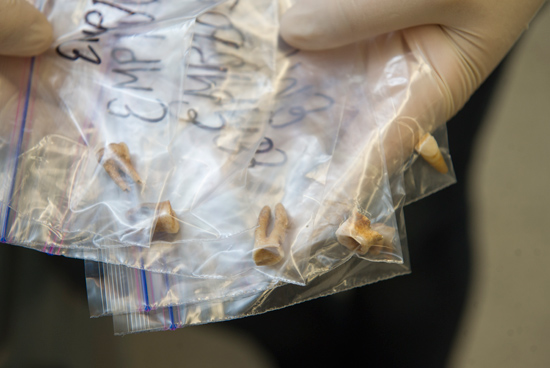 Peschel was given permission to bring the Viking teeth to Boston for further analysis. Most of the teeth had fallen out of their skulls, and she used dental forceps to extract others. To determine where the Vikings were born, Peschel conducted strontium isotope analysis on the teeth. Strontium (Sr) is an element that exists in the Earth's bedrock, and every time humans or animals drink water, strontium is ingested. Rocks and soil have distinctive percentages of the element, depending on where they are located (for instance, bedrock in Canada has been found to be the oldest in the world, while bedrock in Mexico is younger) and geologists have created geographic databases of these percentages. Nowadays, a forensic anthropologist can measure the amount of strontium in a tooth's enamel and match it to a specific place on the planet. That's what Peschel did, but not before establishing a baseline from 13 teeth from pigs, cows, and sheep. Her first step in the lab was to prepare the teeth for testing. She began by drilling a tooth's enamel into a fine powder and removing any excess dirt. Next she brought the enamel to the College of Arts & Sciences earth and environment department to be analyzed in its TIMS (thermal ionization mass spectrometry) machine.
Peschel's tests showed that the Vikings of Gotland were homebody Vikings—or at least had been buried in the same place they had lived. She found that 56 of the 61 teeth had strontium ratios that matched rock in Ridanäs or on the island of Gotland. The other five human samples had strontium isotope ratios that were well above the baseline range. She hypothesizes that the nonlocals were most likely from an area in northern Sweden, based on the strontium percentages that geologists had determined. "Considering that the Vikings are known for their voyages across the sea, this particular Viking community did not show the expected signs of mobility," she says. "Maybe traveling was left to the few Vikings who participated in raiding and trading, but Ridanäs kept a local population that worked in the trade industry, circulating objects around the world." Carlsson, today a Gotland University associate professor of archaeology and director of the Gotland Archaeological Field School, says a possible explanation for the finding may lie in the one written record the Gotland Vikings did keep: the Guta Law (Guta Lag), which describes the ways its people and foreigners were treated differently. The dearth of foreigners buried in Ridanäs, he says, aligns with the "closed" society of Gotland that seems to be the reality in the Viking Age and Early Middle Ages.
This Series
Also in
November 9, 2014

November 9, 2014

November 9, 2014