Digging in the Shadow of Death
CAS archaeologist works to keep artifacts out of the clutches of ISIS
Archaeologist Michael Danti was digging high in the jagged Zagros Mountains of Iraqi Kurdistan in June when Kurdish workmen gave him the news: the Islamic State of Iraq and Syria (ISIS) had stormed the northern city of Mosul. Tens of thousands of people were fleeing for their lives. While rumors of an impending invasion had been circulating for weeks, Danti never expected Mosul to be taken so swiftly.
"I started to immediately contact my friends in Mosul," says Danti, a College of Arts & Sciences assistant professor of archaeology, who in 2012 started a joint program with Iraqis to revitalize archaeological education in the country. "The rumors came in that ISIS had seized armories and were now armed to the teeth, and then they had seized the major gas refinery in Baiji. There were lines of cars on the roads that stretched for miles, people waiting to get gas….It was a strange time, when you're living and working up in the mountains and you don't have a lot of information."
Months later, Danti says he still can't mention the names of the Iraqi professors he worked with on the Mosul Archaeology Program (MAP), because they are under the threat of ISIS. "Before, MAP was the number one archaeology program in Iraq," he says. "It was designed to set the standard of how archaeologists in the country would be trained."
Danti, who also codirects the American Schools of Oriental Research (ASOR), a Boston University–based consortium of institutions dedicated to Near Eastern archaeology, has devoted his career to archaeological pursuits in the Middle East—and that hasn't been easy. More than a century of warfare and political upheaval has rendered much of Iraq off limits to archaeologists for decades. In fact, archaeology in Iraq has taken some giant steps backward: the looting of Baghdad's National Museum of Iraq in 2003 resulted in the loss or destruction of more than 15,000 artifacts and manuscripts covering 10,000 years of a civilization that invented mathematics, writing, and the wheel. Since that time, Danti and his colleagues have attempted to draw attention to archaeology in Mesopotamia, the valley, mainly in Iraq, between the Tigris and Euphrates Rivers, which is often called the cradle of civilization.
Much of that work, which employed US archaeologists to develop curricula and teach online courses for their Iraqi counterparts and students, was conducted through MAP, which was funded by the US Embassy in Iraq. The plan was to one day sponsor cultural study programs in both the United States and Iraq.
Allison Cuneo (GRS'16) worked closely with Danti as MAP program manager, and she says they have heard that most of the professors in Mosul are safe, but the future of the program remains uncertain. "These archaeologists were so close to being able to overcome what happened in the past 10 years," she says. "Then to have that shattered is incredibly scary."
"ISIS is purposely targeting, stealing, and sometimes destroying the cultural heritage and cultural property," says Danti. "It's a very important source of revenue for them. They especially like to loot the cultural heritage and property of religious and ethnic minorities, because they feel—within their vision of Islam, which is very unique—that their religion justifies what they are doing. That is frightening."
Mythical creatures and archaeological riches
While ISIS held Mosul, Danti and his team of 17 archaeologists and a large contingent of their crew continued their dig in Iraqi Kurdistan, a relatively unexplored area in the northeastern part of the country near the Iranian border. In 2013, the Kurdistan Regional Government awarded Danti and his Rowanduz Archaeological Program (RAP) a five-year permit for archaeological surveys and excavations in Soran-Rowanduz, two ancient cities carved out of rock in the Zagros Mountains. The Zagros, which stretch from Iran to Iraq, link northwestern Iran to northern Mesopotamia. Well-traveled but treacherous, the craggy limestone ridges were believed by some to be haunted by wild beasts and mythical creatures, yet from an archaeological perspective they are filled with riches. Neanderthal skeletons, the oldest barley beer and grape wine, and evidence of the first domesticated goats were all discovered there, where remote sanctuaries, rock inscriptions, and monuments are dedicated to ancient storm and mountain deities.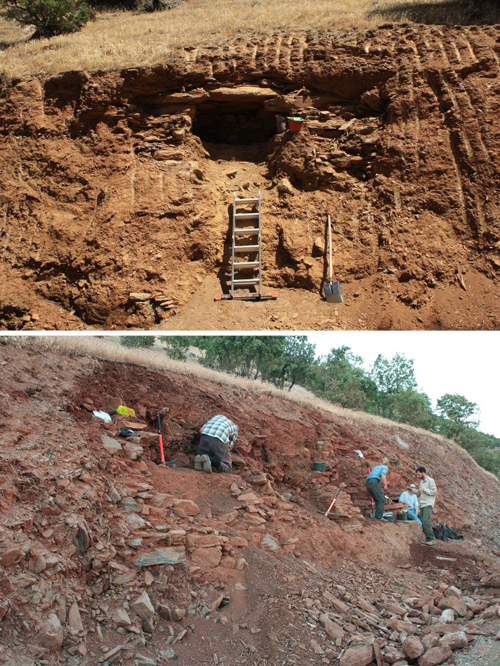 RAP field director Darren Ashby (CAS'08), a PhD candidate at the University of Pennsylvania, says the area has lots of greenery and closely resembles Wyoming and the Bighorn Mountains. "When people think of Iraq, they're thinking it's dirt and dusty, but it's mountainous in this area," he says. "There is a huge gorge and streams."
The RAP dig actually began by mistake: an overeager construction crew, widening a paved road that would intersect the mountain region in an area known as Sidekan, in 2013 inadvertently unearthed the cemetery of Ghabrestan-i Topzawa (which dates to 400 BC) and the long-ago burned settlement of Gund-i Topzawa (which was occupied from 1000 to 700 BC). Archaeologists explored the site further this year.
Ashby points out that archaeologists love burned remains, because a fire compels people to flee and leave items where they were being used or stored.
Danti believes the area was once the ancient kingdom known as Musasir, and that the blaze can be linked to an attack by the Assyrian king Sargon II, who sacked the kingdom's capital city in 714 BC, plundering the countryside as he went. This "sacrilegious" attack is well known to historians of the region, Danti says, but the exact location of the kingdom is unknown. "People have thought that this area may be Musasir for a long time, but we need definitive proof," Danti says. "I think we may find it next season."
While part of the team worked on that site, another group excavated a 65-foot-tall mound in the middle of a vast plain called Gird-i Dasht. Here they uncovered evidence of occupation and fortifications stretching from the second millennium BC to the early 20th century.
"It looked like the top of the site had been used most recently as a military outpost," says Cuneo. "We were digging through a lot of 1960s, 1970s things. And then we were getting down to possibly the Islamic layers. A lot of it was broken pottery, bones, razor blades. We think we found a latrine that would have been used by Saddam Hussein's soldiers."
The heat gets hotter
In June, as the team approached its last weeks in Iraq, things got worse. It was nearly impossible to find gas, says Danti, and there was heavy security on the highways and in the towns.
While working in a field one day, the archaeologists heard what sounded like a jackhammer. Although the noise continued off and on for some time, the team kept going with the dig. When the archaeologists returned to camp, they learned from a Facebook post that the "jackhammer" was the sound of Iranian bombs aimed at the Kurdistan Workers' Party (PKK), a militant organization known to hide high in the mountain region in Iraq.
There were plans in place to flee to the Turkish border if necessary, Danti says, and "it very quickly became a frenzy of recording, because we had to be ready to go at a moment's notice. But we kept going because we were trying to put a human face on the work we were doing."
Efforts to put a human face on the work have also pushed Danti in front of the camera after leaving Iraq. Since returning to Boston in August, he has talked with reporters from National Public Radio and the New York Times about how a fundamental part of ISIS's revenue stream is looted antiquities.
In September, Secretary of State John Kerry (Hon.'05) stood in front of a large crowd at the Metropolitan Museum of Art in New York City and spoke about the threat posed by ISIS to the people of Iraq and Syria.
"I want to thank Professor Michael Danti for shining a light on what is without question a global, critical challenge," Kerry said. "When it comes to elevating the fight to protect the cultural heritage of Iraq, Michael is…literally the gold standard. Michael was the first American archaeologist in more than half a century to gain access to the Zagros Mountains, and that's the Iraqi Kurdistan region along the Turkish and Iranian border…We are all profoundly grateful for his commitment."
Cuneo says the main goal of the Rowanduz Archaeological Program is to show everyone everywhere that archaeology is an important part of their ethnic, spiritual, and political heritage. "Archaeology is tied to personal identities," she says. "ISIS is not only trying to wipe people out that do not agree with them, but trying to wipe out the memory of these people as well."
This Series
Also in
November 9, 2014

November 9, 2014

November 9, 2014