Sargent Choice Test Kitchen Serves Up Community
Karen Jacobs welcomes guests weekly for food, friendship, and fun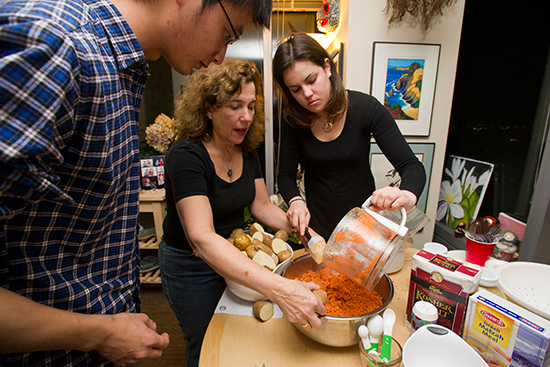 Visitors heard and smelled Karen Jacobs' apartment before they saw it. The low rumble of voices and the aroma of fried onions floated down the hallway, drawing guests like a magnet to her StuVi2 home.
Jacobs (SAR'79) is a Sargent College of Health and Rehabilitation Sciences clinical professor of occupational therapy. She's also one of 16 faculty in residence on the Charles River Campus and the host of the Sargent Choice Test Kitchen. She and a dedicated crew of students prepare a new dish each week—sushi, crepes, and black-bean brownies are among this semester's favorites. Some of the recipes they test end up in campus dining halls, where they're served up with less panache than in Jacobs' apartment: she once had a cellist perform and another time an astronomer projected the galaxy onto her apartment ceiling while she and guests cooked.
Although Jacobs has attracted hundreds of visitors to her apartment over the last six years to prep, cook, and share a late-night snack, it's clear the food is just a sideshow. The professor is the main event. She welcomes each student—whether first-timers or regulars—as an old friend, dishes out hugs and discreet advice as freely as food, and embodies a home away from home for her guests.
At 8 p.m. on a recent Wednesday, nine students had already made themselves comfortable. They helped themselves to tea and a cozy spot on the couch, which overlooks the Mass Pike and offers a stunning view of the Boston skyline. The professor, dressed in jeans and a black T-shirt, encouraged introductions and warned it wouldn't be the last time they'd go through the drill. (She was right. Introductions were made at least two more times as the visitors doubled over the course of the night.) The diverse crowd included a math finance major, a collegiate rower, a senior studying neuroscience, and—of course—a handful of occupational therapists.
Jacobs passed around recipes for Sargent Choice sweet potato latkes, and for the fun of it, talked about her Nana's traditional recipe in a nod to the approaching Hanukkah season.
"We are going to try both recipes at once," Jacobs said.
"Oh my god, the onions!" Inez Lee (SAR'15,'17) said knowingly.
Latkes are basically potatoes and onions passed through a food processer and held together in patties by egg and matzoh meal, and then fried in vast quantities of oil. It wasn't long after students started cutting onions that the air seemed to vibrate with their pungent odor and guests' eyes began to tear up.
Test Kitchen blogger and nutrition expert Caroline Patrick (SAR'14,'15) explained that they would be keeping the peel on both kinds of potato to retain nutrients, and would substitute wheat flour for the matzoh meal and spices for salt to make the traditional dish healthier.
Jacobs gave each student a task. While one group sliced onions atop her coffee table, another passed chunks of potato through a food processer. She pulled out a long, slender rolling pin and an old-school grater from a kitchen drawer, and above the din, shared that both had been her Nana's.
"This," Jacobs said, holding up the rolling pin, "was the only way she could reach them"—referring to her grandmother's children. And the grater, well, Nana used that every year to shred potatoes—and her knuckles—in preparing for Hanukkah.
Jacobs was everywhere at once—checking on the onion crew (slice, don't chop), busying idle bodies ("Who wants to fry?"), and greeting new guests (one woman arrived with her newborn just to say hi). "People will come all night," she said. "As soon as they start smelling the food, more people will come."
"How's the oil coming along?" Jacobs asked two students staring at hot skillets on her range.
"Should we add the oil?" Annette Ayzichek (CAS'17, SED'17) asked. Jacobs laughed and told them to go ahead, then recruited other students to make patties to flop into the sizzling oil. The group made so much batter between the two recipes that she fired up the oven to bake batches as well.
The first latkes were barely on the skillet when guests started saying their good-byes. Giving her a hug, Jacobs encouraged Ava Burton (COM'18) to take a baggie of Nana's batter home with her. Burton was happy to oblige.
"We never have food left," Jacobs said as Burton left. "We feed the guards."
Sweeping flour from her shirt, she cleared the coffee table so students could play with a dreidel. "A, we're expecting you to sing in the chorus here," she said.
"I have a horrible voice," said A—Abdullah Shubayh—a Center for English Language & Orientation Programs student from Saudi Arabia.
Shubayh is a regular and calls Jacobs his "American mom." Lee, Queenie Yeung (SAR'15,'16), and Janvi Patel (SAR'15,'17) have come since their freshmen year for the food and friendship. They are members of the community Jacobs builds around her—whether through weekly dinners, introducing neighbors to her grandchildren, or helping students cook their first Thanksgiving dinner away from home.
Soon plates of latkes circulated the room. The sweet potato version had a caramel-like flavor and pleasantly coarse texture, while Nana's were crisp on the outside, creamy in the center, and—paired with applesauce and sour cream—a delicious late-night treat. Students picked at fried bits left on serving plates and waited for the next round to come from the skillet. Others said quick good-byes and promised to come back in the spring for the next round of Test Kitchen. Jacobs wants to try low-cost recipes to help seniors with the transition to the tight budgets they're almost certain to have after graduation.
Seeing how fast the latkes were disappearing, Jacobs said, "We have to remember the guards! They're still traumatized about the crepes."
Apparently, last week the guards got the filling, but no crepes.