Music and the Brain
CAS student's twin passions inspire a symposium and concert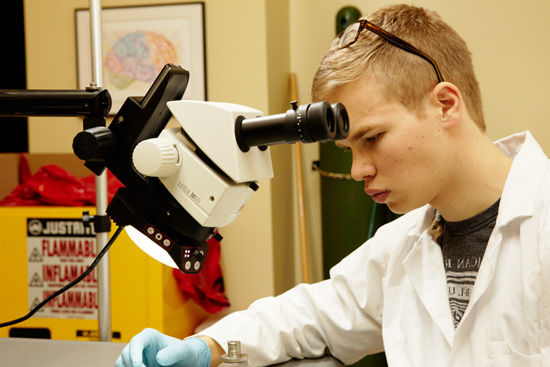 Kameron Clayton was dissecting a sheep's heart at a time when most kids were learning the days of the week. As a first grader, he attended a private school on a farm in Shelburne, Vt., where the curriculum focused on ecology, plants, and animals, "everything that would get you thinking about the world around you," says Clayton. "It opened my mind to the incredible internal workings of life.
Clayton (CFA'15, CAS'15) grew up in a family that prized scientific inquiry (his mother is a middle school science teacher), entered numerous science fairs during middle school, and by high school was participating in the University of Vermont's Brain Bee, a statewide competition for high school students interested in neuroscience. He placed second both junior and senior year.
His passion for science is equaled only by his love of music. He started singing in the church choir as a boy and by fifth grade had started playing the euphonium, then fell for the tuba. "I loved everything about it," says Clayton. "It was a chance to be the foundation of the school's wind ensemble and symphony." He started listening to renowned tuba soloists who were exploring new lyrical and technical possibilities.
At the same time he picked up Oliver Sacks' best-selling Musicophilia, which chronicles the powerful ways music has affected people with certain medical conditions. It was a eureka moment for Clayton, the first time he realized that his twin passions informed each other.
When it came time to apply to colleges, Clayton chose BU because he could major in both music (his focus is tuba performance) and neuroscience. "Music in human culture is a great mystery," he says. "It elicits deep emotions, it has the power to change one's mood. After traumatic head injuries or a stroke, people can learn how to sing before learning to speak. Even someone with an abnormal gait can learn to walk again to the rhythm of music. What really interests me is, how does all this happen?"
It's a question Clayton has been exploring since arriving at BU, and he has organized a symposium on the subject. Titled The 2014 Boston University Music and the Brain Symposium, the event is being held tomorrow and will showcase the growing research in the field and where the science is going. Clayton says he got the idea for the project after attending several conferences last spring. One at Berklee College of Music "opened my eyes to how music could be used as a form of therapy," he says.
Clayton wondered what it would be like to bring together some of the world's leading neuroscientists studying music and its interaction with the brain. He pitched the idea to his advisor and mentor, Paul Lipton (GRS'01), a College of Arts & Sciences professor of neuroscience and director of the undergraduate neuroscience program. Lipton was immediately intrigued.
"I thought, wow, that's a great idea and a very big undertaking," Lipton says. "I thought it was very ambitious and very timely." He points to a number of recently published articles and books—including Musicophilia—as evidence of the growing attention to the connection between music and the brain in the last few years. "It's something that's entered the popular imagination."
Identifying the speakers and performers for the symposium (the evening portion features a concert) was all Clayton's doing. Lipton oversaw all of the organizational aspects and helped his student secure funding.
The goal of the symposium is to provide the lay of the land on the subject—what led each scientist into the field, where the science currently is, and where it's going. Lipton predicts that the event will appeal to all manner of people. "There will be folks who will be interested in the basic science," he says, "and for others, it will better clarify what we mean by music and how we process it. Others might have very little interest in science, but it's a chance to create some understanding of the relationship between music and the brain."
Clayton says three neuroscientists' names kept popping up in his research: Gottfried Schlaug, director of the Music and Neuroimaging and Stroke Recovery Laboratory at Beth Israel Deaconess Medical Center and Harvard Medical School and a Harvard associate professor of neurology; Aniruddh Patel, a Tufts University associate professor of psychology, whose work focuses on music cognition; and Robert Zatorre (CAS'76), principal investigator at the Auditory Cognitive Neuroscience Laboratory at McGill University's Montreal Neurological Institute. All three agreed to participate.
"I tried to write really nice invitations," Clayton says. In fact, the note he sent Zattore, who had majored in music and psychology at BU, struck a particularly responsive chord. Zattore told Clayton that his interests mirrored his own when he was a student here.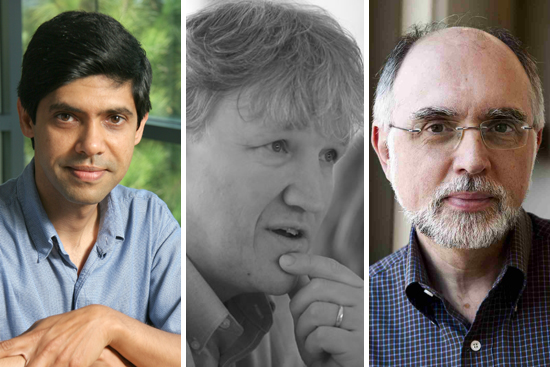 Tomorrow's symposium has two parts. The afternoon panel will be moderated by Jason Yust, a College of Fine Arts assistant professor of music composition and theory, who counts music cognition among his research interests. The panel will be followed by a concert at 7 p.m., with performances by violinist Sarah Atwood (CFA'14), who will play John Corigliano's Red Violin Caprices, and the Boston Symphony Orchestra Brass Quintet. The concert will include a panel discussion moderated by Benjamin Juárez, dean of CFA.
"This is exactly the kind of student initiative we want to help fund," says Ty Furman, managing director of the BU Arts Initiative, one of the symposium's sponsors. "Kameron is facilitating an opportunity for the BU community to explore the connections between science and art without reducing the art simply to scientific components, but celebrating the beauty and mystery of art as well." Other BU sponsors are the Center for Memory & Brain, neuroscience undergraduate and graduate programs, the CFA School of Music, and the Center for Computational Neuroscience & Neural Technology.
In addition to studying for two degrees, Clayton practices the tuba 30 hours a week and is co-editor in chief of The Nerve, BU's undergraduate neuroscience journal. He plans to take a year off after graduation to focus on the tuba before applying to PhD programs for music and the brain.
He hopes the symposium brings together all of the people at BU who have an interest in the field of music and neuroscience and that it leads to some exciting research. "I figure if all these people are brought together in the same room," he says, "something could happen."
The 2014 BU Music and the Brain Symposium is tomorrow, Friday, March 28, from 1 to 5 p.m. in the Life Science & Engineering Building, Room B01, 24 Cummington Mall. A concert and panel discussion in the same location starts at 7 p.m. Register for the afternoon and/or evening sessions here Both events are free and open to the public. To get there by public transportation, take an MBTA Green Line B trolley to Blandford Street.