Lunch, Anyone? Roka
Hip, modern Asian cuisine comes to Medical Campus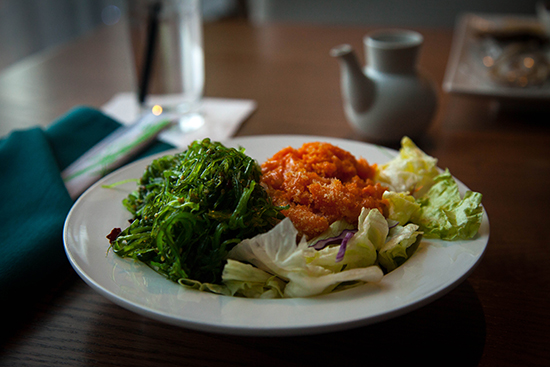 Until recently, it's been slim pickings when it comes to grabbing lunch at the School of Public Health's Crosstown Center: stale bagels from Dunkin' Donuts, lukewarm chicken soup from the sparse selection at Boston Medical Center's cafeteria, or as a last resort, hitting one of the campus vending machines. But with the recent arrival of Roka, offering a variety of pan-Asian dishes, lunch in the area is looking up.
The 7,000-square-foot modern-looking restaurant, which opened in September, features a double-sided bar with sushi on one side, cocktails on the other. We stopped by for a late lunch recently and were seated immediately by a friendly host. An equally friendly and attentive server promptly brought us water. We opted to sit in one of the plush booths that overlook the lively sushi bar. The restaurant is dark, but in a romantically moody way, and although the décor has a decidedly upscale vibe, a variety of clientele—from students huddled around laptops to professionals in business suits at the bar—were in evidence.
Roka's theme—"modern Asian cuisine"—is reflected in its selection of inventive Japanese and Chinese dishes. Standard sushi favorites like salmon ($4.50 for nagiri, $7.50 for sashimi) and Futo Maki ($7.25) are offered alongside more imaginative items such as Passion Escolar, a roll that marries "torch white" tuna and scallops wrapped in red tobiko flake, crusted sticky rice ($13.95), and the signature Roka Maki—colorful sushi stuffed with spicy yellow tail, avocado, and salmon and topped with a mouthwatering combination of taro flank and miso sauce ($15.95). Roka's Chinese offerings are less edgy than the Japanese fare, but include a wide selection of classics like sweet and sour pork ($12.95) and lo mein ($9.95). And the "Family Favorite Dishes," with such non-Asian lunch and dinner options as cheeseburger with fries ($9.95), guarantee something for everyone.
We started with a platter of six blue oysters ($9.95) and a plate of spicy sashimi billed as Yellowtail Jalapeño ($8.50). The oysters, presented on a bed of ice with lemons and a purple hibiscus flower that gave the monochrome dish a welcome pop of color, came out swiftly and were chilled and succulent, with subtle, refreshing notes of melon. They paired well with the Yellowtail Jalapeño, four delicately sliced pieces of raw yellowtail, each topped with a thin jalapeño wedge and a dab of Sriracha sauce. The yellowtail was lightly coated in a citrus soy sauce that worked well with the spicy flavors and the fish's silky texture.
For our main course we split an order of Spicy Tuna Maki ($6.95), vegetarian Pad Thai ($10.95), seaweed salad with spicy salmon ($8.95), and Sweet Lobster Maki ($13.95), one of Roka's numerous daily specials. The tuna maki arrived first, a deliciously creamy tuna embedded with flakes of tempura, giving the roll a nice crunch. The seaweed in the salad was tender, with a crisp, salty tang that nicely complemented the kick of the spicy salmon. The presentation of the pad Thai left a lot to be desired: it's few lackluster vegetables, including onions, carrots, and bean sprouts studded with peanuts, poked out of a pile of dull noodles. Happily, in this case the looks were deceiving. The noodles were hot and savory, and although we wished for more vegetables, what were there gave it just the right amount of zing.
The only real disappointment was the lobster roll. The menu describes the dish as sweet potato tempura, topped with lobster, avocado, mango, tobiko, and house mayo, so we expected it to packed with a variety of flavors. Unfortunately, it was overwhelmed by one ingredient—the yam tempura. Drowning our lobster roll in soy sauce and wasabi was the only way to make it taste even slightly more interesting.
Our meal did not end on a sour note, though: we ordered the house-made Mochi Green Tea ice cream ($4.23) for dessert. This Japanese confection is not to be missed. We devoured the tart and creamy ice cream encased in a sweet rice dumpling, which was so soft and buoyant it felt like a pillow on your tongue, at record speed.
All told, the food, ambience, and exceptionally friendly and attentive staff made for a memorable dining experience. The prices are slightly expensive, but seem reasonable given the abundance of fresh fish on the menu. And in a fitting nod to Roka's primary clientele (the SPH community), all tables are dotted with minimalist ceramic urns of low-sodium soy sauce.
Roka is at 801 Mass. Ave., Boston; phone: 617-989-9988; hours: daily, from 11 a.m. to 2 a.m. (the kitchen closes at 1 a.m.). Roka takes reservations; make a reservation here or call the restaurant. All major credit cards are accepted. By public transportation, take an Orange Line MBTA train to the Mass. Ave. stop. Up to two hours of free parking during lunch and three hours of free parking during dinner is available ($4 an hour over that). Takeout is available.
This is part of a weekly series featuring Boston lunch spots of interest to the BU community. If you have any suggestions for places we should feature, leave them in the Comment section below. Check out our list of lunchtime tips on Foursquare.
Sascha Garrey can be reached at sgarrey@bu.edu.
This Series
Also in
April 18, 2018

April 11, 2018

March 29, 2018