Lunch Anyone? Le's Vietnamese Cuisine
An inexpensive Allston restaurant specializing in noodle soups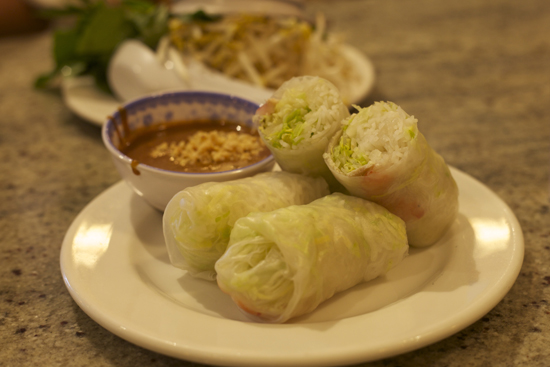 Don't let the nondescript décor or the hit music turn you away from Le's Vietnamese Cuisine. The restaurant's inexpensive and satisfying noodle soups make up for any deficits in the ambience.
Formerly Pho Pasteur, Le's has been cited by Zagat and the Boston A-List as one of the best restaurants in Allston, serving up traditional Vietnamese dishes, including a roasted quail appetizer ($9.50) and a sweet, thick avocado shake with chewy tapioca pearls ($2.95).
During a recent visit, we were quickly seated at a booth and decided to start off with one of Le's most popular Vietnamese appetizers, goi cuon ($4.25). Served with a peanut dipping sauce, the low-fat summer rolls consisted of shredded lettuce, mint, rice vermicelli, and a choice of sliced pork, shrimp, or both—all wrapped in soft rice paper. You can replace the meat with tofu for a vegetarian-friendly option, or go for the grilled version ($4.75) with grilled beef, chicken, or pork. It was an excellent way to begin a lunch—the dish was delicately flavored and fresh.
Of course, no Vietnamese restaurant is complete without delicious noodle soups (pho hoac mi), and at Le's you have your choice of beef, chicken, and seafood soups, with white (pho) or yellow (mi) noodles, topped with scallions, onions, and cilantro. The bowls come in small ($6.50), medium ($7.25), and large ($7.95) sizes and are served with a side plate of bean sprouts, fresh basil, sliced lime, and green chili pepper to be added to the soup. If you come particularly hungry (it's best if you do), try Le's most popular noodle soup, xe lua ($7.95), with extra-large noodles, sliced eye round beef, well-done brisket, flank, tendon, and tripe. But beware: for most people, the serving size can feed two. You can order the same soup in small and medium sizes, too. It's the perfect comfort food for a cold, winter day.
Le's offers fresh Vietnamese salads, including shrimp or chicken salad (Goi hoac Tom) served with shredded carrots, cabbage, daikon, mint, and roasted peanuts and tossed with homemade fish vinaigrette dressing ($7.25), as well as an extensive seafood menu, including lemongrass shrimp ($10.25), fresh shrimp with yellow lemongrass sauce, onions, scallions, and roasted peanuts, and fresh squid with scallions ($10.95). The restaurant also offers several dishes cooked in fire pots, including Bo Nhung Dam ($19.95), rare steak cooked with rice vinegar and lemongrass broth. You can create your own rolls, with rice paper, sliced cucumbers, tomatoes, mint, green leaf, and vermicelli. Dipping sauce is provided on the side. And then there are the nearly dozen vermicelli dishes from which to choose.
Vietnamese cuisine is all about balancing sweet and sour with hot and bitter flavors. For a sweet counterpart to your salty soup, try one of Le's fruit shakes ($2.95), with your choice of fresh strawberry, pineapple, coconut, avocado, jackfruit, durian, or mung bean, blended with ice and sweetened condensed milk. For an even sweeter dessert, order the sua dau nanh ($1.50), sweet soy bean milk served warm in a small mug. If these options are too sweet for you, and you still want to enjoy a traditional Vietnamese drink, consider pairing your meal with the simpler, traditional hot or iced Vietnamese-style coffee ($2.95), a dark roast coffee with sweetened condensed milk.
Le's lives up to its name as one of Allston's best restaurants. And it doesn't let you forget it, either, with decade-old awards—mostly from Boston magazine and dating as far back as 1995—lining the entrance. Large windows allow ample light to fill the restaurant, even on a cloudy day. Divided into two large seating areas on one side and a smaller one on the other, the restaurant is furnished with small and large tables to accommodate parties of all sizes. The large portions, low prices, quick service, and most important, tasty dishes put this Vietnamese restaurant above the rest in the area.
Le's Vietnamese Cuisine, 137 Brighton Ave., Allston, is open Monday through Thursday, 11 a.m. to 10 p.m.; Friday, 11 a.m. to 10:30 p.m.; Saturday, 11 a.m. to 10:30 p.m.; and Sunday, 11 a.m. to 10 p.m. Phone: 617-783-2340. The restaurant accepts MasterCard, Visa, and American Express, but not Discover. Take any MBTA Green Line trolley to Harvard Avenue. Le's has additional locations at 36 Dunster St., Cambridge, and at the Atrium Mall, 300 Boylston St., Chestnut Hill, which offers a sushi menu in addition to the restaurant's regular menu. Online ordering, delivery, and take-out are available. Le's takes reservations.
This is part of a weekly series featuring Boston lunch spots of interest to the BU community. If you have any suggestions for places we should feature, leave them in the Comment section below. Check out our list of lunchtime tips on Foursquare.

Sonia Su can be reached at ssu@bu.edu; follow her on Twitter at @SoniaSu_.
This Series
Also in
April 18, 2018

April 11, 2018

March 29, 2018