A Haunting View of Suburbia
Todd Hido's photographs featured in new BU Art Gallery show
American suburbia has long captivated the imagination of writers, filmmakers, and artists. But few have managed to capture its isolation and anonymity better than photographer Todd Hido, whose work is the subject of a new exhibition at the Boston University Art Gallery (BUAG) at the Stone Gallery.
Titled Todd Hido: Excerpts from Silver Meadows, the show takes its name from the neighborhood in Kent, Ohio, where the photographer grew up in the 1960s and '70s. Taken together, the photographs—houses, winter landscapes, posed female models—provide a disquieting narrative that by the photographer's own admission is semiautobiographical.
Hido describes the 100 photographs, many taken in and around Kent, as the story of "a loose, fictitious place based on inadequate memory."
There are many overtly biographical elements in the show, including several photos of Hido's father, Barry, taken by others. Those photos offer a tantalizing, if enigmatic, family narrative. In an early photo, the older Hido, a strapping blonde, is wearing his college football uniform, the embodiment of the All-American athlete of the 1960s. But later photos hint at something darker: in one, he is dressed in stained clothing, hoisting a beer keg in one arm, his son in the other, empty beer bottles in the foreground. In another, he is nearly unrecognizable, balding and middle-aged, slumped in a chair holding a diploma.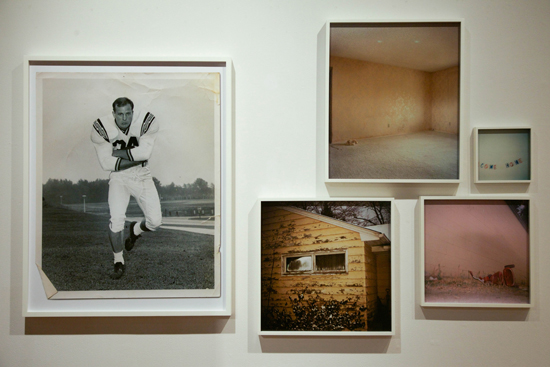 Hido has said little publicly about his childhood, but in a lecture he gave several years ago at the Academy of Art University in San Francisco, he noted that "things have a way of coming back to you. You migrate towards the things you had trouble with."
That sense of a troubled childhood is amplified in Hido's piercing photographs of houses and apartments, most taken at night. It's easy to see why these images have earned him national recognition. They have an eerie quality, the presence of human lives only hinted at. In a photograph of a blue trailer at night, a lit window offers the only hint that the place is inhabited. In others, a pickup truck glimpsed through an open garage or a trash can next to a house are the only ghostly suggestions that people live here.
There is a haunted, elegiac feel to many of the photographs. One shows a tricycle overturned next to a building covered in graffiti. A toy car lies in a weed-strewn lot in another. A particularly memorable photograph is of a room whose only item is an old-fashioned white rotator phone with the receiver off the hook. In each, Hido conveys a sense of abandonment. It's as if we've arrived on the scene just hours, even minutes, after everyone has left.
The show is punctuated by photographs of various female models. These, too, suggest a suburbia populated by filthy motels, foreclosed homes, and seedy bars. There is a kind of film-noir, hard-bitten quality to these women. Some are nude, others are posed in sexually suggestive ways; for the most part, they are shot in harsh, unflattering light. It's easy to imagine these women living in the trailers and lonely houses in Hido's photos. The overt sexual nature of some of the photos has troubled some critics. By way of explanation, Hido has said, "You write what you know. I grew up at the margins of society…those were the kind of people that I was around and so that's what I make my work about."
The show offers up some stunning landscapes, proof of Hido's versatility as a photographer, and something of an antidote to all the neglected homes, garishly lit motels, and trash-strewn lots. Most were shot in snow or rain, the precipitation giving them a sense of movement and fluidity. But there is also a tranquility here absent in the other works on display. Hido shot many of the landscapes from inside a car, the camera gazing out a window or the windshield.
It's striking that none of the photographs in the show have titles. Each is given only a number. In a 2012 interview, Hido offered a reason for avoiding titles and artist statements. "I'm always amazed at how the meaning of an image really resides in the viewer," he said. "So I don't pass on any information that might lead the viewer to any kind of conclusion about the work. Ambiguity is one of the finest tools to use in making art."
Kate McNamara, BUAG director and chief curator, saw the Hido show when it was first mounted at Cleveland's Transformer Station earlier this year, and was thrilled, she says, when she learned that the curator there was interested in touring the show. Describing Hido's work as "cinematic in scope," she acknowledges being troubled by some of his images, but is captivated by others. "While hanging the show, at times I felt very far away from these images, often frustrated with the portrayal of women, and at other times completely moved by the watered-down landscape shot on a rainy day through the windshield of Hido's car," McNamara says.
Now based in Northern California, Hido has strong ties to New England. He earned a BFA from the School of the Museum of Fine Arts/Tufts University and later studied at the Rhode Island School of Design, then earned an MFA from the California College of the Arts in Oakland.
Hido began taking pictures as a child after his mother, who worked in a drugstore, gave him a camera. He first took pictures of his toys, but didn't become hooked on photography until his teens, when he began racing BMX bikes and started to take pictures of his biker friends.
Influenced by artists as diverse as Edward Hopper, photographers Dorothea Lange and Walker Evans, and director Alfred Hitchcock, Hido is known for being something of a perfectionist when laying out his work in book format, reshuffling images over and over. Unlike many of his contemporaries, he's thus far refused to embrace digital photography, preferring to shoot with film, using a Pentax 6×7 medium format camera and a Kodak Portra 400NC. Known for his mastery of color and what McNamara calls his ability to create "gorgeous, saturated, almost painterly, photographs," Hido oversees all of his own printing, because "you have to find the color," he says. "I shoot like a documentary photographer, but I print like a painter."
Todd Hido: Excerpts from Silver Meadows offers visitors a view of a distinctly personal narrative about an America that often goes unnoticed. After seeing this show, you may look more carefully the next time you drive past a strip mall or a house with a foreclosed sign in the front yard.
Todd Hido: Excerpts from Silver Meadows is at the Boston University Art Gallery at the Stone Gallery, 855 Commonwealth Ave., through October 19. The gallery is open Tuesday through Friday from 10 a.m. to 5 p.m. and Saturday and Sunday from 1 to 5 p.m. It is free and open to the public.
Learn more about Todd Hido here.