The Unsung Heroes Behind Nemo Cleanup
BU staff, students work double, triple shifts
About 12 hours into their long shift on Saturday, Joseph Pereira and his custodial crew hit a wall. It was 3 a.m. and the snow was falling at a rate of two inches an hour, with wind gusts that made it impossible "to see a foot in front of your nose," Pereira recalled. He and his team were forced to retreat inside East Campus buildings, where they crashed on couches until 7 a.m., when they returned to battle the storm for another 16 hours—stopping only for the occasional cup of coffee and bite to eat or to find an indoor haven to warm frozen fingers and toes.
Funnily enough, "everybody was happy," said Pereira, who has been a BU custodian for nearly 20 years. "The way the University treats all custodians, we can tell people care for us, and we care for them."
Pereira was among several hundred BU employees with jobs deemed essential who worked double, and in some cases triple, shifts over three days to clear snow, feed hungry diners, provide security, and staff Student Health Services and the BU Medical Campus as other employees waited out the storm in the comfort of their homes.
Although not as fierce as the fabled Blizzard of '78, Nemo (as the weekend blizzard was christened), did make it into the record books. Between Friday morning and late Saturday afternoon, the winter storm dumped more than two feet of snow on Boston and the surrounding area, produced hurricane-force winds, and caused flooding in coastal communities, making it the fifth worst blizzard in the city's history.
While Boston maintenance crews removed snow from major roadways like Commonwealth Avenue, BU staff took care of everything else around campus. Ray Bourgeois, manager of grounds and masonry, directed two shifts of 28 snowplow and Bobcat operators as they removed snow from side streets, parking lots, and sidewalks starting early Friday and continuing until noon Saturday. He made sure that his staff remained safe, kept their spirits up through the long slog, and were able to repair equipment whenever it broke down—which, as it turns out, was often.
When he finally left BU Saturday afternoon, Bourgeois went home and immediately set about shoveling his own driveway. Sunday wasn't much better—he woke to water leaking through his roof from frozen ice dams. Five hours of high-altitude shoveling later, he was finally able to rest.
"It was definitely an experience," he said. "Hopefully we don't see another one of those for a long time."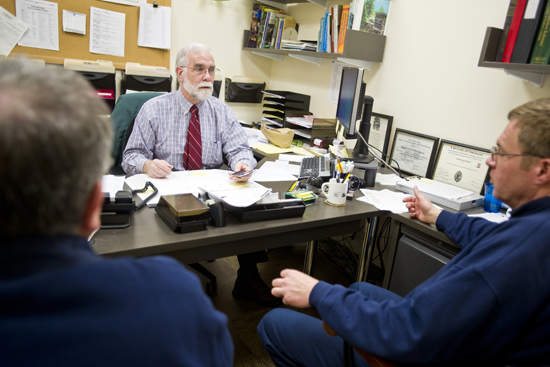 Across the Charles River Campus, a total of 15 custodial crews cleared snow from sidewalks and stoops abutting University buildings. Demka Fehric, a custodial area manager for Central Campus, led a team of 10 people from early Friday morning through Saturday afternoon, occasionally taking breaks to catch a nap on lounge couches or fuel up in a dining hall. Her team experienced few problems, beyond some snowblowers running out of gas near the end of the storm and the biting wind that "hit your face almost like a needle." Her solution for the wind? Vaseline: "Everything just slides off."
On the Medical Campus, director of facilities operations James Munroe remained on site from early Friday morning through late Sunday afternoon (abetted by occasional naps on his office air mattress) to coordinate 10 truck drivers and 15 custodians tasked with clearing snow in whiteout conditions. "They'd do a sidewalk," he said, "and 15 minutes later it'd look like they hadn't done a thing"
BU staff and Boston Medical Center employees teamed up to ensure that everyone staying through the storm was well fed, had a place to rest, and could park their car—despite the citywide parking ban in a neighborhood with few open lots.
About 70 Charles River Campus Dining Services staff couldn't get to work, but the dining halls managed to remain open despite a bare-bones crew, bolstered by student employees like Anna Knox (SAR'14). She normally works 10 hours a week as an office assistant and concessions manager, but between Friday and Saturday alone, she logged 28 hours.
"I just did pretty much whatever they needed me to do," Knox said, including sautéing onions, staffing the pizza station, and calling cabs to take staff home. "As stressful as it was, it was a lot of fun. I love my coworkers and bosses."
Some 50 of the shifts were covered by student employees who volunteered to fill in.
According to marketing director Scott Rosario, Dining Services served about 33,000 meals from Friday to Sunday, about 2,000 more than usual.
Executive chef Chris Bee oversaw 200 student and Dining Services employees, who daily fed 11,000 diners breakfast, lunch, and dinner over the long weekend. In many ways it was a typical weekend for him, except that when his shifts ended, he personally shuttled employees to and from their homes or a nearby hotel, where BU had rented 60 rooms for essential staff. On Friday, he even drove employees to pick up their children at day-care centers after the MBTA had officially shut down. Because of the statewide transportation ban, Bee was escorted by officers from the BU Police Department.
"People stepped up to the plate," Bee said, adding that senior food service director Joseph Cacciatore even delivered meals to wheelchair-bound diners living in residence halls.
All across campus, 13 security guards pulled double and triple shifts at 11 residence halls to cover for a handful of colleagues who were unable to make it to BU.
Isiah Willis, a senior security assistant at HoJo—aka 575 Commonwealth Avenue—worked a triple shift that started Friday afternoon and lasted through Sunday morning, checking IDs, signing in guests, and ensuring the safety of residents. He relied on energy drinks and occasional chats with colleagues to stay awake. When he finally punched out, he had to walk for more than an hour to reach his Roxbury home. His take on the weekend? "I was kind of exhausted," he admitted with a laugh.
Just after 11 p.m. on Saturday, dead-tired and in need of a shower, Pereira and his crew called it a day. Technically, two days. Once home, Pereira grabbed a shovel one last time, and for the next hour and a half, dug out a parking space. Then, finally, he rested: "I slept 'til noon on Sunday."