Thanksgiving Weekend What to Do
Where to eat and what to see if you're staying in town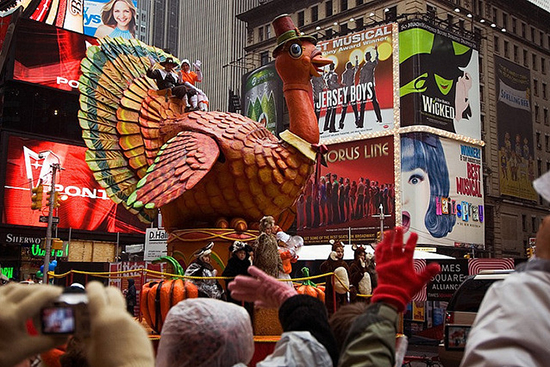 Students traveling home for Thanksgiving can look forward to turkey and all the requisite fixings, football games, and a chance to see old friends. But for those not traveling this week, fear not: Boston offers plenty to do that will put you in a holiday frame of mind. Whether you're looking to continue your Turkey Day traditions or create a few new ones, you'll find some great suggestions below for making the most of your holiday.
Where to eat
Known for its cozy atmosphere and live music, the Beehive uses both to its advantage to create a one-of-a-kind jazz Thanksgiving. Serving a special Turkey Day menu from noon until 10 p.m., the Beehive offers classic holiday fare à la carte for a reasonable price. Starters include pumpkin lobster bisque ($11) and a baby spinach salad, topped with chopped egg, cranberries, pumpkin seeds, and apple cider vinaigrette ($10). The turkey dinner ($30), comes complete with plenty of turkey, caramelized leek stuffing, truffled mashed potatoes, brussel sprouts, cranberry compote, and a savory sage gravy that will leave you full without emptying your wallet. The live jazz music will add a festive note. Be sure to make a reservation in advance to guarantee seating.
The Beehive is at 541 Tremont St., Boston. Take any Green Line trolley to Copley station and walk up to Tremont Street. The Beehive accepts all major credit cards and will be open on Thanksgiving from noon to 10 p.m. Call 617-423-0069 to make a reservation.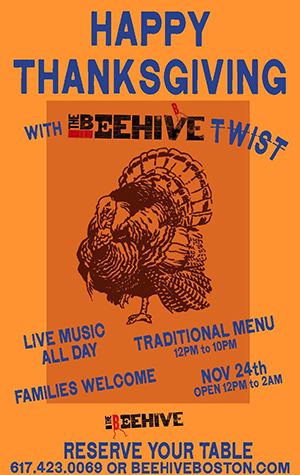 Undergraduate Thanksgiving Meal at Marciano Commons
If you want to enjoy a classic Thanksgiving meal for free, you can't do better than the feast at Marciano Commons. Sponsored by Marsh Chapel and the Dean of Students Office, the holiday lunch will take place from 1 to 3 p.m. in the dining hall of Marciano Commons at 100 Bay State Road. In addition to classic dishes like pumpkin bisque, roast turkey, sage dressing, whipped potato, gravy, and apple and pumpkin pie, the lunch will also include a number of vegan and vegetarian options. Before lunch, Marsh Chapel's global ministries program will host an intercultural celebration, where international students can share their cultural traditions and learn about American holiday pastimes.
The undergraduate Thanksgiving meal at Marciano Commons, 100 Bay State Rd., will take place from 1 to 3 p.m. on Thursday, November 28, and the intercultural event is at noon. The event is free and open to undergraduate students only. Students must have a valid BU ID.
What to watch
Start your Thanksgiving with one of the most celebrated traditions. The 87th annual parade is expected to draw an estimated 3.5 million spectators and a televised audience of more than 50 million. Be sure to watch until the end. That's when the guy in the red suit makes his big entrance.
The Macy's Thanksgiving Day Parade will be televised from 9 a.m. to noon on Thursday, November 28, on NBC stations.
The NFL has three big games on tap on Thursday. At 12:30 p.m., the Green Bay Packers take on the Detroit Lions on Fox. At 4:30 p.m. the Oakland Raiders battle the Dallas Cowboys on CBS. And at 8:30 p.m., the Pittsburgh Steelers and Baltimore Ravens go head to head on NBC.
Things to do
Franklin Park 5K Turkey Trot
Start the day with a little activity. The 3.1-mile Franklin Park Turkey Trot runs through part of famed landscape designer Frederick Law Olmsted's Emerald Necklace, offering beautiful views of the park. Prizes will be awarded to fast finishers and participants with exceptional costumes. Registration is $25, and proceeds benefit Franklin Park Coalition's Youth Conservation Crew, which provides summer jobs for 20 neighborhood teens and their young adult leaders.
The Turkey Trot runs from 9 to 10 a.m. on Thursday, November 28. The race begins at the Franklin Park Golf Clubhouse at One Circuit Drive, Dorchester. Take the Orange Line to Forest Hills, then board a #16 bus to the main park entrance on Blue Hill Avenue. Register here. Contact turkeytrot@franklinparkcoalition.org or call 617-442-4141 with questions.
For the past 15 years, people have packed into the Rockwell Cage Gymnasium at MIT for the annual Friday after Thanksgiving Chain Reaction event, a truly unique holiday experience. Spectators watch as participants, made up of MIT students, local artists, Girl Scout troops, and engineers assemble their individual chain reaction contraptions into a single, enormous Rube Goldberg machine. The engineering feat, orchestrated by renowned artist and inventor Arthur Ganson, is being given a "Sweet Sixteen" theme this year, and will feature approximately 25 characteristically distinct mini chain reactions. Admission to the F.A.T. event includes admittance to the MIT Museum until 6 p.m. on Friday. Get there early. The event routinely draws a crowd of about 1,500.
MIT Museum's 16th Annual Friday after Thanksgiving (F.A.T.) is Friday, November 29, from 1 to 4 p.m. at MIT's Rockwell Cage Gymnasium, 120 Vassar St., Cambridge. The cost is $15 for adults and $5 for students with a valid college ID and youth ages 5 to 17. Children under 5 are admitted free. The MIT Museum is at 265 Mass Ave, Cambridge. Take the CT2 bus from the Park Drive at Mountfort Street stop to the Vassar Street at Mass Ave stop, or take a MBTA Red Line to Central Square.
At the turn of the 20th century, John Singer Sargent was renowned as one of the world's most accomplished portrait painters. But as the new century dawned, Sargent forsook oil painting to work in watercolors, painting mostly landscapes. The 92 paintings in this exhibition, culled from the collections of the Museum of Fine Arts and the Brooklyn Museum, attest to Sargent's dazzling technique and mastery of light and color. Included are Sargent's striking landscapes of Venice and the Middle East. Note: the MFA is closed on Thanksgiving, but will reopen on Friday, November 29.
The Museum of Fine Arts, 465 Huntington Ave., Boston, is open Sundays, Mondays, Tuesdays, and Saturdays from 10 a.m. to 4:45 p.m., and Wednesdays to Fridays from 10 a.m. to 9:45 p.m. Admission is free for BU students with a valid ID, $25 for adults, $23 for seniors (65 and older) and students 18 and older, and free for children 6 and under. Youth ages 7 to 17, $7.50 on weekdays before 3 p.m., free on weekdays after 3 p.m., weekends, and public school holidays. Wednesdays after 4 p.m., admission is by voluntary contribution. Take a Green Line E trolley or the 39 bus to the Museum of Fine Arts stop or the Orange Line train or MBTA bus routes 8, 47, or C2 to the Ruggles stop. More information can be found here or by calling 617-267-9300. John Singer Sargent Watercolors runs through January 20, 2014.
The Frog Pond in Boston Common, America's oldest public park, is a favorite ice skating destination during the holidays. Skating begins in mid-November, weather permitting. The cost is $5 for adults and free for children 14 and under. Bring your own skates or rent them there ($9 for adults, $5 for kids). You can even get your skates sharpened, for $8. While this is a great weekend activity, keep in mind that the pond will be closed on Thanksgiving Day.
To get to the Boston Common Frog Pond, take any MBTA Green Line trolley to Park Street. The park is open Mondays from 10 a.m. to 4 p.m., Tuesdays, Thursdays, and Sundays from 10 a.m. to 9 p.m., and Fridays and Saturdays from 10 a.m. to 10 p.m. For information on skate rentals and events, call 617-635-2120.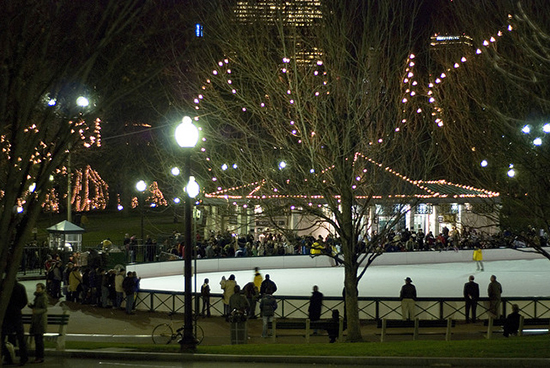 One of the city's favorite holiday traditions is Boston Ballet's performance of The Nutcracker. Mikko Nissinen's acclaimed production, which debuted last year and was hailed by the New York Times as "elegant and striking," is being mounted again. Performances begin on Friday, November 29, and run through December 29. Prices range from $35 to $192, and first-time buyers receive a 10 percent discount. Act fast, as many performances sold out last season.
Boston Ballet's The Nutcracker is at the Boston Opera House, 539 Washington St., Boston. To buy tickets, call or visit Boston Ballet's box office, 19 Clarendon St., Boston. Box office hours are Mondays to Fridays, 9:30 a.m. to 5:30 p.m., weekends, 11 a.m. to 4 p.m. To get to the box office, take any MBTA Green Line trolley to Copley. To buy day-of-performance tickets, visit or call the Boston Opera House box office at 617-259-3400; hours are Mondays to Fridays, 10 a.m. to 5 p.m. Take any MBTA Green Line trolley to Park Street.
Faneuil Hall Marketplace
For an outdoor experience sure to get you in the holiday spirit, make your way to Faneuil Hall for the second annual Blink! Light and Sound Extravaganza. More than 350,000 LED lights will illuminate the marketplace, dancing to holiday music recorded by the Boston Holiday Pops.
Arrive early on Saturday, November 30, and you can catch the 28th Annual Boston Tuba Christmas Concert at 2 p.m., also taking place at Faneuil Hall.
Blink! at Faneuil Hall Marketplace and the 28th Annual Boston Tuba Christmas Concert are free and open to the public. Blink! shows begin at 5 p.m. and run every half hour until 10 p.m. each day through January 5. Take any Green Line trolley to Government Center.
Relax with a sunset cruise of Boston Harbor, featuring holiday music, on Saturday, November 30. The cruise takes you past the USS Constitution as Old Ironsides fires its evening guns and "Retreat" is played, and tours the holiday lights along the Boston waterfront.
The Sunset Holiday Lights Cruise runs from 4 to 5:30 p.m. on Saturday, November 30, and every Saturday through December. Tickets are $20 for anyone 11 or older, $15 for children and senior citizens. Children 3 and under can ride for free. Buy tickets here.
For a full serving of laughs, stop by Laugh Boston for a night of stand-up comedy featuring both local and national headliners. This upscale venue includes a full bar, signature cocktails, and a light fare, quick-serve menu. On November 29, Ari Shaffir, who has appeared on TBS, HBO, and Comedy Central, will perform at 8 and 10 p.m. Tickets are $25 each.
Laugh Boston is at the Westin Boston Waterfront, 425 Summer St., Boston. Take the Red Line to South Station; the Westin is about a five-minute walk from there. Find show details here or call 617-725-2844. Buy tickets for Ari Shaffir's November 29 show here.
A Light Through the Ages
This year, for the first time in memory, Thanksgiving coincides with the first night of Hanukkah. Here's a chance to celebrate the holiday in a program of spoken word and music. The free event will feature a dramatic candle-lighting ceremony and music performed by the Zamir Chorale of Boston.
A Light Through the Ages is free and open to the public, and takes place Sunday, December 1, at 4 p.m. at the Central Reform Temple, 15 Newbury St., Boston.
Where to shop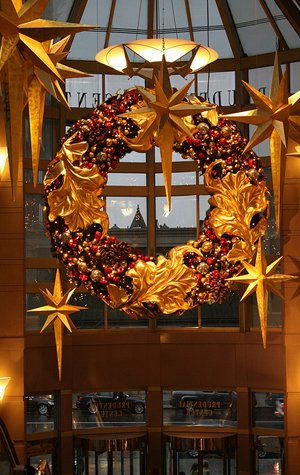 Newbury Street
You'll find plenty to tempt you along Boston's trendiest shopping thoroughfare. One-of-a-kind boutiques, high-end consignment shops, and art galleries line both sides of Newbury Street, along with high-end emporiums like Burberry. Many shops are ushering in the holiday shopping season with Black Friday and Small Business Saturday deals. A preview of some of the deals you can expect to find this weekend are here.
To get to the Newbury Street shopping area, take a Green Line B trolley to Hynes Convention Center, Boylston Street, Arlington, or Copley.
This sprawling mall, on the ground floor of one of Boston's most iconic skyscrapers, features popular chains like Barnes & Noble, Vineyard Vines, Saks Fifth Avenue, and Lord & Taylor. Santa will be taking up residence every day through Christmas Eve at the Belvidere Arcade. For those with young children, the Pru's Santa in the City event offers a variety of photo packages.
The Shops at Prudential Center are at 800 Boylston St. Hours are 10 a.m. to 9 p.m. Monday through Friday, 11 a.m. to 6 p.m. on Sundays. Santa in the City hours are 11 a.m. to 6 p.m. Monday through Friday, 10 a.m. to 7 p.m. on Saturdays, and 11 a.m. to 6 p.m. on Sundays.
Featuring some 120 shops and restaurants, including Macy's, J. Crew, H&M, Abercrombie & Fitch, and Banana Republic, this mall is sure to be hectic this weekend. Plan to arrive early, and be prepared to brave some of the longest lines you've ever seen. Updates on specific Black Friday deals at CambridgeSide Galleria are here.
The CambridgeSide Galleria is at 100 CambridgeSide Place, Cambridge, Mass. Take the Green Line to Lechmere Station.
Frank Brogie can be reached at brogief@bu.edu.