Something Fishy at the Heart of Windowmen
Alum's real-life job basis of new comedy at Boston Playwrights' Theatre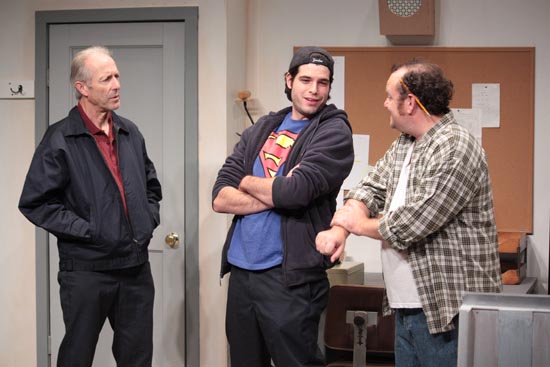 Nearly everyone has stories about that first job out of college, but few have refined them as well as Steven Barkhimer. His new play, Windowmen, currently being staged at Boston Playwrights' Theatre, recounts his experience working the cash windows at New York City's famed Fulton Fish Market in the 1980s, just after he graduated from college.
The play follows recent college graduate Kenny (Alex Pollock) after he gets a job handling the cash transactions for a small fish company on the market's trading floor. Kenny and coworker Vic (Brandon Whitehead) must deal with a constant flow of cash throughout the day while getting spontaneous visits from Daniel Berger-Jones (CFA'05) as Lester, a somewhat shady floor man, and Rocco (Nael Nacer), a dubious customer. Their stern boss, Al, played by veteran Boston actor Will Lyman (CFA'71), pops in to oversee the business from time to time, growing increasingly suspicious as hundreds of dollars goes missing each day.
"At 4 a.m. the bell would ring and the action was spectacular and lively," says Barkhimer (GRS'08) of his experience as a windowman at the Fulton Fish Market. "Thousands of dollars would come through this window at me—hence the play's name. There was a palpable sense of mischievous danger that was grounded in violent realties because of the Mafia. Working there was funky and vital and a little scary."
Barkhimer began writing the play while enrolled in BU's Creative Writing Program for a simple reason, he says: he had run out of other ideas. "I started writing about something I actually experienced—what an idea," he recalls. "I started jotting down one of the anecdotes that I've told for years, just a casual amusement." He credits BPT artistic director Kate Snodgrass (GRS'90), a College of Arts & Sciences professor of English, with encouraging him to finish the play.
While all of the play's characters are based on real people, Barkhimer says, they are composites. "Not a single one of them was an actual person. They were all telescoped down," he says, "with the exception of the young man Ken, who is my surrogate, my avatar."
Windowmen is intentionally fast-paced, designed to mirror the frenzied work environment of the real-life fish market. Conveying that hectic atmosphere was one of the more challenging aspects of the play, says director Brett Marks. "Like many industries, there is a certain set process, sort of a mechanical process for the way you go about your job," Marks says. "The actors had to not only learn how to do this job, but also do it quickly and without thinking about it."
In the play, there are constant orders to fill, customers to tend to, phones to answer, and special codes to learn when conducting business. Kenny must figure out all of the ins and outs of the job on the fly. He begins as a nervous young man, and Pollock perfectly conveys his anxiety, wringing his hands, crossing his arms, rubbing his head when he messes up. The audience laughs as he struggles to learn the job, most memorably in a scene where he can't figure out how to work the phone. But it quickly becomes clear that Kenny is no simpleton: he catches on speedily and finds his own voice at the window.
Some of the play's best moments lie in the interaction between Al and Kenny. Al teases Kenny, whose degree is in philosophy, about working at a fish market, but asks tough questions about his future to make him think. Lyman's wonderful performance as Al steals the limelight; his stern management style is justified given the shady dealings going on. Lyman exudes the furies and frustrations of a man trying to run an honest business while some of his employees are stealing from him.
At the play's end, it's left up in the air what Al will do when he catches wind of who is embezzling from him. He wants what's best for his store, but also genuinely cares about his employees. "I would rather have a piece of theater evoke that communal compassion than a piece of theater that instructs me or gives me a moral dictum to follow, theater that solidifies an audience into one mass that recognizes something that is true," says Barkheimer.
Windowmen runs through November 24 at the Boston Playwrights' Theatre, 949 Commonwealth Ave. Tickets can be purchased online here. Prices: $30 for general admission, $10 for students with a valid ID, and $25 for BU faculty, staff, and seniors.
Irene Berman-Vaporis can be reached at imbv@bu.edu.