Teaching Business with Frankenstein, Jazz, and GPS Tours
Instructional Innovation Conference features SMG class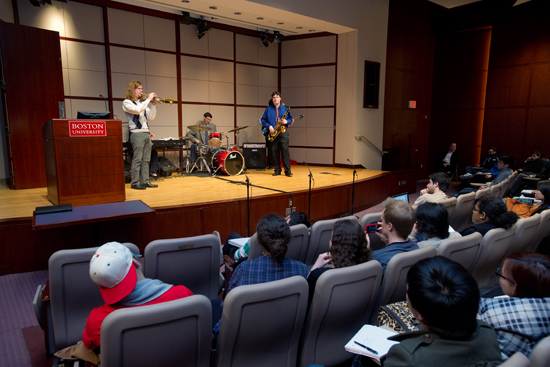 For its first hour and a quarter, Jack McCarthy's Organizational Behavior 221 class serves up your standard-issue business lecture, replete with corporate-ese—"task interdependence," "mutual accountability," "the five dysfunctions of a team"—and organizational flow charts. McCarthy enlivens things some by playing movie clips and an interview with Hollywood director J. J. Abrams to underscore points about teamwork.
But no one is prepared when he walks stage left in the School of Management auditorium, opens a door, and admits a strolling saxophonist, followed by the rest of the BU Quarter to Six jazz ensemble. Punctuated by applause and whoops, the half dozen musicians improvise a performance, and at the end McCarthy, sounding more talk show emcee than academic, exhorts the room "to give it up once more for the BU jazz ensemble!"
"I don't think I've ever been in another class where you have a jazz ensemble casually walk on stage in the middle of class and play a 20-minute set," said Max Hamburger (SHA'14) afterward. He ain't seen nothing yet. The class also taps Frankenstein, Seabiscuit (the 1930s champion racehorse), and GPS-guided Boston tours to teach business teamwork and leadership.
We'll get to those shortly; meanwhile, Organizational Behavior is among the inventive courses being discussed at today's fourth annual Instructional Innovation Conference, sponsored by the Center for Excellence and Innovation in Teaching. At the conference, faculty share their classroom innovations with their BU colleagues.
Four years ago, when McCarthy, an SMG associate professor of organizational behavior, became the course's head, he, Lloyd Baird, an SMG professor and chairman of the organizational behavior department, and course coordinator Sandi Deacon decided on a radical revamping. Where once there was a lecture a week, now there's just one a month, freeing up time for weekly three-hour small-group discussions, comprising between 30 and 36 students each, moderated by McCarthy and 10 other professors (it takes an organization to teach Organizational Behavior). Beyond merely discussing, the groups practice hands-on learning. Last month, for instance, professors broke their groups into smaller teams and gave them handheld GPS devices, programmed to find various historic sites in Boston, along with envelopes containing team-building exercises and puzzles to solve before moving to the next site.
Afterward, the students in McCarthy's discussion group debriefed one another. There had been obstacles to overcome: one team had to plot site coordinates with their iPhones after their GPS malfunctioned. A student regaled the class with the story of how his team was having fun snapping photos of themselves scaling the State House fence, "and then a cop went by. So we stopped doing that." Members of each team presented their account as photos and videos of their day splashed on the classroom screen.
"We were able to bond really easily," one woman said in applauding her group's teamwork, while confiding that the GPS exercise also revealed their team's weaknesses. A lack of sufficient planning beforehand prevented them from completing the exercise, and they didn't communicate efficiently, often talking over each other; a teammate recalled how she'd asked another woman "what her favorite food was, and she pointed to a dog."
Later this month, actors will perform excerpts from Monster, the College of Fine Arts recent Frankenstein adaptation. Few firms are in the business of making creatures from the dead, but that week's curricular themes of conflict and power dynamics are "exhibited unbelievably in the play," McCarthy says. Another session will review how teamwork among owners, trainers, and jockeys made Seabiscuit a prizewinning racehorse.
"We often think about education backwards," says McCarthy. "We think about education as being the lecture, and that there's this wise professor who imparts wisdom once a week." That's wrong: "The best way to learn is through application and doing. We need experiential exercises, and we need something outside the box." The approach spins off of psychologist Howard Gardner's multiple intelligences theory that different people learn best in different ways. "When you have students engaged, and when you have creative examples from different domains," McCarthy insists, "you're much more likely to tap into diverse learners and diverse learning styles."
That's why he and colleagues still include the old-fashioned lecture, especially during boot camp, McCarthy's term for the more traditional freshman year curriculum. "If all I talk about is Seabiscuit, the GPS adventure—it's going to be happy land. And some students love that, but some students hate it. They're like, 'I'm going to be on Wall Street; I'm going to be a banker. That has nothing to do with me.'"
Yet happy land is a not a gimmick: CEOs tell him they want employees who can collaborate and improvise, says McCarthy, and "who collaborates and improvises? Musicians, dancers."
The jazz ensemble lingered after performing to take student questions about the mechanics of effective teamwork—the nub of McCarthy's preceding lecture. Asked how the group would handle an individual member's mistake, tenor sax Richard Rakowski (ENG'12) said, "You carry on."
"A mistake usually means you're trying something new, and that's a good thing," he explained. Added trumpeter Josh McDonald (GRS'14), "We made a lot of mistakes up here. Hopefully, you didn't notice any of them." That's because on a good team, members have confidence that their mates will help them, McDonald said, the takeaway McCarthy had hammered in his lecture.
"I've never met you," the beaming prof told McDonald, "but I'm going to pay you for that statement."
Other required courses feature a "very boring two-hour lecture," says Hamburger. Not McCarthy's, "one of the only SMG lectures I've had so far that I actually really enjoy the whole two hours."
"I don't think I've ever seen a lecture that's been as touching as this one," said Eduardo de la Garza (SMG'13, CAS'13) after the jazz performance. "He always has a way to reach us on a very personal level. He shows us in a very creative way, and it's all very inspiring."
The Instructional Innovation Conference is in the Metcalf Trustee Ballroom, One Silber Way, ninth floor, beginning with registration and breakfast at 8 a.m. It is scheduled to run until 3:35 p.m.