Nightlife: Brighton Music Hall
Up-and-comers at student-friendly prices in Allston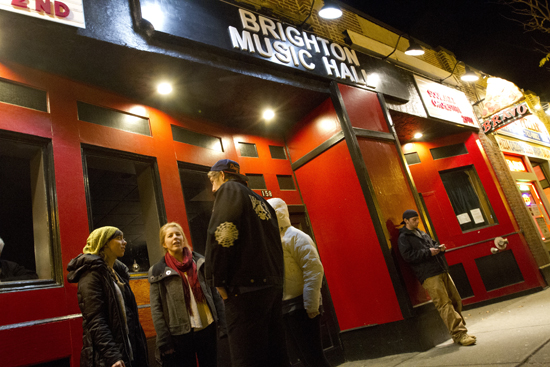 During the summer months, BU Today is revisiting some of our favorite stories from the past year. This week, we feature some of the many nightlife venues near BU where one can dance, dine, and listen to music.
Brighton Music Hall was alive with the bright, rhythmic sounds of the Brooklyn afrobeat band Zongo Junction on a Thursday night visit. The band commanded the stage with five horns and a six-piece rhythm section, pouring out one lively instrumental number after another. Their highly danceable music, a meld of funk- and jazz-influenced West African grooves with chanted vocals and energetic percussion, had even the Allston hipsters in the audience dancing.
Zongo Junction was the warm-up to the night's headliner, the Souljazz Orchestra, a six-member collective from Ottawa. Powered by multilingual vocals, saxophones, keys, and a variety of percussion instruments, the band's music combined soul, jazz, African, Latin, and Caribbean influences. The audience was all smiles, bobbing heads, and swaying hips as the group stepped to the beat onstage.
Concerts like this one demonstrate why Brighton Music Hall has become an important venue in Boston's vibrant live music scene. The club, owned and operated by the same people who run the Paradise Rock Club, opened in January 2010 at what had been Harper's Ferry, near the bustling intersection of Brighton and Harvard Avenues in Allston. The club presents musicians similar to those showcased at Paradise, but here they tend to be less well-known up-and-comers.
A neighborhood favorite, the Music Hall offers something for everyone, regardless of their musical preference. Concerts during the last several months have included the groups Carbon Leaf, a Celtic and folk-infused indie rock band; psychedelic reggae jam band Giant Panda Guerilla Dub Squad; the indie pop duo Mates of State; Blonde Redhead, an alternative rock band from New York; the Dropkick Murphys, a punk rock band formed in Quincy, Mass.; and hip-hop and indie rock band WHY? While the club attracts audiences of all ages, it's a particular hot spot for college students.
The venue has a capacity of just over 400, providing a more relaxed, intimate concert experience for fans and performers than you'll find at some of the city's other live music clubs. The large, open main room offers plenty of space for dancing, with two long bars and shallow seating running along the sides. A small area near the entrance sells merchandise like T-shirts and CDs and offers a place for fans to chat with bands after a show. Another room, behind the stage, features a few pool tables and another bar.
Prices are student-friendly. Advance box office tickets generally cost between $12 and $20, with most averaging $15. You can purchase tickets online through Ticketmaster or avoid the extra fees by visiting the Paradise box office in person. The box office accepts all major credit cards. You can also purchase day-of-concert tickets at Brighton Music Hall one hour before doors open. Concerts are 18+ unless otherwise noted.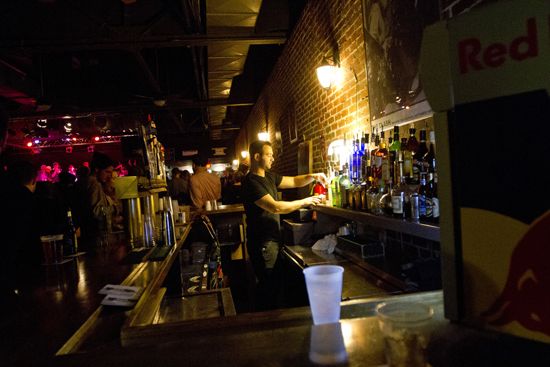 Brighton Music Hall is at 158 Brighton Ave., Allston; phone: 617-562-8800. The Paradise Rock Club is at 967 Commonwealth Ave., Boston. You must purchase a ticket to enter the Brighton Music Hall. Take an MBTA Green Line B trolley to Harvard Avenue and walk down Harvard to the Brighton Avenue intersection.
This is part of a series featuring Boston nightlife venues of interest to the BU community. If you have any suggestions for places we should feature, leave them in the comments section below.
Erin Thibeau can be reached at ethibeau@bu.edu; follow her on Twitter at @erinthibeau.
This story was originally published on December 6, 2012.