Lunch, Anyone? Campus Trolley
A taste of Lebanon on Comm Ave
Food trucks come and go at BU, but Campus Trolley has stayed put since 1988, when it started serving Lebanese fare on the busy corner of Commonwealth Avenue and Granby Street.
The diminutive red trolley, which draws a long lunch line even in January, is a whimsical counterpoint to nearby Warren Towers.
Nadim Kiwan and his wife, Diana, run Campus Trolley, the only place on campus to get Lebanese food. Like most Middle Eastern food, Lebanese food is short on fat and heavy on grains and vegetables, so the traditional dishes, such as falafel, tabouleh, and chicken kebab wraps, are about as healthy as fast food gets.
The Kiwans offer many vegetarian choices, such as rice and lentils served with a delicious lemony sauce and the falafel wrap, three lightly fried balls of ground chickpeas tucked into a pita with a sprinkling of tahini sauce. The ample mosaic platter includes falafel, rice, and lentils, as well as Kiwan's velvety hummus, bright-tasting tabouleh, and grape leaves. Plan on taking home leftovers with this one.
The Trolley's most popular sandwiches, however, are a carnivore's delight: the Greek chicken wrap, a kebab and feta-rich salad rolled together, and the kafta wrap, pairing richly spiced ground beef with rice and onions. Kiwan also makes more Americanized fare, such as the steak and cheese wrap, a pile of shaved beef and mushrooms drizzled with a honey Dijon sauce. All the portions are ample and require a bit of concentration if you don't want part of your sandwich in your lap (tabouleh, as it turns out, is easier to wipe off of navy blue pants than tahini).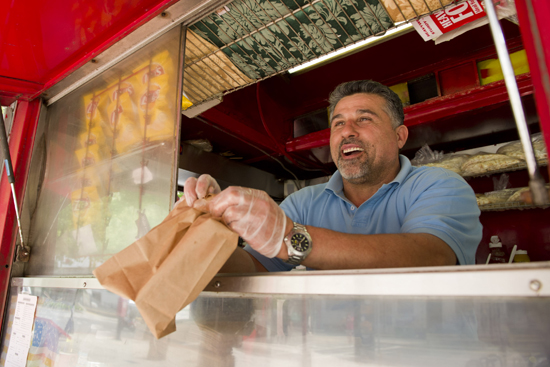 With a wrestler's physique and a thick head of salt-and-pepper hair, Kiwan (above) prefers his chicken and tabouleh wrap, which he packs when he goes fishing for stripers on warm weekends. On weekdays, of course, he can be found in the trolley, where at 9 a.m. he starts browning falafels and prepping chicken kebabs for the 11 a.m. opening. Diana helps with the lunch rush, but for most of the day it's a one-man operation.
In 2001, Kiwan bought the trolley from his brother-in-law, Manny Sarkis, who persuaded BU to lease him the spot back in the late '80s. Now Kiwan pays the rent to the University, and Sarkis runs Chequers, the restaurant in the BU School of Medicine.
Inside the trolley, Kiwan functions with a kind of orderly chaos, with his ingredients set up like an assembly line so he can put together a wrap in moments. A folded Boston Globe sits atop the cash register. When business is slow, he reads stories about his native Lebanon or follows the Patriots.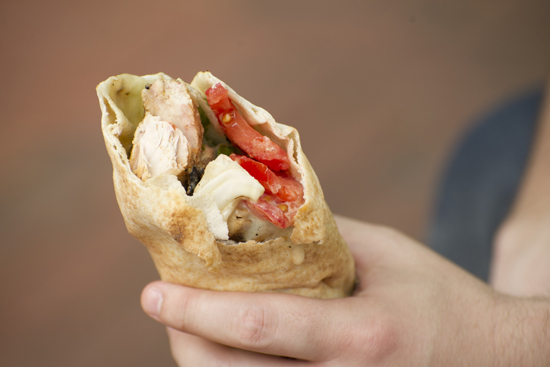 He's had more time for that this winter than in the fall, but unlike last year, the weather has generally been kind. With all of last winter's blizzards, the trolley was closed about seven days, more than in any previous winter. This year, not a day has gone by without falafel wraps and the like passing through his window to eager hands, although some days those hands have been covered in thick woolen mittens.
Campus Trolley, at the corner of Granby Street and Commonwealth Avenue, is open 11 a.m. to 7 p.m. Monday through Thursday, 11 a.m. to 5:30 p.m. Friday. Catering is available by calling 617-429-8367. Cash only.
This is part of a weekly series featuring Boston lunch spots of interest to the BU community. If you have any suggestions for places we should feature, leave them in the comments section below. Check out our list of lunchtime tips on Foursquare.
This Series
Also in
April 18, 2018

April 11, 2018

March 29, 2018