Alternative Spring Breaks: Kincaid, W.Va.
Building affordable housing in coal country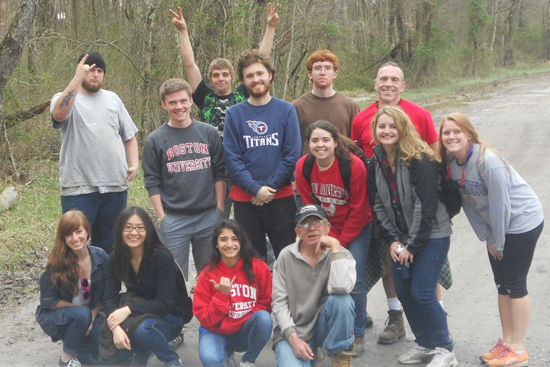 Nearly 400 students volunteered in this year's BU Community Service Center Alternative Spring Breaks program. Now celebrating its 25th anniversary, ASB paired students with 37 organizations around the country involved in environmental, affordable housing and homelessness, children's services, and animal welfare efforts. All week long, we are bringing you first-person accounts of some of those trips.
When we left Boston on March 10 for our Alternative Spring Break trip to Kincaid, W.Va., to help build affordable housing, our group had planned on a 13-hour drive. The trip actually took a good deal longer—19 hours to be exact. We came to realize that when John Denver sang about the state's country roads in his hit "Take Me Home, Country Roads," he failed to mention just how confusing they could be.
We finally arrived in Kincaid to spend the week working with the Southern Appalachian Labor School (SALS), a nonprofit providing community development and education to the impoverished coal communities tucked between the mountains in the heart of Appalachia (pronounced Appa-latch'-uh by true West Virginians).
Kincaid and many surrounding towns are unincorporated, which means they have no local governments and therefore no municipal services to address the needs of their dwindling populations. SALS serves as a kind of proxy government by providing low-income families with affordable housing, home rehabilitation, a series of education programs that include an after-school program and an early education center for teenage mothers, a community-based food distribution program, and a senior health program. The organization operates largely through grant funding, and its dedicated employees work long hours for minimal pay.
SALS director John David elaborated on the problems facing West Virginia during orientation at the organization's offices in a former elementary school before we started working. "The people here have fought in our country's wars, they've mined the coal that has made this country great, and they haven't gotten much in return," said David. He explained that because West Virginia's populous cities are on the state's borders, its rural towns, located largely in the center, are often overlooked. (According to the U.S. Census Bureau, over the last two years the number of West Virginians living in poverty has risen from 15.8 percent to 16.9 percent.)
Driving down the winding roads, we witnessed the area's poverty firsthand. Dilapidated houses and trailers dotted the countryside as we drove to our first assignment, a home reconstruction project in the nearby town of Montgomery. We worked on the rehab with SALS employee Ron Yellets and his crew from YouthBuild, a nationwide program that gives young people ages 16 to 24 the opportunity to earn their GEDs while working full-time building affordable housing. Working alongside these young men, we spent the first three days removing nails and plaster from the beams of the small one-story house we were rehabbing. We also installed new windows, shoveled dirt to level out the front yard, and ripped off old shingles to provide a clear surface for the new roof.
Each day offered a lesson in what we deemed "West Virginia time," so-called because the work pace is slower and the atmosphere more sociable, and quitting time is 3 p.m. sharp.
Our lunch breaks gave us a chance to relax, but also to get educated. By talking with YouthBuild members Smiley and Jody—both of whom had not completed high school and professed to hate school—the dire state of West Virginia's education system became clear. (The state's overall high school graduation rate is approximately 75 percent.)
As the week progressed, another word kept surfacing in our discussions about West Virginia: coal.
The house we were working on sat smack-dab along train tracks, and every day we would marvel at the number of trains that passed by, 152 cars long, filled to the brim with the little black rocks. Coal, we discovered, is a contentious issue in West Virginia. Despite its hazardous effects on health, like black lung and cancer, coal mining has long been an integral part of the state's economy and is a heritage that many West Virginians are quick to defend.
As Gary DeLuke, an AmeriCorps volunteer at SALS, explained to us, large coal companies have taken control of West Virginia's resources at the expense of its coal miners. New technological advancements in coal extraction have replaced the need for miners and reduced incentives to create labor unions. Without the support of strong unions, coal miners are subject to lower wages at the hands of coal company executives who emphasize productivity over worker safety. In 2010, one of the worst coal mine explosions in decades killed 29 miners in Raleigh County, W.Va. No one in our group had ever heard about it.
We saw some of the devastating environmental effects of coal mining when we toured Kayford Mountain, led by West Virginia native Larry Gibson. Gibson owns acres of coal-rich land passed down in his family from the days when households would mine their own coal for energy. In recent years, coal companies have used surface mining to extract coal from the surrounding mountains. We climbed to the peak of Gibson's property and were met with an awe-inspiring view: a vast expanse of the Appalachian range that stretched for miles. But right below us was a sawed-off mountain top stripped bare and dug out for coal. Although coal companies continue to press Gibson to sell his land to them, he has adamantly refused, even legally stipulating that only his direct relations can settle there. "Why do I continue to fight?" Gibson asked. "The reason is simple. I'm right."
Despite feeling the heavy weight of West Virginia's grim economic and environmental realities, we continued to approach our service with open minds and enthusiasm. On our final two days we refurbished a former elementary school that SALS had acquired for its further expansion and did some light gardening.
We were housed in a building attached to the SALS offices. We slept in bunk beds and had the run of a comfortable living room and a big kitchen, where we cooked most nights. Our spare time was spent hiking trails on the scenic New River Gorge, roasting marshmallows over a campfire, and getting our groove on during Retro Night at the local bowling alley. To thank us for our hard work, Ron and his crew took us to Beauty Mountain one afternoon, where we ate our lunches on a cliffside rock overlooking the Kanawha River. On our final day, Gary led us on a hike to the entrance of an old coal mine and then took us on a tour of the ghost town of Thurmond.
SALS was grateful for our volunteer work, but we felt just as grateful to them for the warmth and friendship they showed us. There's something about West Virginia that draws you in, and it became easy to understand why, despite the state's many problems, a lot of the people we met said they'd never consider leaving.
Having adjusted to West Virginia time, we were in no rush to leave for Boston Saturday night. Wishing we could stay a little longer in the quiet of the mountains, we reluctantly piled into the van and let the dark and winding country roads take us home.
Samantha DuBois can be reached at duboissd@bu.edu.
This Series
Also in
March 21, 2014

March 20, 2014

March 19, 2014