"Violence" at the Heart of This Year's CFA Program
Dean Juarez set to launch wide-ranging initiatives
It's been just a year since Mexican conductor and arts administrator Benjamin Juarez put down his baton and took up residence as the dean of the College of Fine Arts. With more than 2,000 students in his college and a budget of $20 million, Juarez says his biggest challenge during the past 12 months has been finding ways "to support, align, and celebrate the numerous interesting initiatives that I have learned from faculty, students, and staff while being both strategic and visionary."
BU Today spoke to Juarez about his plans for the coming year, as CFA prepares to launch its fall season with next month's 15th annual Fall Fringe Festival. Notable among Juarez's changes is the decision to build much of the college's visual arts, musical, and theatrical programming each year around a single theme, what Juarez calls a keyword initiative—this year's theme: violence. Next month's Fringe Festival opera Bluebeard's Castle, for example, depicts domestic violence, November's lecture by artist Enrique Chagoya focuses on his lithographs of violent collisions between cultures, and Emily Mann's play Execution of Justice, to be staged in February, is a story of political violence (the aftermath of the 1978 assassination of San Francisco city supervisor Harvey Milk).
BU Today spoke with Juarez about the idea behind the keyword initiative and other innovations at CFA this fall.
BU Today: What's behind the idea of building arts programming each year around a central theme—in this case, violence?
Juarez: We are trying to build a two-way dialogue with schools and colleges throughout BU, inviting our community to feel, think, and act around themes that are relevant to all of us. Building programming around a keyword also allows us to align programs in all three schools at CFA and to organize a variety of roundtables, lectures, shows, and performances in order to create a larger community engaged in rich dialogues.
How did you choose violence as the inaugural theme?
Violence was proposed by Jim Petosa, director of the School of Theatre. Violence is endemic to our times and our societies; we find it in the family, in the workplace, around issues as diverse as gender, religion, or social class. The year 2012 will be an election year, both in the United States and in many other countries around the world. The election process is used by some politicians to harden positions and target real or imagined enemies, bringing added urgency to our concerns about violence.
This is a cloud word idea: the concepts of nonviolence, hope, and peace are as much a part of the initiative as the immediate meanings of the word.
Do you worry that building programming around a central theme limits what you're able to offer each year?
The keyword programming is an option, but not the only option for programs in our schools at CFA. And even though all three schools are very much on board with the initiative, they continue with other programs that have to do with their academic or artistic requirements.
You are planning a new CFA minor designed for all BU students. How did that idea come about?
Our vision of the role of the artist in the 21st century deals not only with artistic excellence, but with educating the young artist to be a social leader, an agent of change, a promoter and ambassador of the arts, a creator of social capital, an architect of value, and a humanist entrepreneur. The new minor is about the tools that will allow young artists to live their dreams in a rapidly changing world. Our ideal graduate will move easily from the stage, gallery, or classroom to the at-risk community, from the cultural focal points of the world to rural areas where arts programs are a rare occurrence, and from studying at the most prestigious artistic institutions to creating their own content and being sought after for their collaborative skills and unique leadership abilities. We are still working on the title and final content of this minor, but among the suggestions we have discussed so far are "cultural planning," "arts leadership," and "cultural building." We will be able to share more information about the program soon.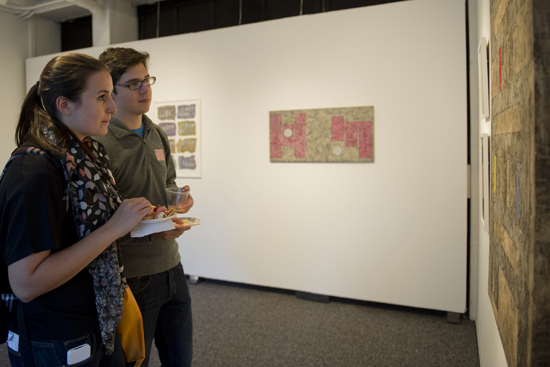 Can you explain your new program, the Freshmen Experience, and what its goal is?
The Freshmen Experience is based on an open invitation from our faculty to first-year students to join them in small groups to attend a performance, exhibition, concert, lecture, or backstage tour in an area that is outside the students' main area of study. These events are activities that our faculty members are passionate about. Groups of 6 to 12 students will be able to share coffee or a slice of pizza with the faculty member before or after they jointly explore something beyond their discipline. The idea is to give students a better idea of what BU and the city of Boston have to offer and to strengthen relationships among music, theater, and visual arts students.
You're offering a series of Saturday workshops for all students at the University, regardless of major. Why is this important?
The Saturday workshops are a series of experiments that will provide students at CFA and across BU with tools that go beyond their pursuit of excellence in an artistic discipline or their professional studies, and that may prove very useful—even necessary—to succeed in the 21st century: leadership tools, decision-making, critical and creative thinking, the way we communicate or negotiate, how we make decisions, ways to be better team players. These are just some of the points that will be covered in these workshops.
A full schedule of 2011–2012 College of Fine Arts programming is available here. More information about Juarez's initiatives can be found here.