MED Students Without Borders
Ecuador program gives perspective on global health
Thumbs were not supposed to look that way. That was Owen Kendall's first thought when he spotted the green wrapping around the thumb of an elementary school student in Obraje. The first-year BU School of Medicine student led the boy from the dim cinderblock classroom into the Andean sunlight of rural Ecuador.
Kendall (MED'14) squatted down and peeled a leaf from the boy's thumb, revealing a swollen, mud-encrusted gash. He grabbed some wet towels and dabbed at the wound, asking the impassive boy in halting Spanish how and when he got hurt.
Seconds later, Kendall was on his cell phone calling for assistance. Within half an hour, a driver arrived from the Cacha Medical Spanish Institute (Cachamsi), a nonprofit international medicine program less than 10 miles away in Riobamba, through which Kendall and five other BU first year medical students were volunteering last summer. The driver questioned the boy in Quichua, the local language, then whisked him away to the nearest clinic.
For two days, as part of their monthlong health education camps for kids in the indigenous Cacha region, Kendall's group had been talking to children about the best way to care for nasty cuts. Apparently that lesson hadn't sunk in. The Quichua remedy, cover with mud or cow liver and wrap with a leaf, clearly trumped the Americans' advice.
"I just hope that some of the stuff that we teach sticks," Kendall said. "I think we're doing a good job, but we just need to keep trying."
The students in the Cachamsi group worked primarily as camp counselors, but they also took medical Spanish classes, shadowed doctors at hospitals and clinics, and lived with families. For some, the trip was an adventurous way to learn Spanish (a useful skill at Boston Medical Center, where it is the first language of many patients). For others, it was a trial run at a career in global health.
They were the third wave of BU medical students to conduct health camps through Cachamsi, a program that Suzanne Sarfaty—MED assistant dean for academic affairs and director of international health programs—discovered and hopes will continue.
Sarfaty knows the value of an experience like Cachamsi, which teaches a few things that aren't ordinarily learned from textbooks or rotations at BMC. And most of it is about the limitations of health care in remote parts of the world. Talking to kids about hand-washing falls a bit short when even the schools lack running water. Encouraging people to brush their teeth is tricky when local water is laden with parasites. And preaching about protecting the skin from the high-altitude sun is useless when most families have no access to (and can't afford) sunscreen.
Few people beyond hikers and backpackers drive the four hours south of Quito, Ecuador's capital, to Riobamba, a bustling city of 150,000 encircled by volcanoes with Quichua names like Chimborazo, Carihuairazo, and Tungurahua. Even fewer people travel to the mountains of Cacha, an autonomous union of 23 Quichua communities.
But at 7:30 each weekday morning, that's where the BU medical students went, hopping from one Cacha community to another to talk about hygiene and health.
Just minutes outside Riobamba, their two pickup trucks, carrying boxes of long-sleeved T-shirts, markers, and notebooks as well as the students, turned onto a newly paved switchback path and started the climb. The trucks passed ruddy-cheeked Quichua men and women walking to Riobamba to buy supplies and to sell their hand-woven goods. They wore fedoras, scarlet red ponchos, and fuchsia shawls, adding splashes of color to a backdrop of zinc and cinderblock homes sprinkled among cornfields.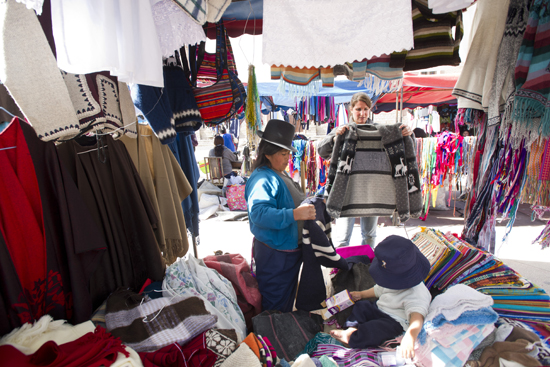 In recent years, 70 percent of the Quichua from Cacha have moved to Riobamba or to bigger cities like Cuenca and Guayaquil, seeking jobs and better education. Those who remain are the elderly, women, and children. They grow most of their own food and sell some of their produce in the Riobamba markets. That includes quinoa, a grain rich in protein that brings a high price on the market. They use the profit to buy cheaper, less nutritious foods like pasta, an economic trade-off that ends up boosting rates of malnutrition, just one of many common health problems.
Many Cacha adults suffer from rheumatoid arthritis (made worse by the cold mountain climate), high blood pressure, tuberculosis, and lung disease from cooking over wood fires. It's not uncommon to find a seizure-inducing disease called neurocysticercosis, caused by tapeworm cysts from undercooked pork. (Whole, roasted hogs are sold at roadside barbecue stands all along the Pan-American Highway from Quito to Riobamba.) Cacha water is also problematic. Unfiltered and unchlorinated, it infects many people—especially children—with intestinal parasites.
In Shilpala, 10 minutes along the main road, Kendall and fellow students Caroline Mullin (MED'14) and Adriane Levin (MED'14) spilled out the back of a pickup and carried the boxes to an elementary school classroom, observed by several raven-haired children in the school's cement courtyard. Respectfully shy and apple-cheeked, they were dressed in ponchos, wrap skirts, and vibrantly hued shawls, miniature versions of their parents.
Mullin, wearing an easy smile and a llama-print jacket, led the lesson on bones and muscles, while Kendall and Levin wrote notes on the whiteboard. Wooden desks and benches crowded the middle of the classroom. A dust-covered computer sat on a shelf, useless without electricity. In nearby fields, sheep bleated their presence.
The BU group originally planned to meet with 120 students at 8 sites; they ended up with 320, an increase attributed to the drawing power of Americans and to the fact that it was summer vacation. And while all of the medical students took daily immersion classes in Spanish, they often struggled to understand the children.
"We've had to learn to improvise," Mullin said. "Half of the puzzle is really having the dialogue with the kids."
Midway through the lesson, Mullin ushered the younger children into another classroom and shooed away a stray dog. She handed each child a long-sleeved white shirt and had them draw arm bones with markers.
"The area where these children live is very high up in altitude, very close to the sun," she explained. "Even though the long-sleeved shirts might have cost us a little bit more, we thought that might be an appropriate decision to make for the kids."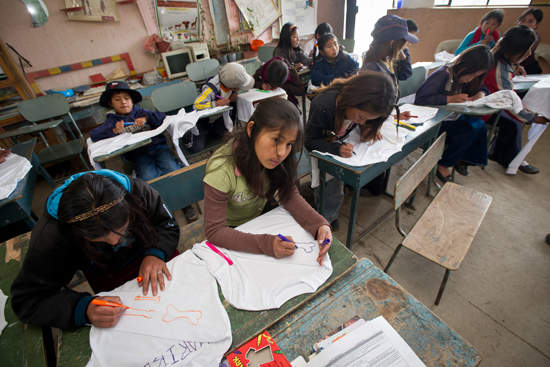 After class, students lined up for a snack of cheese sandwiches and bananas (another possible reason for large class sizes). Because there was no running water, Levin and Mullin washed the children's hands with antibacterial lotion before they ate.
Health care is free in Ecuador, yet few Cacha residents take advantage of it, preferring to visit a doctor only when traditional medicine has failed. It's the job of local doctors like Patricia Reátegui to earn their confidence and change their habits. Reátegui, who works in a four-room clinic in Machangara, Cacha's central province, was one of the local doctors shadowed by BU students. When a mother explained that her young son and daughter had pain in their ears, Kendall listened carefully.
"Saca la lengua. Diga, 'Ah,'" he said. The boy stuck out his tongue and breathed a long sigh. His mother and younger sister encouraged him by doing the same. Eventually, Reátegui sent the children home with medication for their earaches and for intestinal parasites. Because Cacha's water is infamously dirty, the doctor says, she often deworms younger patients as a precautionary measure.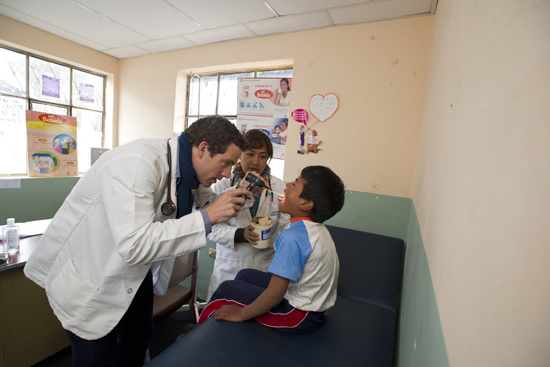 At the monthlong program's end, the students agreed that their journey took them to another world, one in which hospitals and clinics have few anesthetics, antibiotics, and painkillers, let alone staff. Levin witnessed skin grafts. Mullin took medical histories for a pediatrician. And Stephanie Feldman (MED'14) assisted on a laparoscopic surgery to remove a gall bladder.
Some of the things they learned were heartening, and some were not. On one home visit, Peters Otlans (MED'14) saw a Quichua woman who had spread liver on a weeks-old gash and was in severe pain from the infected wound. After cleaning the wound, the doctor Otlans was shadowing told the woman to go to Riobamba for treatment.
"It's eye-opening to see the way people are out here," Otlans said. "Until you actually see it, it doesn't have the same impact. The woman still refused to go."
Robin Berghaus can be reached at berghaus@bu.edu.
This Series
Also in
March 20, 2017

July 14, 2016

September 10, 2015