Sargent Students Witness Public Health in Thailand
Trip offers lessons in cultural differences, awareness
The day before a group of Sargent College students arrived in the Thai mountain village of Ban Doi Chaang, a dormitory fire killed 18 students at a regional primary school, 3 of them girls from the village. The visitors from BU joined the local doctor in making condolence calls to the grieving families.
"It was tough for the students, some of whom have had their own losses, to see someone who's just lost a child," says Trace Sears (SAR'92,'93,05), a Sargent senior physical therapist and lecturer in physical therapy and athletic training. "It led to some really frank discussions about life, death, the afterlife—big tough topics."
The students, in Thailand to learn how public health works in another part of the world, witnessed firsthand cultural differences at the most profound moments.
"The Thai are taught to keep their face," says Abigail Rezendes (SAR'18). "They stay very composed and don't show emotion, especially the men. So when we were consoling these fathers who had lost their young daughters, I was crying for them, but they weren't crying."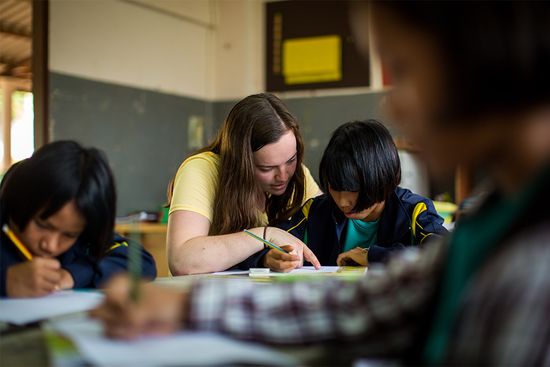 Sears and Kelly Pesanelli (CGS'94, SAR'96,'98), a Sargent lecturer in health sciences, led 19 students on the May trip to Thailand, where they sampled city life in Bangkok and toured the temples at Chiang Mai. They also split up to provide health services to two villages in Chiang Rai province.
Sears and 11 of the students went to Ban Doi Chaang, an Akha tribal village with a large coffee farm that was converted from opium production years ago by the government. They spent several days providing intake health checks for patients who had come to see the lone doctor at a clinic serving 20,000 people from several villages. Working on a patio, the students checked blood pressure, pulse, respiration, and other health indicators for patients needing maternal health, methadone treatment, geriatric care, and other services.
"We heard from villagers saying they really appreciated us being there, because we cut down the waiting times," says Queentela Benjamin (SAR'17). "Otherwise, they would be there for hours."
"They're a culture where women and men stay very covered up," says Rezendes. "You could tell they were embarrassed by some of things we were asking them, like to lift their shirts so we could take their blood pressure and heart sounds."
Sears notes that the BU students arrived in shorts and tank tops, but soon learned to dress more modestly out of respect for local mores.
The Mirror Foundation, an NGO that helped organize the trip, provided a father-and-daughter guide team, who were available to answer questions, like how to say, "Hello, my name is…" or "Your dress is beautiful" in Thai, little phrases that help break the ice with patients.
Pesanelli's eight students worked on health education in a grade two to eight school in the lower-altitude village of Ban Phama Sawan. They talked about nutrition with younger students, whose regular meals are healthy, with lots of rice and vegetables. But, Pesanelli says, they eat an alarming amount of sugar from candy and soda provided by their school.
With older students, the group discussed puberty, menstruation, and contraception, as well as condom use for AIDS prevention. Contact with the opposite sex is forbidden until marriage, which typically takes place around age 15 in the Lahu tribal area. Pesanelli says such personal matters are not ordinarily discussed, and the students were eager to talk about them.
Because the hill tribes are sometimes treated with disdain in Thailand, the attention from the Sargent students meant a lot. "As we were leaving, the students surrounded us with hugs and affection, unwilling to let go of our arms and legs," says Grace Lei (SAR'18). "I realized that the information the students gained was not nearly as meaningful as our presence in the school."
The two villages are slightly different from each other socioeconomically, but very different from what the BU students are used to at home. Some houses are cement, others small bamboo huts, and most people sleep on floor mats, as did the BU groups. Electricity is more common than running water, a flush toilet is a rarity, and some families depend on rainwater collection for basic sanitation. A person's relative wealth is indicated by his or her vehicle: a moped or a pickup truck.
Satellite TV and even high-definition sets are common in Ban Doi Chaang, but not in Ban Phama Sawan. Pesanelli's host family was the only one with television—a satellite dish and an old 1970s set—so she would wake up in the morning to find a dozen village children sleeping on blankets on the floor, having dropped by the night before to watch TV.
Overall, despite what might appear an impoverished lifestyle, the mood is upbeat, she says. The children made vine crowns with flowers to welcome their BU guests, and throughout their visit climbed lychee trees to keep them in the sweet fruit and welcomed them into their soccer games, played on rough clay fields.
"We definitely saw what we felt were hardships," Pesanelli says, "but they never showed us in any way, shape, or form they were going through a hardship."
"At home, we often pay more attention to our phones and computers than we do to each other," Lei says. "However, in the village, we left that all behind and enjoyed every moment with each other, playing with the kids next door and using the resources we had to create our own fun. Now, back in America, I pay much less attention to my phone. I learned to be more present in my daily life and acknowledge the beauty of each moment presented to me."
This Series
Also in
March 20, 2017

February 21, 2013

March 8, 2012