Cuban Culture Shapes a Spring Break Trip
Students find Havana, with free medical care, pervading scarcity, and cultural landmarks, transformational
While politicians and cable-news talking heads in the United States debated the fate of Obamacare, a group of BU students toured a busy medical clinic in La Lisa, a semirural borough at the western edge of Havana, Cuba. The building was worn, the halls were crowded with patients and crying babies, and the technology was well behind standard fare in Boston-area medical offices. But the doctors and staff were proud of the care they deliver.
"Prevention is the most important thing," said dermatologist Gustavo Veitia, the clinic director. "It's easier and cheaper to prevent than to heal. That is the fundamental character of our health system."
La Lisa's 37,220 residents are served by 27 family doctors, typical for Cuba, which has more doctors per person than any other country, according to the World Health Organization. Cuba is famous for its primary care—the foundation of the health care system it eagerly touts to visitors. Veitia told the students that each family doctor is held responsible for maintaining and improving the health of neighbors. Emergency services, X-rays, labs, day surgery, and more are handled at the area's five multiservice "polyclinics" like his. More serious cases go to the local hospital or to specialized facilities elsewhere.
And all of it is free.
"It really reminded me of my grandmother, who was a midwife in a small village in Nigeria," said Queentela Benjamin (SAR'17), who is studying health sciences on a premed track. "She didn't necessarily have the highest technology, but people got well and people were happy."
Benjamin was one of 13 BU students, most majoring in international relations, who took the alternative spring break trip for a one-credit class called Experiencing Cuba: History, Culture and Politics. The medical system took up less than a day of the syllabus, but it made a big impression.
At the Latin American School of Medicine (ELAM), a giant picture of Fidel Castro and current president Raul Castro dominates the lobby, while inside, half a dozen of the 140 Americans among the school's 2,000 students greeted the BU delegation. All were people of color, who had grown up in disenfranchised neighborhoods in South Central L.A. and inner-city Atlanta. And all were earning their MDs for free in Cuba.
Most said they plan to treat underserved communities in their hometowns when they return to the United States. "I would like to help turn toward the Cuban model, where everyone has access to care," one said. "Cuba has polyclinics the way we have liquor stores back home."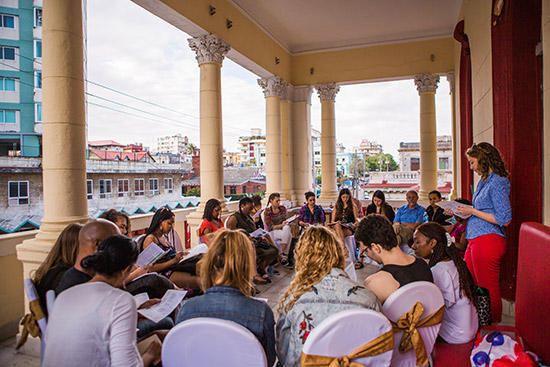 Benjamin said the visits complemented what she's been learning at Sargent College of Health and Rehabilitation Sciences "about the social determinants of health and how your environment and the resources that you have essentially shape your health outcomes.
"Just seeing how this model of health care has allowed people in Cuba to have healthier lives, versus what we're facing at home, with people not even being able to access care, was really eye-opening," Benjamin said.
The weeklong course, now in its third year, is offered jointly by the Pardee School of Global Studies and the College of Arts & Sciences African American Studies Program. Any student hankering after a carefree week of mojitos and salsa dancing was disappointed—until sundown, anyway. The days were filled with visits to cultural and political landmarks in and around Havana, discussions with Cuban academics and artists, and lectures by BU faculty trip coleaders Julie Klinger, a CAS and Pardee assistant professor of international relations, and husband and wife John Thornton and Linda Heywood, both CAS professors of African American studies and of history. The couple's daughter, Amanda Thornton, an infectious diseases specialist in San Francisco, worked with Klinger to make sure students made their midnight curfew, and also lectured on cholera in the Cuban slave trade.
"The trip is transformational for the students," Heywood said. "It makes them realize they don't know everything. They make a more empathetic connection, people to people, when they see how a society functions on the ground."
Shock, pleasure, and productive discomfort
When the students sit down to write their required papers, top of their mind will likely be the vast differences between Cubans' everyday lives and their own—political, social, racial, sexual, economic, and more.
"I honestly expected the people to be like, 'We didn't like Fidel Castro' and 'We all want to go to the United States,'" said international relations major Funke Abisoye (CAS'17). "But they're really happy with the country that they live in and the situation that they have."
"We are not perfect persons, but most of the people here in Cuba defend our legacy, defend our system. We don't want Starbucks, Coca-Cola, and Pizza Hut. We don't ask you for that." —Yanela Gonzalez, Cuban Institute of Friendship with the Peoples
Still, many ordinary Cubans say they love America for its freedom and prosperity, Madeline Brady (CAS'17) said. "A cab driver told us that he gave his daughters American names, Barbara and Kimberly, because he loves American democracy," she said. "He peacefully protested against the Castro regime 20 years ago, and spent two years in jail because of it."
Cubans tend to answer questions about repression under the Castros by evoking the corruption and brutalities of the US-backed dictator Fulgencio Batista, overthrown in 1959, and the old class structure that sentenced many islanders to poverty. They support the Revolution, at least when talking to Americans, and blame Cuba's pandemic shortages and economic problems squarely on the US embargo, which was put in place after the Revolution and blocked nearly all trade for decades. The students heard it over and over, most vigorously from Yanela Gonzalez, a fiery representative of ICAP, the Cuban Institute of Friendship with the Peoples, which organizes international solidarity missions to Cuba.
"We are not perfect persons, but most of the people here in Cuba defend our legacy, defend our system," Gonzalez said when they visited the organization. "We don't want Starbucks, Coca-Cola, and Pizza Hut. We don't ask you for that."
Instead, she told the students, the Cubans would like access to American technology and education, while growing their economy in their own way: "We are neighbors," said Gonzalez. "You've only got to fly for 45 minutes to come to Cuba. Why can we not have a normal relationship? Don't you think that is crazy?"
Among inconvenient differences of life in Cuba for students were that US debit cards were of no use, thanks to the embargo, and cell service was spotty at best. "With any international experience where you bring students away from their home community and country, what you experience is the shock and the pleasure and the productive discomfort of seeing a society organized and people living their lives in a way that is totally different from the way we do it at home," said Klinger.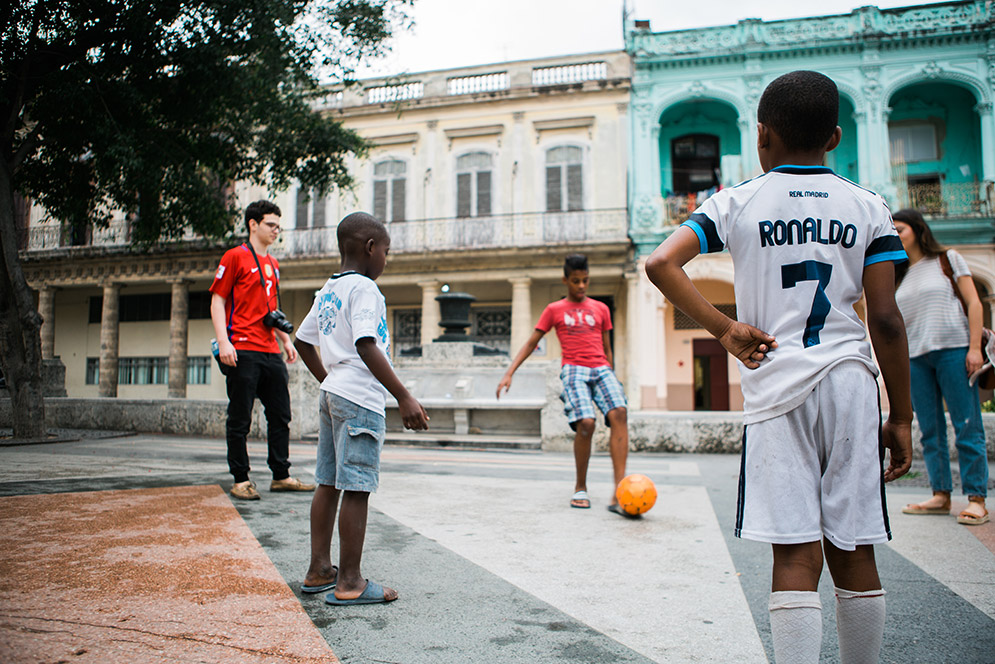 When many Americans think of Cuba, they think of the brightly painted fleet of pre-Revolution American cars, often used as tourist taxis. But most photos of the old cars don't reveal that they ply the streets alongside 1970s-vintage Russian Ladas in a shared cloud of exhaust fumes. Students who ventured a few blocks from touristy Old Havana—sometimes by assignment, sometimes for an adventure—saw the dimly lit streets and sidewalks and block after block of crumbling, century-old buildings that make up Central Havana. They grumbled about the lack of access to the internet, which was really only viable in and near a handful of expensive hotels, places where Cubans gathered in the evening to sit on the curb and borrow the Wi-Fi. And with inconveniences like cold water showers, the student got firsthand experience of the scarcity that pervades life in Cuba.
Cubans told students that they love President Obama for restoring diplomatic relations in 2015, easing travel and other restrictions, and visiting Havana himself. But when asked about Donald Trump, Cubans were plainly disdainful, and concerned that he might reverse Obama's changes.
Batista's lavish palace, near the BU group's hotel, is now the Museum of the Revolution, with bullet holes in the marble walls preserved to commemorate an unsuccessful guerilla attack in 1957. One popular spot for tourist photos is the Corner of Cretins, featuring caricatures of Batista and US presidents Ronald Reagan, George H. W. Bush, and George W. Bush.
Another day, at a well-maintained mansion now used by ICAP, septuagenarian revolutionaries told stories of fighting side by side with the Castros and Ernesto "Che" Guevara against Batista. Maria Magdalena Perez Carmenate captivated students with stories of running messages and handguns from the city to Castro's forces in the mountains when she was just 15. She hid the contraband under her skirts and used her looks to get through military checkpoints. "When I was young I was beautiful," she said with a sly smile. "The soldiers were all my boyfriends."
A day later, the students received an off-the-record briefing inside the high-security US Embassy from a State Department employee who patiently answered their charged questions about US-Cuba relations.
Not blacks or Europeans or Chinese—we are Cubans
The medical system wasn't the only area that made the students wonder if Cubans had something to teach America.
On International Women's Day, the students saw Cuban women receiving flowers and other treats from spouses, bosses, and coworkers—this despite the strong macho element remaining in Cuban society. Several female students noted that even the catcalling there is less offensive than in the States. "In Cuba, rather than hearing 'Nice ass,' you heard 'How beautiful,' or 'Que linda,' being said to women of all shapes, sizes, and colors," said Gisella Dimitroff (CAS '18). "It was unlike any other place I've been to."
There is also "a very different notion when it comes to race," said trip coleader Heywood, thanks to the Afro-Cuban connection, which was central to this year's syllabus. Hundreds of thousands of African slaves were brought to the island to cut and process sugar cane before slavery was abolished in the 1880s, and the cycle reversed when thousands of Cubans—not just soldiers, but doctors and other soft power (nonmilitary support) aid workers—went to Angola to support that African nation's revolution in the 1970s.
"I think people do live pretty well together. They don't see that color is a divide the same way. They accept that we are both Cuban, no matter what shade of white or brown our skin is. But more than that I think people see each other as equals." —Funke Abisoye (CAS'17)
"African blood flows freely through our veins," Fidel Castro said in a speech at the time. "We are brothers and sisters of Africa, and we are ready to fight on their behalf."
The students heard about recent genetic studies showing a population not clearly divided into black, Hispanic, and indigenous peoples, but instead thoroughly mixed. Still, some Cubans acknowledge that stereotypes ranking lighter- and darker-skinned persons are hard to eliminate.
"I think people do live pretty well together," said Abisoye. "They don't see that color is a divide the same way. They accept that we are both Cuban, no matter what shade of white or brown our skin is. But more than that I think people see each other as equals."
Tour guide Grethel Suarez Sanchez put it simply: "We call ourselves Cubans. We do not call ourselves blacks or Europeans or Chinese. We are Cubans."
Sanchez came to embody Cuba's beauty and its contradictions. She tossed her mane of braids in displeasure at the students' lack of "punc-tu-al-ity," but also haggled on their behalf at every stop. Mournful when talking about the death of "our commander" Fidel in November, she cheerfully belted out one of her favorite Lionel Richie songs when she felt the mood on the tour bus needed a boost. And she never complained about her daily two-hour commute each way from her home outside the city.
When it was Klinger's turn to lecture, she focused on Cuba's relationship with China, from the thousands of Chinese "coolie" laborers brought to Cuba who were essentially slaves themselves in the 1800s, to the present day, when China is Cuba's largest trade partner. China was the first country to recognize the Castro government, and Chinese trade has helped Cuba emerge from what Cubans call "the special period," from the late 1980s through late 1990s, when the Eastern Bloc collapsed and with it Soviet support of Cuba. Shortages and hardships were epidemic during the special period, and recovery has just begun with the ramp-up of the tourist trade over the last decade.
In Cuba today tourism is the one business that appears to be booming. Several gutted structures on the edge of Old Havana are being turned into hotels, and cruise ships seem to go in and out of the harbor daily, loaded with Europeans and South Americans. Travel from the United States is growing, although there is concern that Trump could turn back the clock.
Hollywood-ification has begun there as well. One night four BU students walked from their modest lodgings to the new Hotel Saratoga to see where Beyonce had stayed on a recent visit. Spotting Jamie Lee Curtis sitting at a nearby table, they helped her sing "Happy Birthday" to a friend and ended up taking selfies with the movie star.
But that celebrity encounter isn't what Grace Li (COM'19) remembers most. "When we went to the market to buy gifts for our families, I got separated from the group and found myself surrounded by a group of several men who were trying to offer me taxi rides," Li said. "I felt very overwhelmed, and as I stood on the curb, a woman selling fruit approached me and asked what she could do to help. She noticed that I was flustered, and went out of her way to comfort me and say she'd wait with me until my friends found me.
"People are really the same everywhere, and once you are separated from technology, you really start to understand the beauty and kindness of human nature."
This Series
Also in
September 10, 2015

February 21, 2013

March 8, 2012