At the Coit Observatory, the Sky's the Limit
Keeping the Astronomy Department in focus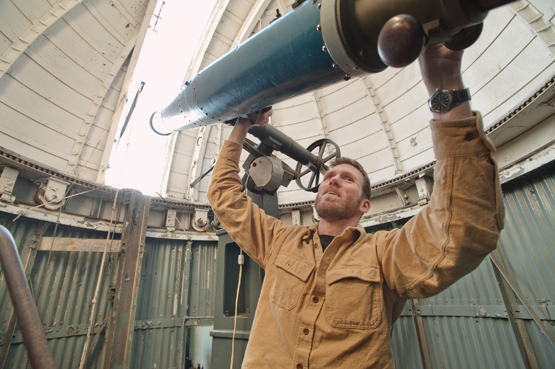 Day in, day out, nearly 10,000 people show up at Boston University — not to go to school, but to go to work.Often unsung, their efforts make everything possible. This is one in aseries of stories about jobs on campus and the people who do them.
Quinn Sykes' office has all the hallmarks of a tinkerer.
A tall brass telescope, more than a century old, stands next to file cabinets, awaiting repairs. Parked on the windowsill is a model Volkswagen Beetle that Sykes built out of Legos, with working doors and a trunk that lifts to reveal the engine. A foot-high wooden trebuchet, which he put together from a kit, sits atop a low bookshelf.
"I do kind of like to make things," says Sykes, who works in the astronomy department and whose official title is observatory manager.
Sykes is responsible for setting up and tearing down labs for undergraduate and graduate astronomy classes, maintaining the computer lab and the Judson B. Coit Observatory, helping professors develop new labs and classroom demonstrations, and fixing and maintaining equipment, from delicate telescopes to creaking observatory doors.
"I have all these catalogues full of cool equipment," says Sykes. "If it's something I think the professor can use, and if it's cheap, I'll buy it. If we can't afford it, I'll make it myself."
On the other side of Sykes' office door is a narrow windowless workshop with a workbench, tool chest, soldering equipment, and boxes filled with wood, metal, adhesives, lubricants, duct tape, wires, and telescope adapters. Beyond that are floor-to-ceiling shelves laden with stuff Sykes might tap for classroom demonstrations: spheres of different diameters, a toy top, Slinkys, tuning forks, light bulbs, a ripple tank, pulse generators, strobe lights, and soccer-ball sized models of Mars, Venus, and the moon.
The goal, Sykes says, is to make labs and demonstrations interesting and fun. One lab, new last semester, had students studying the spectrum of light reflected off the surface of rocks borrowed from the geology department. Students can surmise that a planet or moon has those types of rocks if it emits the same light as samples found on Earth.
About twice a semester, students head up to the observatory on the roof of the College of Arts & Sciences for night labs. The observatory has several telescopes of various diameters, both reflecting (the light reflects off two mirrors and into your eye) and refracting (the light is bent by a glass lens to a focal point at the back of the telescope). Students hunt for constellations, planets, and deep sky objects such as nebulae and galaxies.
They may get a good look at Jupiter or the Andromeda galaxy, but there are some things they will never spot from the city. "The light pollution really kills us," says Sykes. "The air pollution doesn't help, either."
Astronomy majors and graduate students use more advanced equipment, such as a 14-inch computer-controlled telescope. They indicate on a computer which star they want to see; the telescope points and they can take a photo. The students are learning, Sykes says, that astronomy involves much more than squinting through an eyepiece.
"Astronomy now is less looking through the telescope with your eye and more taking images," he says. "Then you have to do all the science. The astronomers here might go observing two to three times a year for a week or two and take hundreds or thousands of images. For the rest of the year, they do astronomy with those images. They're looking at certain wavelengths of light and asking, what does this tell me about what's happening to this star? Are stars changing brightness? Am I looking at a planetary nebula, which is a dying star? And they will come up with scientific theories about how stars live, die, are born."
The public, invited to the observatory every Wednesday night (weather permitting), is a different story. They want the moon, Saturn, and Jupiter. "It's great to see the look on people's faces when they realize, oh my gosh, it's not a picture," says Sykes, who runs the weekly events. "It really does look like this."
At the same time, he adds, their expectations can be high. "It's disappointing when you have to show them something like Mars, and they expect to see the Red Planet and all they see is this tiny orange dot," he says. "They'll say, 'It doesn't look like the photos.' Well, those were taken with Hubble — this is Boston."
Sykes learned how to use a telescope as a kid. "I remember when Halley's Comet came by when I was really young," he says. "My parents woke me up at four in the morning to see it. That was kind of neat. I remember watching all the shuttle launches."
He learned how a telescope operates while earning a master's in physics at the University of North Carolina at Charlotte, where he was a member of the astronomy club. He joined BU's astronomy department in 2002.
Sykes says he's happy working in a field that captivates him. "The light from a galaxy is thousands or millions of light years away," he says. "You're looking so far away, and so far into the past, all at the same time."
The next Public Open Night at the Coit Observatory is tonight, January 13, weather permitting, at 7:30 p.m., at 725 Commonwealth Ave. (The stairwell to the observatory is on the fifth floor, next to Room 520.) To find out if the Open Night will be held, call 617-353-2630 no earlier than two hours before the scheduled starting time.
Cynthia K. Buccini can be reached at cbuccini@bu.edu.