The Fourth: More Fanfare, Less Fuss
How to celebrate America's independence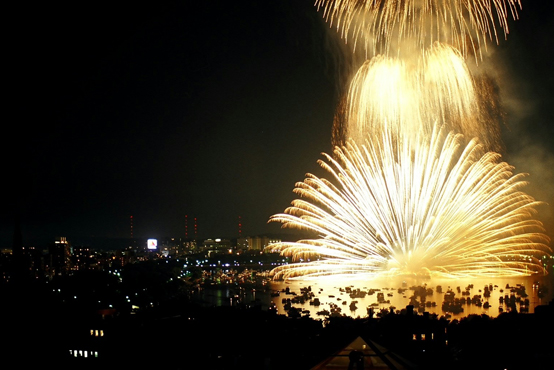 After 36 years, Boston's annual Fourth of July celebration hasn't lost its touch. Each year, half a million people come to the Esplanade for performances by the Boston Pops Orchestra and by celebrity guests, and for the spectacular fireworks display over the Charles River to the strains of Tchaikovsky's 1812 Overture — complete with the cannon fire and church bells.
This year, Craig Ferguson of CBS's The Late Late Show hosts for the third time. Grammy Award–winner Neil Diamond, the crooner behind "Sweet Caroline" (now an integral part of every Red Sox home game), is this year's special guest, so expect prime spots on the lawn to go early. And we mean early: die-hard Fourth fanatics have been known to arrive at dawn, though the concert doesn't start until 8:30 p.m.
If you're planning to hit the Hatch Shell this year, here are a few tips for celebrating Independence Day in style:
Arrive early. The Oval — the lawn that serves as the main seating area — opens at 9 a.m. and will probably reach capacity by late morning. All viewers go through a security checkpoint and receive a wristband allowing them to go in and out throughout the day.
Be prepared. Early birds will get good spots (there are no seats), but they'll also get 12-plus hours outdoors with scattered thunderstorms predicted. Each person in the Oval is allowed to bring a backpack and a cooler (prepare to have them inspected by security), a tarp or blanket no larger than 8 by 10 feet, a collapsible beach or lawn chair, and an umbrella. Prohibited items include alcoholic beverages, glass containers, and sharp objects — including metal tent spikes. It's a good idea to bring water and snacks, although there are food vendors around all day.
Be smart. The Esplanade is a crowded urban environment, so don't tempt thieves. Leave valuables at home, and keep your wallet and iPod with you. Leave Fido at home, too; animals aren't allowed. There is an exception for service animals — see the FAQ's for more information.
Explore. The wristband allows viewers to come and go all day, so get out! Beacon Hill is one of the city's most historic neighborhoods, with cobblestone streets and gaslight lamps, and Newbury Street, the Hub's shopping hub, also is a short walk away. Don't forget to leave your viewing spot intact, like a campsite, or it will be gone when you return.
Take the T. Parking is limited and often expensive. Both the Arlington station on the Green Line and the Charles/MGH stop on the Red Line are within walking distance; visit the MBTA Web site for more information.
Celebrate a day early. If it's music and the Pops, not the fireworks, that interest you, catch the orchestra's performance at the Hatch Shell tomorrow, July 3. The Oval opens at 4 p.m. for the 8:30 p.m. concert.
Jessica Ullian can be reached at jullian@bu.edu.