BU Enters Talks for a Campus in India
Indian government officials visit to explore possibilities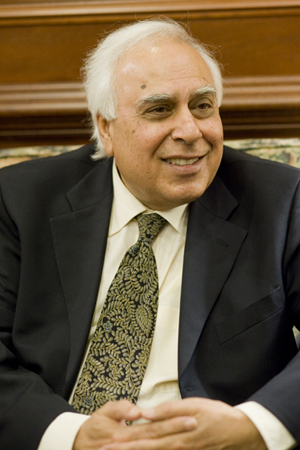 India's minister of human resource development met on Monday with Boston University President Robert A. Brown and other University administrators to discuss the possibility of BU's building at least one campus in India. The visit by Kapil Sibal and his delegation, who also met with administrators at Harvard, Yale, Duke, and Georgetown, represents the first time an Indian minister of state has traveled to the United States seeking partnerships in higher education.
"We are looking at institutions of excellence," says Sibal. "We would like the best in the world to come to India, and it is in that sense that we would welcome Boston University."
He says that India's population — vast, young, and eager to learn — presents a great opportunity for U.S. institutions of higher learning.
"India has about 560 million people who are less than 25 years of age," Sibal says. "The number of children going to school is 220 million, and a substantial percentage of those children will have to graduate. So we need educational institutions, and not all of those institutions can be provided by the government."
Sushil Vachani, a professor of management in the School of Management and special assistant to the president for the Indian initiative, agreed with the minister's assessment.
"With its large and growing population and rapidly rising income, India has enormous need for quality education across a broad spectrum of areas," says Vachani, who was at the meeting. "It is critical for it to partner with high-caliber foreign universities to address this burgeoning demand for education."
Brown says he is pleased with the course of the discussion.
"Minister Sibal's visit was a wonderful opportunity to hear firsthand about the opportunities and challenges for higher education in India and to brief the minister and his delegation on Boston University programs in research and education," says Brown. "Our discussions uncovered many synergies between the strengths of Boston University and the opportunities in India. We look forward to exploring these opportunities further in the future."
According to The Economic Times, an English-language business journal published in India, the Indian government plans to build 14 "innovation universities" in partnership with U.S. universities. The journal reports that the Indian government is working on legislation that would allow selected universities to maintain ownership of their campuses in India and would prevent foreign schools from entering the market if they fail to win government approval.
Asked about specific educational needs that might be provided by BU, Sibal says international connections are crucial.
"We all have to think globally," he says. "This is not so much about the needs of India, but about preparing the global community to meet the challenges of the 21st century."
Those challenges, Sibal says, include global warming, viruses, and hunger. "To feed the world, we need to collaborate," he says. "I think the effect of the Green Revolution has petered out. What we need now is an evergreen revolution."
While at BU, Sibal and the Indian delegation also met with Beverly Brown; Robert Knox (CAS'74, GSM'75), chairman of the Board of Trustees; Karen Antman, dean of the School of Medicine and provost of the Medical Campus; David Campbell, University provost; Jay Halfond, dean of Metropolitan College and chair of the Council for Boston University and the Global Future; Gerald Keusch, a School of Public Health professor of international health, Medical Campus associate dean for global health, and senior advisor to the director of the Center for Global Health and Development; and Douglas Sears, associate provost and assistant to the president.

Art Jahnke can be reached at jahnke@bu.edu.