B-Ball Marketing
A media relations class pitches strategies to fill Agganis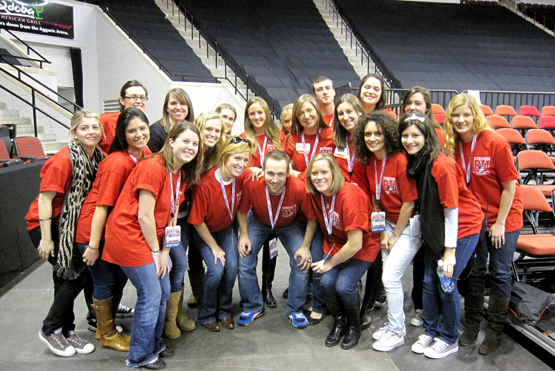 The pub across from Agganis Arena was awash in scarlet at 1:30 on a recent slushy Sunday afternoon, an overflow crowd wearing Terrier hats, shirts, sweatshirts, and scarves. Inside Agganis, the BU and Bucknell men's basketball teams shoot around as music by the Black Eyed Peas reverberates. At 2 p.m., the Terrier fans emerge from the pub, blinking in the sunshine, to make their way to the arena. Game time.
Students from the College of Communication Media Relations course taught by Joanne O'Connor, an associate professor, lead the way, offering free water bottles. They are on a mission, event planners with plastic passes hanging from their necks, urging people into the stands.
By tipoff, despite ugly weather and a Patriots game on TV, 1,200 people fill Agganis, including plenty of students armed with salted pretzels and Nathan's hot dogs. That's a major turnout — and might just translate into a very good grade in O'Connor's course, because her challenge to students this past semester was blunt: come up with a plan to get more students to watch BU basketball.
Here's how their strategy came together.
Team tactics
Five weeks earlier, on November 2, Daniel Solworth, assistant to the dean of students, greeted these same students as they stepped out of the elevators on the ninth floor at One Silber Way, wearing freshly pressed shirts and dress shoes. He led them across marble floors and Oriental carpets and through a maze of hallways hung with oil paintings to the Kenmore Conference Room. The Citgo sign and a full moon were gleaming through the large windows. Assembled at a table like game-show inquisitors were a group of people who would judge their presentations: O'Connor, Kenneth Elmore, dean of students, Drew Marrochello, deputy director of athletics, Kirsten Spilker, athletics coordinator of marketing, and John Battaglino, executive director of the Student Activities Office.
"Without further ado, I would like to introduce the Media Relations groups," said O'Connor. Each group of PR majors had 10 minutes to give a pitch on how to promote the upcoming BU-Bucknell men's basketball game.
O'Connor took her seat at the side of the judges' table, armed with a black sharpie and a stopwatch. She gave students hand signals during the presentations, a thumbs up and a smile for good work and locked arms in a T for time running short, and jotted notes for postpresentation feedback.
First up, the Community Relations team: five women framed a projector screen facing the audience. Each wore a black-and-white blouse and skirt or slacks and clasped her hands in front. Melanie Duzyj (COM'11) introduced her colleagues and made a prepared pitch covering their strategy to increase student attendance at the game. One key idea was an event called It Could Be You, with Elmore inviting local middle school students to BU to talk about the importance of higher education. Afterward, the students and their parents and teachers would be invited to attend the game for free.
O'Connor, stopwatch in hand, kept track of the seconds as Duzyj finished and thanked everyone for coming. The watch clicked.
"Seven minutes and 41 seconds," announced O'Connor.
Each woman stood, waiting with stiff smiles for the judges' reactions.
"Why so Stepford up there?" asked Elmore. "Move around, get closer. I was looking for more movement."
"Melanie, Emily, it drives me nuts when your bangs are in your eyes," O'Connor said. Behind the judges, nervous students, soon to present, fixed ponytails and shifted positions.
With the chirp of O'Connor's stopwatch, the next group, In-Game Promotions, began. Their idea: a 21+ Drink 'em to Sink 'em senior pub pregame pitch and a jersey giveaway, with an autograph session after the game. They raced through the details, as O'Connor's stopwatch ticked; nine minutes, 22 seconds later, they were done.
"Okay, ladies, what this group doesn't understand is that I've been tracking you for eight weeks. How many times did you contact me over that time?" O'Connor asked.
"Umm, once, twice …"
"Once. Community Relations, how many times did you contact me? Three times a day. Lack of communication has done your group no good. You did yourself no service and didn't brand it."
The remaining groups followed one after the other, facing the tough judges. During a question-and-answer session at the end, students could ask advice and defend themselves. "I'll sew T-shirts 'til my fingers bleed, if I can get them," said an In-Game Promotions team member, referring to her group's budget. After a round of congratulatory handshakes, the students trickled out of the conference room to the elevators, leaving the PR world behind.
Several strategies developed by the students were soon realized. Elmore hosted It Could Be You events, starting a new University tradition. Quick guerrilla marketing at the George Sherman Union attracted attention. Dozens of 21+ students gathered across from Agganis on game day. A pregame tailgate and car parade added to the festivities, and a postgame autograph session (below) drew nearly 250 people.
"One successful part of the game was the T-shirt and rally towel toss that got the majority of the crowd on their feet and cheering. It livened the atmosphere," said course student Stephanie Gurtman (COM'10), and hopefully led to return visits.
O'Connor knows that this is a real-life experience her students can put on their résumés.
"I have never worked a class harder, and I work at the graduate level," O'Connor told her students. "Keep it up. And know that it is possible to get an A from Jo O'Connor."
Anna Webster can be reached at annaweb@bu.edu.