Parents Weekend Approaches
The deadline to register for Parents Weekend is Monday, October 13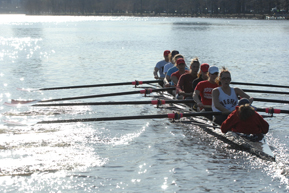 It's time to make dinner reservations and clean your dorm room. Parents Weekend is October 17 to 19 and the campus will be buzzing with activities and people. The deadline to register for the weekend is Monday, October 13.
Parents Weekend events include a performance by the Second City comedy troupe, lectures, religious services, entertainment and performances, and athletics, including the men's and women's crew teams competing in the Head of the Charles regatta.
Some events have limited availability, so students should check the schedule and register for the events they plan to attend. If families have special requirements (for example, handicapped visitors or visitors with dietary restrictions), they can be listed on the registration form.
Event packets with important information, including tickets and final schedules, will be available at the Parents Weekend Information Booth in the GSU on Friday, October 17.
The deadline to register for Parents Weekend is Monday, October 13. Click here to reserve tickets to events around campus. Unless an event has been canceled or closed out, all tickets are nonrefundable.