Campus Eats: No Name Restaurant
Small seafood spot boasts real Boston cuisine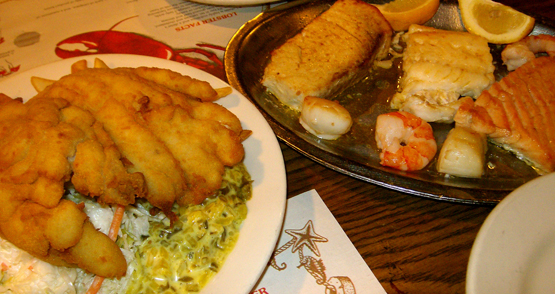 Freshman year, I was determined to have my birthday dinner at one of Boston's famous seafood restaurants. At that point, my city adventures had not yet taken me beyond the Green Line, so I chose the Legal Seafoods in the Prudential Center for my first foray into the cuisine New England is famous for.
I arrived home for Thanksgiving break that year to discover that the unique Boston restaurant I had visited for my birthday had just opened a new location in my local mall. In Pennsylvania.
So when friends began to recommend No Name Restaurant, an affordable, bona fide local seafood institution tucked away in Boston's Seaport District since 1917, I knew the time had finally come to try the real thing.
Armed with a much-improved sense of direction, we arrived at No Name by taking the Silver Line from South Station. As soon as we reached the top of the stairs leading up to the waterfront eatery, we were immediately greeted by the smell of fresh seafood, and soon after, the smiling face of Nicholas, our memorable server.
Just as we sat down at our table, a man walked over from the bar to greet Nicholas. He told us we were in terrific hands, and he was in a position to know: he had been coming to No Name since he was 17. After learning that it was our first time visiting the seafood establishment, Nicholas immediately brought over a plate mounded with garlic bread and a complimentary cup of hearty seafood chowder, chock-full of fresh fish and seafood. Why didn't I find this place sooner?
Following Nicholas' glowing recommendations, we decided to try the fish and chips ($14.95) and the broiled seafood platter ($19.95). The items on the broiled platter included salmon, scrod, swordfish, scallops, and shrimp — the last two were the tastiest. The fish on the platter, presented plainly to highlight its freshness, could have benefited from more seasoning.
But I was most excited about trying the fish and chips, which had been made with haddock caught earlier the same day. Crispy on the outside and tender on the inside, the fresh fish exceeded my high expectations. Heaping sides of coleslaw and tartar sauce provided the perfect accompaniments for the fried fillet and French fries.
We left stuffed to the gills — pun totally intended — and with a couple of new friends. Most important, I finally recovered from my freshman year faux pas and found Boston's local seafood at last.
No Name Restaurant, 15½ Fish Pier, Boston (617-338-7539). Main courses: $7.75-$28.95.
Click here to read about more campus eats, or visit the facebook page, eat @ bu.
Leah Mennies can be reached at lmennies@bu.edu.
This Series
Also in
April 18, 2018

April 11, 2018

March 29, 2018