Terrier Hockey Drops Two to BC Eagles
Friday's game ends 6-2, Saturday's 4-3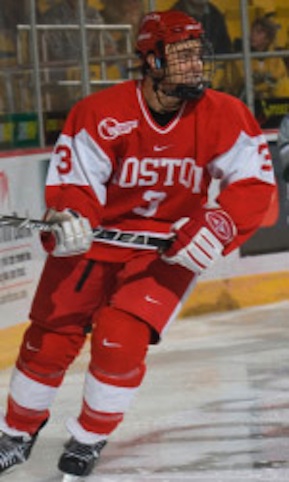 The men's ice hockey team dropped two games to Boston College over theweekend, losing 6-2 to the Eagles at Conte Forum in Chestnut Hill,Mass., on Friday night and falling 4-3 on Saturday at Agganis Arena.The Terriers raked in power-play tallies both nights and led briefly inthe first period on Saturday, but ultimately followed theirThanksgiving-weekend victory over Cornell with two disappointinglosses. The team is now 4-9-2 on the season with a 3-5-1 Hockey Eastshowing.
On Friday, the Eagles opened the scoring at the 5:10mark of the first and then notched three straight first-period goals injust over two minutes. Brandon Yip (CAS'09) scored near the end of thefirst during a 4-on-3 opportunity, but in the second, the Eagles rackedup two more goals, including one from a BU turnover behind the net, toraise their tally to five. In the third period, BC junior Nathan Gerbeknocked in his own rebound off of a breakaway against BU's KarsonGillespie (CAS'09) before the Terriers created another power-play goalwhen Pete MacArthur (SED'08) scored on assists from Brian Strait(CAS'10) and Bryan Ewing (CAS'08).
At Saturday's matchup atAgganis, BU outshot BC 44-25, but couldn't control the board aftertaking a short 2-1 lead near the end of the first. BC's Gerbe openedthe scoring at 2:06, but Kevin Shattenkirk (CAS'11) and Yip both scoredto give the Terriers their only lead of the weekend. Eagle sophomoreBen Smith responded 44 seconds later with the first of threeconsecutive goals, tying the score before the first intermission andthen scoring the only goal of the second period and knocking in arebound in the third. Matt Gilroy (CAS'09) used a power play in thethird to narrow BC's lead, but the Terriers couldn't close the gapbefore the clock ran down.
The Terriers will take on theUniversity of Massachusetts–Lowell on Friday, December 7, at Lowell at7 p.m. and play an exhibition match against the U.S. National Under-18Team at Agganis Arena on Saturday, December 8, at 7 p.m.

Additional reporting by BU Athletics.
Jessica Ullian can be reached at jullian@bu.edu.