Development That Works – Session 3: Social Enterprise
VIDEO: "DEVELOPMENT THAT WORKS" Session 3
April 15, 2011
More than 100 people participated in The Frederick S. Pardee Center for the Study of the Longer-Range Future's annual conference on Thursday, March 31 called Development That Works held at the Boston University School of Management conference center.
The all-day conference was organized by the Pardee Center in collaboration with the Boston University Global Development program. Members of the organizing committee for the conference, who also served as session chairs, included Prof. Kevin Gallagher (International Relations), Prof. Dilip Mookherjee (Economics), Prof. Jonathon Simon (Center for Global Health and Development) and Prof. Adil Najam (Pardee Center). The conference had kicked off with a reception for panelists the previous evening.
The four panels at the Development that Works conference featured thirteen leading scholars and practitioners who discussed their work related to various aspects of development based on examples and experiences from around the world. From global development policy programs by agencies such as The World Bank to local programs delivering education, health and poverty alleviation services to rural villages in Africa and Asia, the speakers highlighted the challenges of creating programs that achieve the intended results and can be sustained over time. Lively question-and-answer sessions followed each panel discussion, providing an opportunity for the many development scholars, practitioner and students in the audience to interact with the presenters.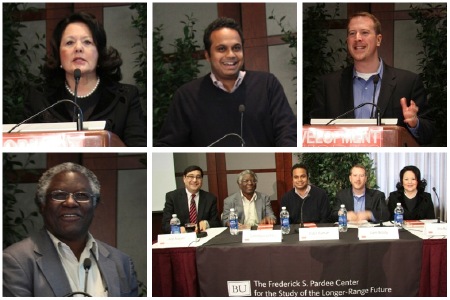 The third panel of the day focused on Social Enterprise and was chaired by Adil Najam, (Frederick S. Pardee Professor of Global Public Policy and Director, The Pardee Center, Boston University). The speakers on this panel included Una Ryan (Chief Executive Officer, Diagnostics for All), Liam Brody (Senior Vice President, Root Capital), Kabir Kumar (Microfinance Analyst, Consultative Group to Assist the Poor) and Calestous Juma (Professor of the Practice of International Development and Director of Science, Technology, Globalization, Harvard Kennedy School). This panel showcased learning and experience on social enterprise and innovation for development and speakers highlighted developments in a range of areas including healthcare for the poor, environment, finance, telecommunication and agriculture.
A conference report is available here and videos of the entire event are available on the Pardee Center Multimedia page. A report of the reception for panelists held the previous evening is available here. A report of the conference published in The Daily Free Press is available here.