Experts Discuss Global Finance and Trade at Pardee House Seminar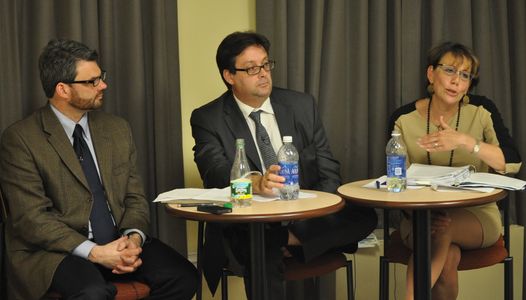 Three contributing authors to the new Pardee Center Task Force Report titled Capital Account Regulations and the Trading System: A Compatibility Review were the featured presenters at the Pardee House Seminar on April 12.
The seminar was co-sponsored by the Center for Finance, Law and Policy, which also collaborated on publication of the report.  The event marked the public release of the report, which was produced by the Pardee Center in conjunction with the Center for the Study of the State and Society (CEDES), in Buenos Aires, Argentina.
Pardee Faculty Fellow Kevin P. Gallagher, a contributing author to the report and co-convener of the Pardee Center Task Force, moderated the discussion. Other presented included Leonardo E. Stanley, Associate Researcher in Economics at CEDES, and Deborah E. Siegel, a former Senior Counsel at the International Monetary Fund's and currently an independent consultant.
Prof. Gallagher provided background about the report's findings that incompatibilities exist between a county's ability to put some limitations on foreign capital flowing into and out of its economy by instituting capital account regulations (CARs) and common provisions in trade and investment treaties that specifically restrict such regulations. This conflict can occur in various provisions in multi-country treaties negotiated through the World Trade Organization (WTO) but occurs even more often in free trade agreements (FTAs) and bilateral investment treaties (BITs) negotiated directly between countries independently of the WTO, the report's authors found.
The panelists spoke specifically about the IMF's position on the use of capital account regulations and how that has evolved recently. While the IMF membership and lending policies in the past discouraged the use of capital account regulations, an IMF report issued in December 2012 included an updated "institutional view" clarifying that the international financial institution will work with individual countries to take measures related to capital account regulations that the country deems appropriate, Siegel noted.  This is in line with the recommendations of the new Pardee Center Task Force Report.
"The Task Force report recommends finding a balanced and reasonable way to regulate capital flow under certain circumstances," concluded Prof. Gallagher
In addition to the Pardee Center and CEDES, the Global Development and Environment Institute at Tufts University was a co-sponsor of the report.  The Center for Finance, Law and Policy also was a collaborator. The new report builds on the Task Force's first report, Regulating Global Capital Flows for Long-Run Development, published in March 2012.
Both publications and the Pardee Center Task Force are part of the Global Economic Governance Initiative, led by Prof. Gallagher.
A video of the April 12 seminar will be available soon in the multimedia section of this website.