Pardee Center Co-Sponsors Film Screening with BUCSA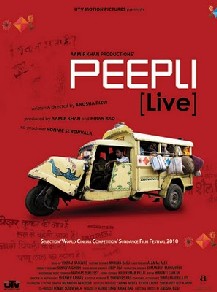 On Tuesday, October 9, the Frederick S. Pardee Center for the Study of the Longer-Range Future will co-sponsor a movie screening of Peepli Live followed by a reception with the BU Center for the Study of Asia, Akshaya Patra Foundation, and BU India Club. The event will take place at 640 Commonwealth Ave., College of Communication, Room 101, from 6 to 8 pm.
Peepli Live is a comic satire exploring farmer suicides in India and media and official responses. When indigent farmers Natha (Omkar Das) and Budhia (Raghuvir Yadav) stand to lose their land over a loan they can't repay, a government official comes up with a modest proposal: Commit suicide and collect a subsidy that's paid to the relatives of deceased farmers. As Natha weighs his options, a journalist learns of his predicament and the media circus begins. Anusha Rizvi directs this satirical take on a real-life crisis afflicting India's underclass.