Research Appointments & Services
Appointments at Mugar Library
Undergrads: Are you having trouble researching a topic for a paper or other project? Schedule a 30-minute individual or group research consultation with one of your BU librarians at Mugar Library.
Walk-in Help at All BU Libraries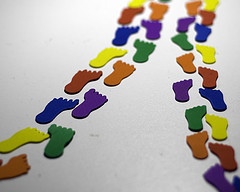 Do you need a quick answer or not have time to make an appointment? Drop in at one of our libraries — no appointment necessary.
Mugar Research Center Hours: Mon-Thur, 9am-9pm; Fri, 9am-5pm; Sun, 10am-8pm Check the Hours pages for each of the individual libraries to see when help is available at a particular library.

More Ways to Get Help
Contact a subject specialist for in-depth, expert assistance
Call the Mugar Library Research Center at 617-353-2700
Search or browse Library FAQs
Ready to submit your dissertation? Call Brendan McDermott at 617-353-9387 for a consultation.
Writing Help
Footsteps image 

by 
David Goehring