BLT


The BU Jewish Leadership Team is an umbrella of all leaders that incubate and create diverse Jewish life across Boston University. There are 6 main tracks that students immerse within. Each BLTer partners with a BU Hillel staff mentor to dream big, and explore their identity, community, and world around them. Any BU student is welcomed to participate, join, or check out any of the initiatives below.
To get involved in any of the initiatives, just click on the initiative's FB page or email the student in charge!
Interested in piloting a new initiative?  Apply here.
For BLTers
Program Guide: To submit a program guide, click here.
Marketing Request: To submit a marketing request, click here.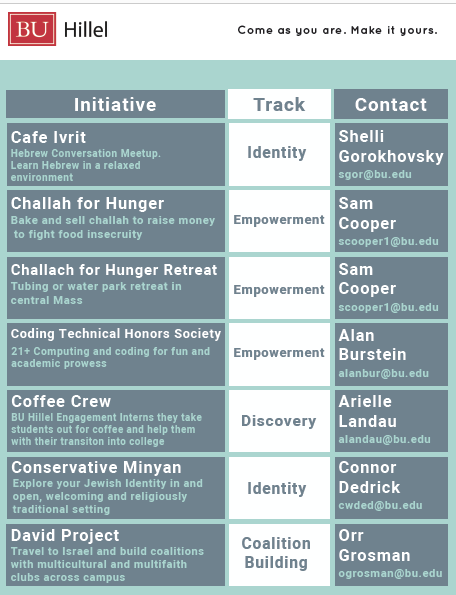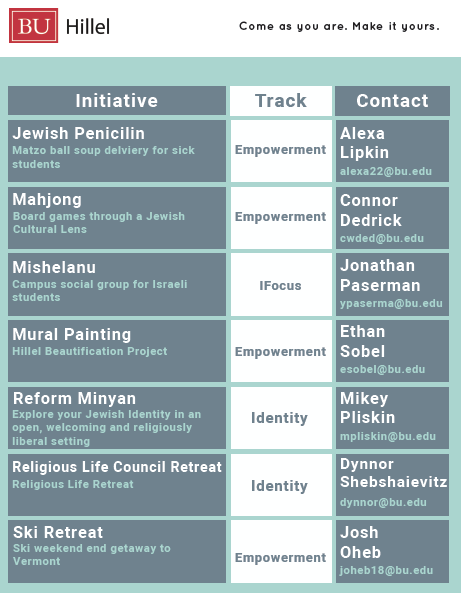 Last year we:
Networked with the founder of DAVIDsTEA, David Segal and NFL Network chief correspondent, Andrea Kremer
Discussed the memory of the Holocaust with 7 survivors in 7 living rooms across campus with 200 participants

Raised $800

for the Greater Boston Food Bank by baking and selling Challahs

Raised $200

for Save a Child's Heart by running a bubble soccer tournament

Brought together students from across the political spectrum to hear former U.S. Amb. to the Middle East, Dennis Ross speak.

Led 12 students

on an ASB trip to South Africa

Relaxed in the lounge to play Super Smash Brothers and watch some Boston Sports with Wings
By becoming a BLTer:
Good news: You get a staff mentor, helping you pursue your passions and dreams. You have access to funding, our building, our marketing resources, and much more.
Better news: Being part of the BU Jewish Leadership Team is more than just telling you – you get to be part of a 100+ student leader community that actually communicates, shares ideas, and hangs out. 
Best news: Not only do you have access to mentorship and funding, but BLT exclusive events, too! Hangout with the student leaders incubating Jewish life at BU. This fall, student leaders are getting together at:
Sunset Boat Cruise in Boston Harbor

(complete with a DJ and food) – November 2018 (complete)

FREE professional headshot

 and profile on our 

www.bu.edu/hillel website – Spring 2019
Cohort Event in Boston – Spring 2019