Fresh Fuel Dining Hall
Our state of the art dining room on the 3rd floor of Granby Commons, is operated by BU Dining. The menu is a unique blend of innovative concepts, display cooking and a full menu compromised of a salad bar, hot and cold options, and desserts. You'll find that our dining room features both a full Vegan Kosher kitchen as well as a Kosher Meat kitchen. Join us for lunch or dinner daily as well as Shabbat meals Friday and Saturday, we will be closed on Sundays. The dining hall is supervised by KVH kashrut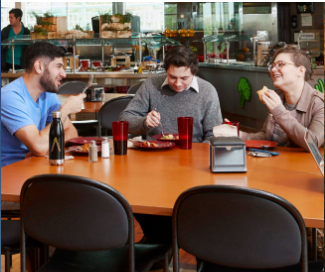 Granby Commons is part of the BU dining program and is open to everyone with any student meal plan at no extra cost – just use a meal swipe! Read the latest article about Granby Commons in the Daily Free Press.
Lunch is served in the dining hall:
Monday – Friday from 11:30 am – 2:00 pm.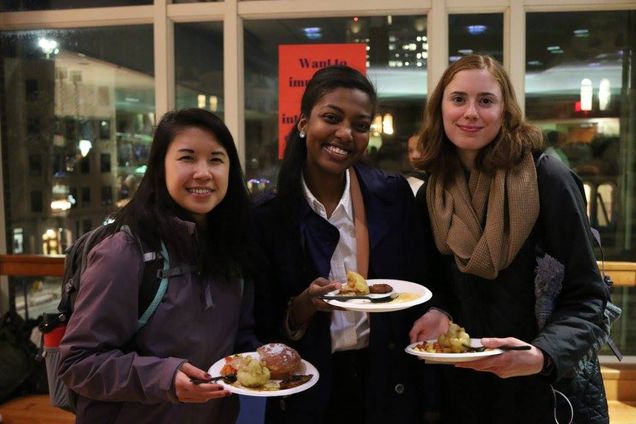 Dinner is served in the dining hall:
Monday – Thursday from 5:00 pm – 7:00 pm and Fridays immediately after Shabbat services.
NOTE: Our dining hall is open during the academic year only.  It is closed to the general public for the summer – from the end of spring finals until the first weekend before classes begin in the fall. It is also closed during university recesses (i.e. Thanksgiving, winter break and spring break).  For a complete schedule of on-campus dining halls, click here.
Shabbat and Holiday Meals
Click to read about Shabbat!
Shabbat lunch and holiday meals are available and you can sign up in advance. Friday night dinners are FREE for the fall 2018 semester. You can sign-up for Saturday lunch as well using meal swipes: http://www.bu.edu/hillel/student/dining.html