Hazing Prevention and Reporting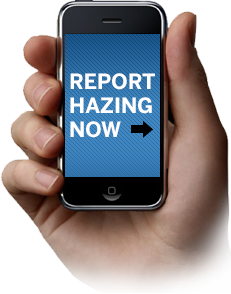 Boston University is about experiencing all that you can, trying new things and making friends from across the globe. We want you to join groups, create networks and create common experiences with each other – that is what your BU is all about. But no group or fellow student should ever put you at risk – physically or emotionally – as a condition of participation in a group or opportunity.
If you feel uncomfortable or are being forced to do something you don't want to do in order to gain or maintain membership in a group, you may be being hazed. Hazing is not just against the Boston University Code of Student Responsibilities, but against the laws of the Commonwealth of Massachusetts.
If a group is making you stay up for days straight, spend long hours exposed to the elements, consume an excessive amount of alcohol, daring you to do something dangerous, isolating you from others, harassing you or asking you to  harass someone, you may be being hazed.
If it's happening to you, if you are ordered to do it to someone else, or if you see it happening to friends or classmates, please report it. If the hazing or situation is life threatening or violent, call the Boston University Police immediately at 617-353-2121. If it is not an emergency, you can use the confidential online hazing report form. Your report can be anonymous.
Students accused of hazing will go through the University's Judicial Process. Organizations accused of hazing may have their University recognition withdrawn.
If you have more questions, please contact the Dean of Students Office at 617-353-4126 and dos@bu.edu.