Current Pilot Studies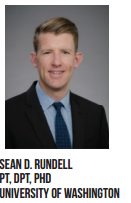 Developing A Prognostic Model for Risk Adjustment in Patients With Back Pain
The long-term goal of this research is to advance risk adjustment methods for outpatient rehabilitation settings using a promising alternative to traditional comorbidity indices, the Functional Comorbidity Index (FCI). The overall objective of this application is to use a cohort of older adults with back pain that has both self-reported functional status and complete electronic health record data to examine the ability of an ICD9-based FCI to predict function, health-related quality-of-life, and overall health care use. Our main hypothesis is that the ICD9-based FCI will improve the prediction of long-term function and health-related quality-of-life as compared to a standard demographic model, and it will also be superior to other commonly used comorbidity indices. This project has the potential to lead to a risk adjustment model that can be easily applied and broadly adopted for use in outpatient physical therapy settings.
"Risk adjustment is becoming an important priority in health care so that we can make more fair and accurate decisions or comparisons among providers and health systems. This pilot funding from CoHSTAR gives us the ability to begin a very relevant line of research that has the potential to improve risk adjustment methods that are suitable for physical therapy settings. As a new investigator, this is a great opportunity to continue building my career in health services research."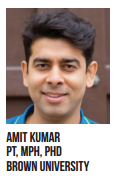 The Impact of Hospital-Based Physical Therapy Services on Hospital Readmission: Implications for Bundled Payment
The study focuses on examining variation in hospital-level utilization of physical therapy services and the factors associated with that variation in patients with stroke. The study will use Medicare claims data to examine variation in physical therapy services provided (e.g., evaluation and units received) and its impact on unplanned hospital readmissions. This pilot study will contribute to PT practice examining the value of PT in improving patient's outcomes for patients with stroke in the acute care setting.
This initial work will demonstrate the current gap in hospital- based PT practice and help determine if PT in acute care setting improves post-acute care outcomes and identify factors related to variations in outcomes, including the amount of therapy.
"CoHSTAR funding gave me an opportunity to apply my health service methods in the advancement of rehabilitation science."
Health Care Utilization for Musculoskeletal Disorders in Adults with Cerebral Palsy: An Analysis of Medicare Data
We propose to analyze Medicare claims to identify the extent to which adults with CP receive/seek health care, and specifically rehabilitation care, for musculoskeletal disorders and describe the demographic and clinical characteristics of these individuals.   For select musculoskeletal disorders we will compare patterns of healthcare utilization for adults with CP and similar adults without CP.  These outcomes will provide valuable information on the delivery of care for the treatment of MSK disorders in the real world setting for adults with CP and will provide necessary information to inform best practices.  Results will also provide guidance for future research that will expand this methodology to include the analysis of Medicaid and private insurance claims data, to incorporate other sources of data (e.g., EHR, registry data), and to utilize these to conduct comparative effectiveness research on interventions provided to adults with CP for MSK disorders.  These initial studies will inform next steps in the integration and use of administrative data with other healthcare data to ultimately improve the quality and effectiveness of healthcare for adults with CP. This line of research has the potential to have an immense positive impact on provision of rehabilitation services across the life course for individuals with CP, with the ultimate goal of improving the health and quality of life of this population.
"The CoHSTAR pilot funding will allow me to take my research in a new direction, away from intervention research toward health services research.  I believe the answers to many of our questions related to health care utilization and the efficacy of specific interventions for individuals aging with cerebral palsy lie within large data sets.  The mentorship I will receive during this pilot project and the methodologies I will learn while working with large data sets will enable me to eventually conduct comparative effectiveness research which will enable me to guide rehabilitation specialists toward more effective, efficacious interventions for individuals aging with CP."
Health System Implementation of Clinical Practice Guidelines for Neck and Low Back Pain in Outpatient Physical Therapy Settings 
Dr. Beneciuk is a Clinical Research Scientist, Brooks Rehabilitation – University of Florida, College of Public Health & Health Professions Research Collaboration. He is also an Assistant Professor, Department of Physical Therapy, University of Florida and a faculty member in the Orthopaedic Residency and Orthopaedic Manual Physical Therapy Fellowship Programs at Brooks Rehabilitation.
This study will investigate implementation of a process to enhance Clinical Practice Guideline (CPG) adherence to limit unwarranted variability in initial treatment decisions with high potential for providing more effective and efficient physical therapy management for patients with neck and low back pain. This study, conducted at Brooks Rehabilitation outpatient clinics, will determine if physical therapy clinics that receive neck and low back pain CPG training are associated with improved patient outcomes compared to those that have not received training.
"The overall goals of this research project are to address a critical barrier to the progression of physical therapy management for spine related musculoskeletal pain by evaluating a multifaceted strategy for CPG implementation while also identifying barriers and facilitators for sustained implementation during routine clinical practice. As a new investigator, this CoHSTAR pilot funding provides a tremendous opportunity for my continued development in health services research."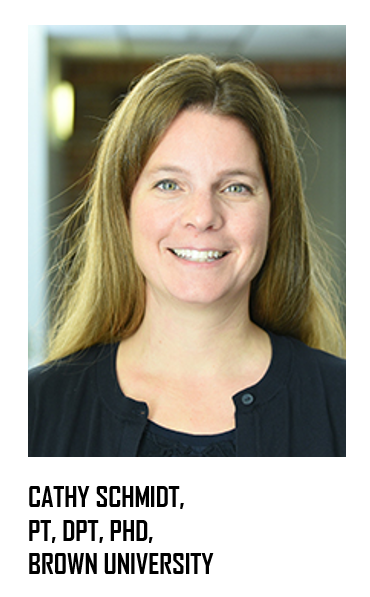 Initial Treatment Approaches and Healthcare Utilization among Veterans with Low Back Pain 
Cathy Schmidt, PT, DPT, PhD, Brown University
Dr. Schmidt is a postdoctoral research fellow within the Center on Health Services Training and Research (CoHSTAR) at Brown University.
This research aims to quantify the value of physical therapy in the management of Veterans with low back Pain (LBP). The primary objective of this research is to gain a better understanding of initial treatment strategies, including physical therapy and the impact of these strategies on important health and utilization outcomes among Veterans with a new diagnosis of LBP. Little is known about the impact of early physical therapy on pain, the use of opioids and subsequent healthcare utilization in Veterans with LBP. Our main hypothesis is that Veterans with a new diagnosis of LBP receiving early PT will demonstrate less pain and have better utilization outcomes than Veterans receiving early opioid therapy. Without this research Veterans with low back pain may be misguided through pain management and inadvertently exposed to prescription opioid dependency which can lead to significant health risks and high economic
"Evaluating conservative therapies, such as physical therapy, that minimize the risk for chronic opioid dependency for patients with LBP is a national healthcare priority. Our research has the potential to inform early management decisions and minimize subsequent high healthcare need for Veterans with LBP. I am grateful to be a recipient of the CoHSTAR pilot program this year. The funding will be integral to supporting this early research and advancing my career in health services research."
Using feedback on Patient Health Outcomes to Improve Orthopedic Physical Therapist Practice
Kenneth Harwood, PT, PhD, CIE & Philip Van der Wees, PT, PhD
Measuring outcomes can play an important role in patient-centered and value based healthcare. Outcome and process measures are important to manage clinical quality and to provide better information and choice to patients. When outcomes are aggregated across patients they provide data for measuring, comparing and improving quality of care.
The purpose of this research is to develop and pilot test a quality improvement program thatuses a systematic process of PDSA cycles based on the outcomes from the American PhysicalTherapy Association (APTA) Physical Therapy Outcomes Registry (PTOR) and electronic health records of patients with low
back pain and neck pain. Quality improvement programs (QIP) often use Plan-Do-Study-Act (PDSA) cycles to achieve process and outcomes improvement, however the QIP s are not commonly used in physical therapy and requires investigation.  The pilot project will develop and test a PT-specific QIP using on online training program with guided PDSA cycles in PT clinics. The effectiveness of the QIP will be assessed by changes in defined outcomes, surveys and qualitative measures (semi-structured interviews and a focus group). The outcomes from this work will assist in developing a QIP model to be used on a widespread basis.
"CoHSTAR funding will allow us to examine the Quality Improvement process in physical therapy to improve how clinicians use outcome data to impact the provision of patient care to achieve the highest patient outcomes.  In addition, the collaborations established through this pilot award will be instrumental in progressing this research agenda forward."
Physician Referral Patterns to Physical Therapists for Managing Knee Osteoarthritis: An Analysis using Patient Electronic Health Records at the University of Pittsburgh Medical Center (UPMC)
PI: Samannaaz S. Khoja, PT, PhD
The overarching objective of this study is to describe and understand factors that contribute to variation in the rate and timing (from initial OA diagnosis) of physician referrals to PTs for knee-OA. The study aims to i) describe referrals to PTs, referrals to other physician specialists, and tests and treatments prescribed during the knee-OA visit such as pain medications, imaging services, and surgery; and ii) assess factors associated with physician referral to PT for knee-OA. We shall examine associations with inner setting factors (e.g., rural or urban practice location, OA patient volume), ii) outer setting factors (e.g., insurance coverage, supply of PTs) and iii) characteristics of physicians providing treatment (e.g., physician specialty, medical or osteopathy (DO) training). We hypothesize that certain inner setting factors such as rural location and outer setting factors such as Medicaid insurance coverage will be associated with a lower likelihood of PT referrals, while inner setting factors such as volume of knee-OA patients and outer setting factors such as supply of PTs will be positively associated with PT referrals. We also hypothesize that provider factors such as primary care specialty, MD vs DO training, and opioid prescribing would be associated with a lower likelihood of PT referral. The study design will be a retrospective, observational analysis of electronic health record (EHR) data on ambulatory visits for a new complaint of knee-OA (index visit) in a large integrated health system (UPMC).
"I am extremely grateful for this funding opportunity through CoHSTAR and AOPT. This pilot study will provide me the impetus and guidance necessary for my growth as a health systems researcher. Through this pilot study we shall begin to address the gaps in knowledge about: 1) physician behavior for managing knee-OA and when and how often PT is prescribed, 2) the barriers and facilitators in the inner and outer settings to PT referral. Successful completion of this project will provide crucial data to inform future dissemination and implementation efforts to optimize guideline concordant care in knee-OA and explore alternative/innovative methods for promoting physical activity-based interventions in this population.