What Did It Take to Reopen Campus This Fall?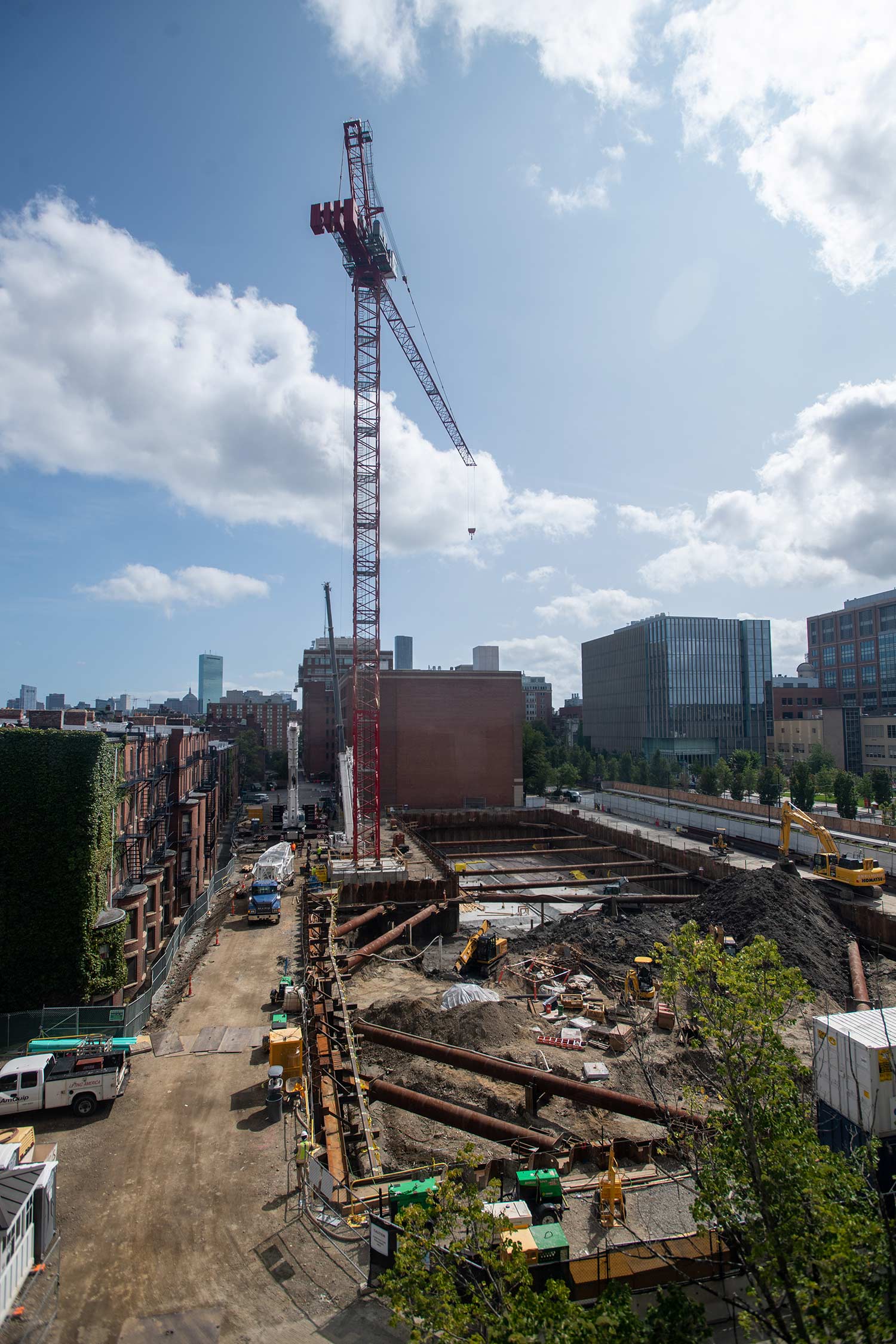 Construction
What Did It Take to Reopen Campus This Fall?
Among construction projects: new COVID-19 testing facilities, improvements to HVAC systems, and classroom technology upgrades
COVID-19 disrupted virtually everything on campus last spring when BU was forced to move to remote teaching and learning. The onset of the pandemic and the impact it had on the University's budget (outlined in President Robert A. Brown's State of the University letter sent out earlier this month) meant, among other things, that numerous summer construction projects overseen by Campus Planning & Operations (CPO) had to be reevaluated. 
The University's ongoing construction projects had been abruptly halted in March after the city of Boston put a stop to construction in the city in an effort to prevent the spread of COVID-19; emergency road and utility projects were the only work allowed during that time. In May, the city slowly allowed essential construction to resume, albeit with new safety guidelines.
The CPO team sprang into action, quickly assessing how to plan, design, and construct University projects within the confines of a global pandemic. The directive was clear: with the coronavirus pandemic still raging across the country, health officials and public health experts were pushing new measures for public spaces to ensure everyone's safety. At BU, that meant the addition of new projects to protect the health and safety of the University, as well as making some major changes to buildings, classrooms, offices, and labs in order to open in September and continuing to work on important long-term projects.
So CPO turned its attention to the many campus improvement projects that would be necessary to allow for a safe reopening of campus this fall—think new COVID-19 testing facilities, improvements to HVAC systems, and classroom technology upgrades. At the same time, CPO resumed work on several crucial and major long-term academic, research, and operational projects, many that had been in their final stages when construction froze in March. "Our portfolio of projects in the summer was heavily influenced by COVID-19 health and safety concerns, continuing projects that we had started prior to COVID-19, and taking on new projects related to faculty recruitments and other academic and research programs," says Michael Donovan, BU vice president for campus planning and operations. "This was not a typical summer. Many of the projects we worked on were in progress already, such as the GSU Food Hall and the BU Children's Center, which turned out to be spectacular."
Lisa Hynes, CPO Planning, Design & Construction senior project manager of annual capital projects, says she cannot stress enough "the complexity and teamwork that have gone into" the projects she worked on, which included overseeing Learn from Anywhere (LfA) classroom technology upgrades and renovations to the College of Fine Arts building. "We were talking daily to, and coordinating with, the registrar and provost on these projects. It's been an all-hands-on-deck kind of summer."
The total cost of the summer projects is estimated at $50 million, according to Gregg Snyder, assistant vice president for informatics and strategic initiatives. These crucial projects are in addition to the daily upkeep required to maintain BU's more than 300 buildings and grounds, spread over three campuses.
1.
HVAC Updates for Building Safety
BU Campuses
Scientists and the Centers for Disease Control and Prevention (CDC) agree that one of the most important COVID-19 mitigation strategies employers must take is to improve building ventilation and air circulation wherever possible. Given that fact, Facilities Management & Operations (FMO) created a team that included the University's Engineering & Building Systems staff, in-house HVAC technicians, Environmental Health & Safety staff, and an outside firm to enhance the performance of HVAC systems across the University.
FMO did just that by increasing the airflow in indoor spaces, allowing HVAC systems in buildings to run constantly (instead of the pre-COVID 12 to 16 hours a day), and installing new filters.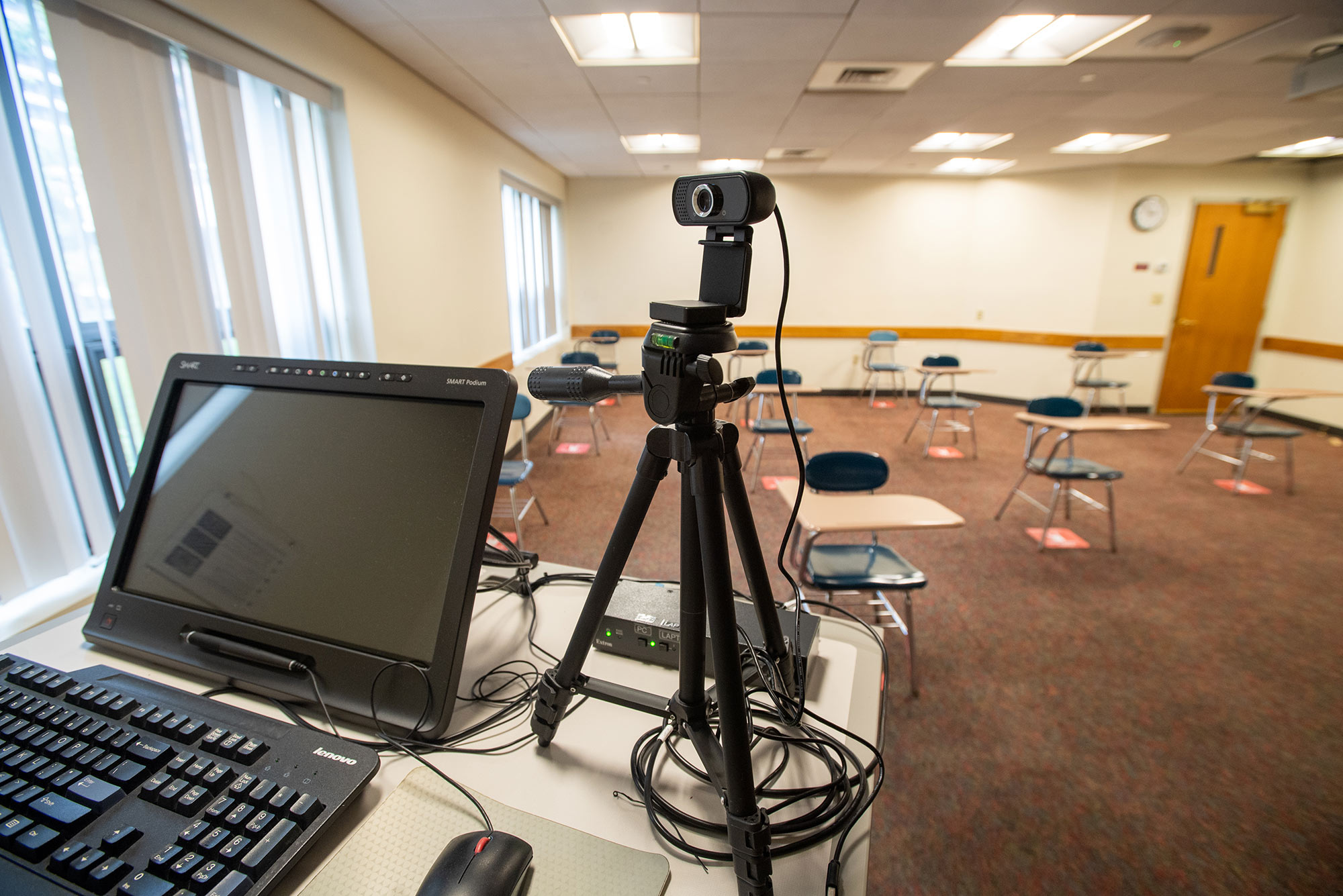 2.
Learn from Anywhere (LfA) Classroom Upgrades
BU Campuses
Over the summer, a cross-University team comprising members from the Provost's and Registrar's offices, IS&T Learning & Event Technology Services, Educational Media, and Campus Planning & Operations brainstormed with the undergraduate and graduate recovery task forces to de-densify and install technology solutions in over 600 rooms being used as classrooms for the University's LfA model.
The team collaborated to identify the best use of classrooms, which had to incorporate six feet of physical distance spacing. This initiative helped determine where classes are being held this fall, and utilized spaces that had not previously been used for teaching, such as the George Sherman Union Ballroom, Marsh Chapel, FitRec basketball courts, and various lounges across campus.
3.
Reactivation of Buildings and Spaces
BU Campuses
Teams across the University worked together to retrofit 15 million square feet of space in over 300 buildings to ensure they were in line with the evolving guidelines from the CDC, the commonwealth of Massachusetts, and the city of Boston. The four-phase process started with research spaces, then academic and instructional spaces, and finally, residential and administrative spaces. As part of this process, a detailed inspection of building systems and operations was done, including review of HVAC, mechanical, and plumbing systems. At the same time, cleaning and disinfecting supplies were disseminated for use around campus. The final step in this undertaking was the installation of nearly 100,000 signs with information about social distancing, capacity limits, and other public health and safety information throughout campus.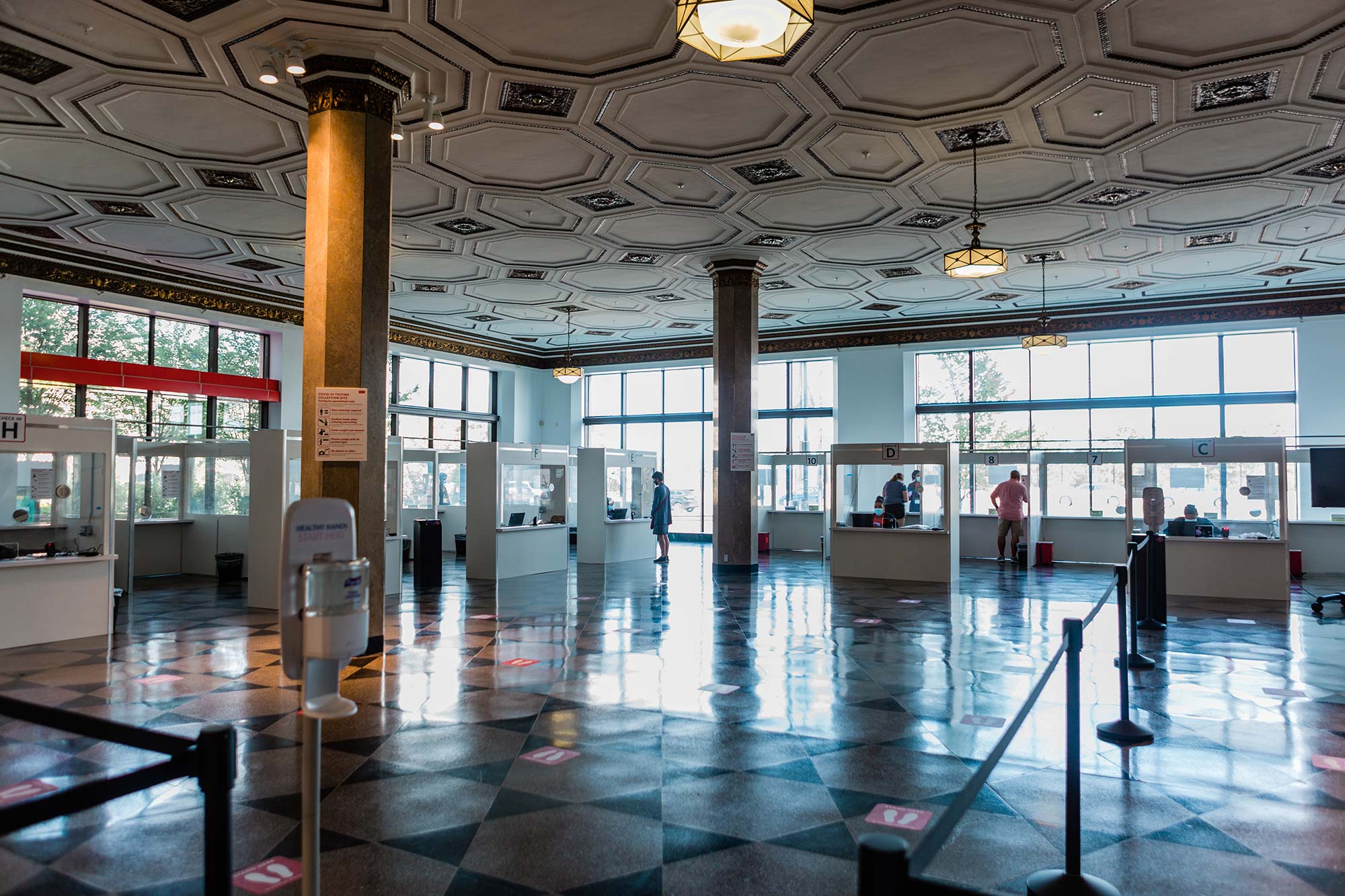 4.
COVID-19 Testing Site Locations
BU Campuses
Planning, Design & Construction oversaw the creation of five new COVID-19 test collection centers at locations and laboratory sites on the Charles River and Medical Campuses, and a major expansion of a laboratory at the Kilachand Center for Integrated Life Sciences & Engineering (the Clinical Testing Lab) for COVID-19 PCR testing.
Completed between early July and mid-August, this initiative enabled the University to collect and analyze roughly 5,000 COVID-19 tests on students, faculty, and staff on a daily basis.
5.
Center for Computing & Data Sciences
645 Commonwealth Avenue
6.
BU Children's Center
10 Lenox Street, Brookline
In its new home in a completely renovated early-20th-century mansion in Brookline's historic Cottage Farm neighborhood, the BU Children's Center has triple its previous space at 32 Harry Agganis Way, allowing it to increase the number of children it can serve from 33 to 92 and enabling it to care for infants and younger toddlers, an important request from parents.
The 20,000-square-foot building features seven classrooms for various ages, indoor gross-motor areas, a garden studio, and an extensive outdoor playground. The project was able to consolidate the Children's Center and the Family Resources office under one roof.
7.
Mugar Memorial Library Renovations
771 Commonwealth Ave
Modifications to Mugar Memorial Library were made over the summer. The old patron check-in/checkout desk was replaced with a new centralized kiosk, now operated by Mugar's security staff. Patrons must swipe their BU IDs to enter through the new turnstiles. Upon departure, patrons pass through a new exit system that reads the magnetic strips in every book in the library, meant to deter theft.
8.
GSU Food Hall Renovations
775 Commonwealth Avenue
Significant renovations were made to the newly renamed George Sherman Union Food Hall, improving customer flow and circulation. There are new retail venues featuring mobile ordering, on-site ordering, and convenient pickup locations. Each station received new finishes, including flooring, ceilings, and lighting.
An updated central production kitchen was also installed, with replaced plumbing infrastructure and new appliances, flooring, ceilings, and lighting. New sprinklers were also added throughout both the kitchen and the food hall.
The last major renovation of this kind at the GSU was a decade ago.
9.
College of Fine Arts Renovations
855 Commonwealth Avenue
The renovations to the historic College of Fine Arts building began last summer, and the final result is visible to any passerby: substantial aesthetic improvements have been made to the street-level concrete façade, which now boasts graceful arched floor-to-ceiling windows. The renovations will allow pedestrians to peek in and glimpse students' work and are designed to bring more vitality to the street. The project also includes a facelift to the Stone Gallery and the movement studio, transforming the former theater studio into a student lounge, the renovation of multiple restrooms, and the conversion of all single-stall bathrooms to all-gender facilities, as well as other building-wide improvements designed to enhance accessibility for all. The project is nearly complete, with crews now finishing restoration work on the building's north facade.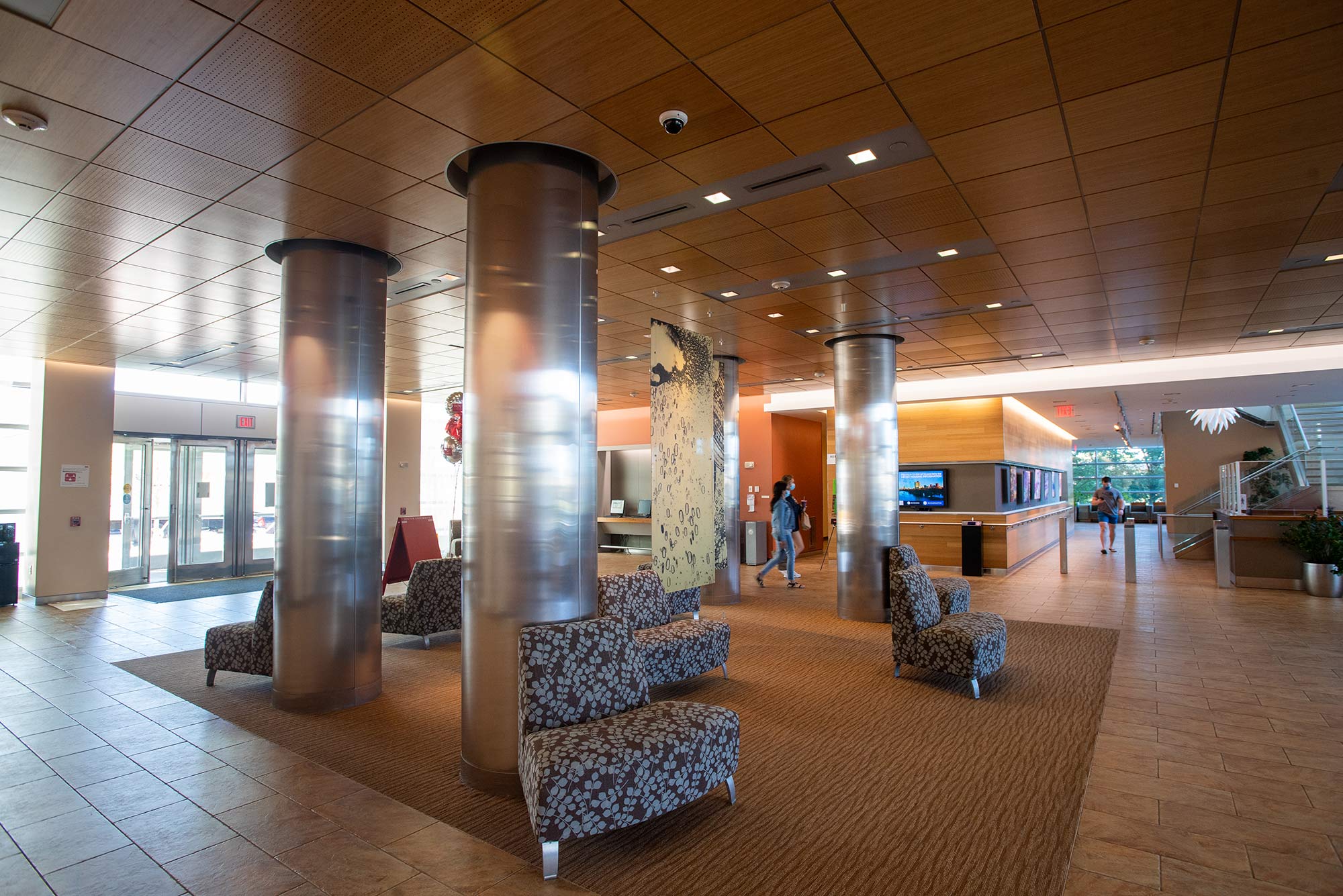 10.
StuVi II Major Lighting Upgrade
33 Harry Agganis Way
Facilities Management & Operations led the massive electrical lighting project at StuVi II that saw the upgrading of 6,000 lights throughout the student residence. The building previously used 24- and 48-watt bulbs and these were upgraded to 6- to 12-watt LED lights, which will provide brighter and more energy-efficient spaces for residents. This project is another step towards achieving the University's Climate Action Plan goals, and it was done in partnership with Eversource, which worked with the University in providing the low-wattage LED fixtures at no cost as a part of the utility company's energy savings program.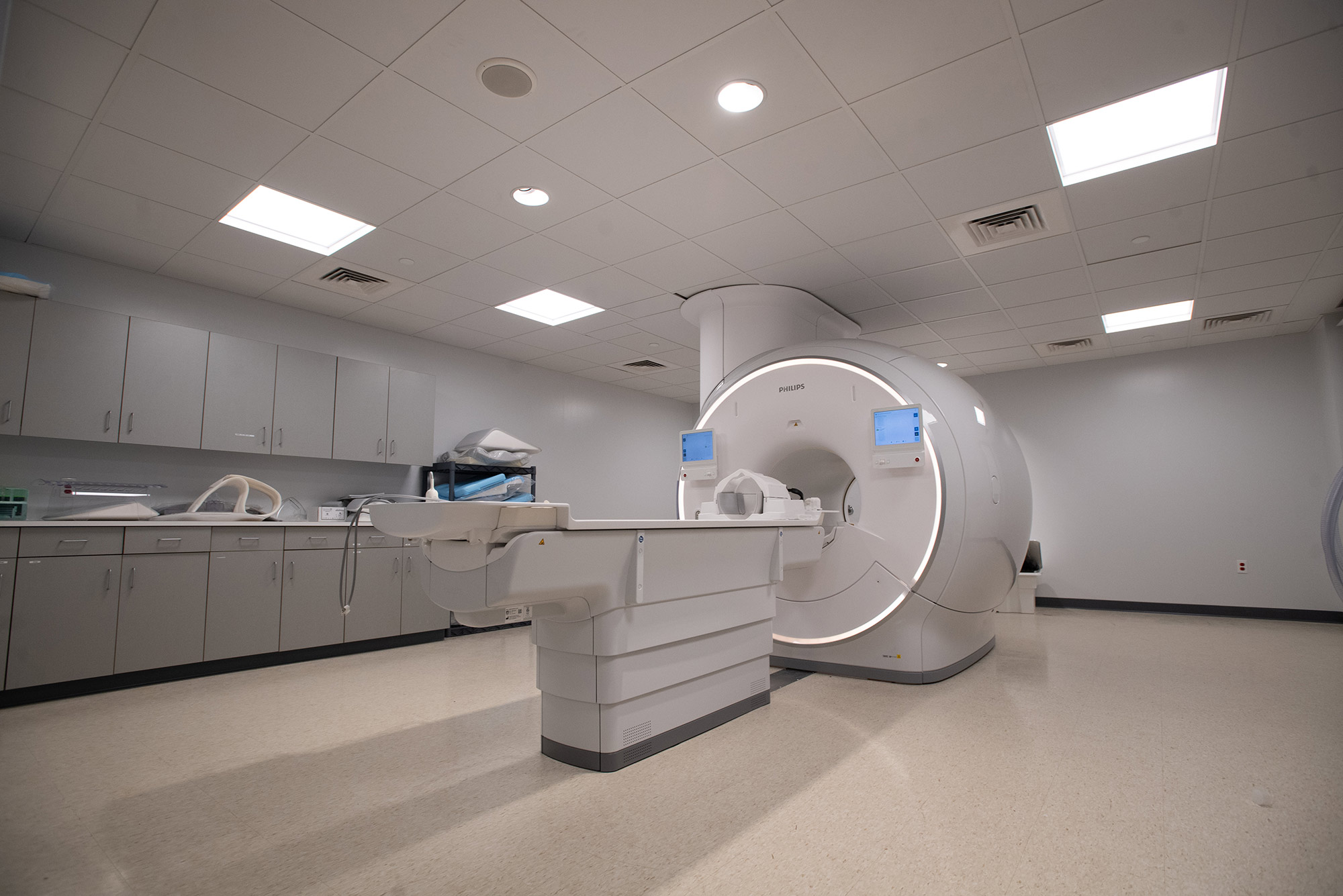 11.
Medical Campus Receives New MRIs
650 Albany Street
The Medical Campus Facilities Management & Operations team installed new Phillips 3T wide body scanner units at the Evans Biomedical Research Center X-Building. Previous scanners had narrow doors, minimizing the amount of image captured for researchers. This was especially necessary for larger patients, such as football players taking part in the University's chronic traumatic encephalopathy (CTE) research initiative.
The ultra-high-field system in these machines can image high spatial resolutions and allows researchers to form imaging studies at a nearly microscopic level. The MRI equipment was funded through a Massachusetts Life Sciences grant.
12.
Henry M. Goldman School of Dental Medicine
635 Albany Street
The multiyear phased expansion and renovation of the Goldman School of Dental Medicine continued this summer following the end of the city of Boston construction freeze that was in effect from March through May.
The 48,000-square-foot addition on Albany Street includes exterior work and improvements made to the existing Patient Treatment Center. While this work is still ongoing, those in the building are already able to use the new student lounge and study spaces, two new elevators, new office and patient treatment spaces, the school's Simulation Learning Center, and a 140-seat auditorium.