BU Children's Center Gets a New Home This Fall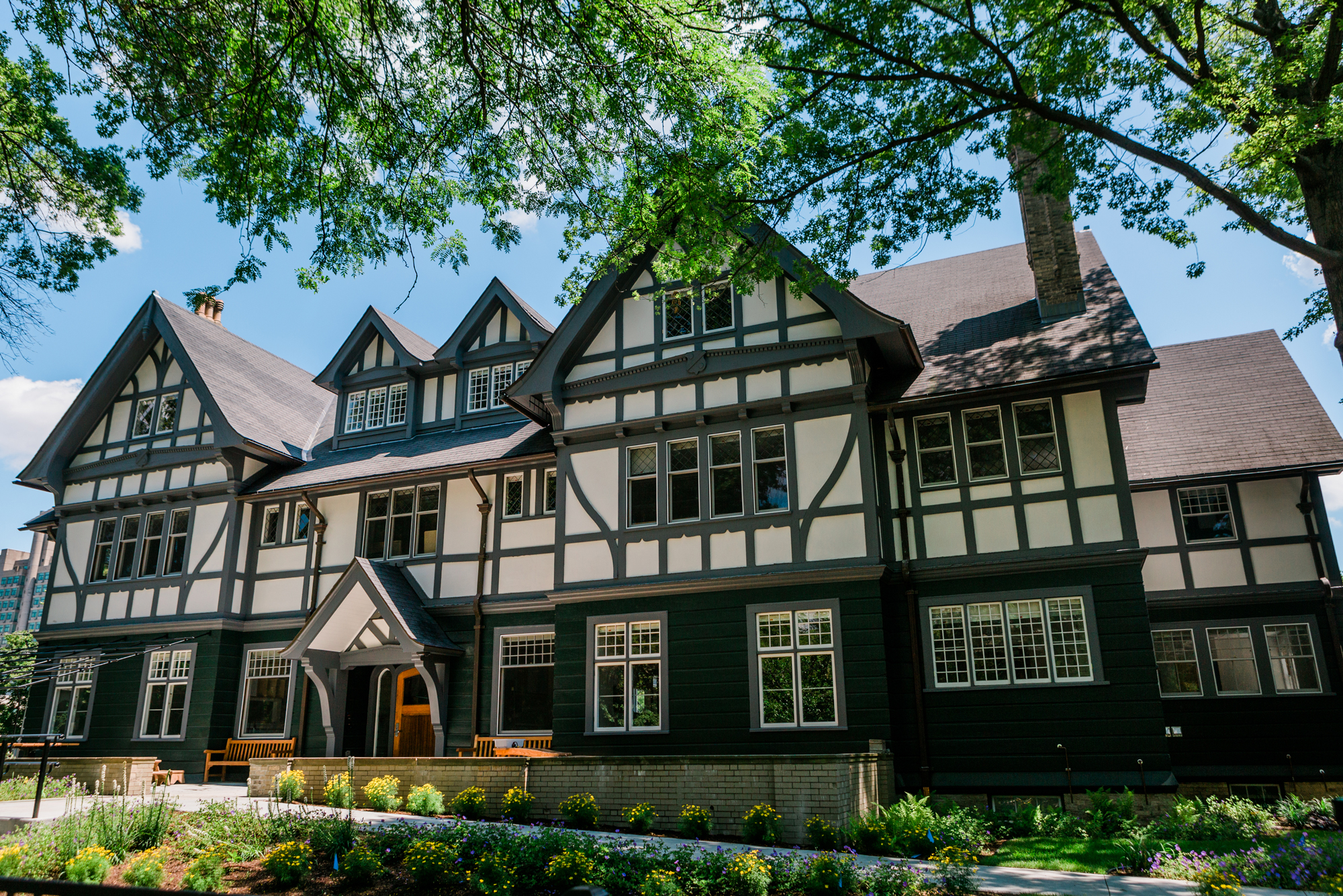 University News
BU Children's Center Gets Expanded Home, Now Accepts Infants
New space triples capacity, takes strict COVID-19 precautions, comes with cost increase
In 2014, Boston University formed an advisory committee to look at its childcare options. To recruit and retain the best faculty and staff, Provost Jean Morrison said at the time, it was critical that the University support parents with high-quality childcare.
Six years later that dream has been fully realized, with the reopening of the Boston University Children's Center. In its new home in a completely renovated early-20th-century mansion tucked in Brookline's historic Cottage Farm neighborhood—within walking distance of the George Sherman Union—the new center has triple the space of its old home at 32 Harry Agganis Way, allowing an increase in the number of children it can serve, from 33 to 92, and enabling it to begin caring for infants (starting at eight weeks old) and younger toddlers, an important request from parents. The center accepts children up to those entering kindergarten.
The renovation of the 20,000-square-foot building at 10 Lenox Street was designed by studioMLA Architects, a local firm that specializes in school and recreation design, and features seven classrooms for various ages, indoor gross-motor areas, a garden studio, and an extensive outdoor playground. The construction cost of the building was $10.7 million, and the project was able to consolidate the Children's Center and the Family Resources office under one roof.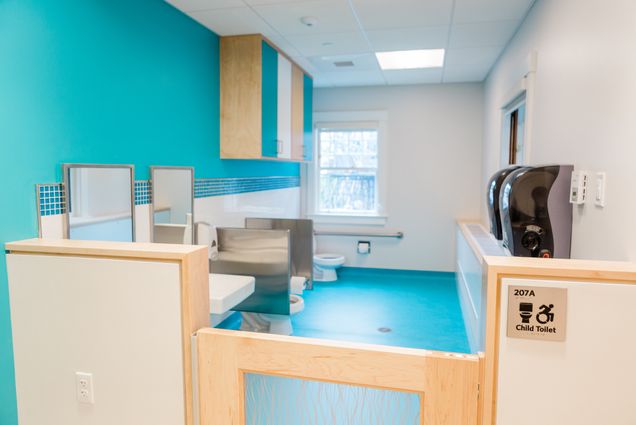 The center is anticipated to open next month, with careful attention paid to COVID-19 requirements. It will begin welcoming new children in September (and since it has grown from one classroom at the old center to seven at the new, resulting in more teaching staff and higher operating costs, the tuition will increase). Applications can be submitted online at this time.  
With its high ceilings, sun-filled rooms, and expansive play yard and gardens, the new space is a welcome addition for faculty and staff who want to have their young children near their work. 
"We want our families to feel like our center is an extension of home to them, so this is the perfect spot," says Kristin Gruber-Grunert (CAS'98, Questrom'06), longtime center director, leading a tour of the new space for BU Today. "It's a huge, beautiful home and by nature of that, the spaces very quickly lend themselves to that feeling right away. The architect really understood what it meant to design a space for children."

Addressing an important need
Nimet Gundogan, BU's executive director of employee benefits, says the 2014 study made it clear that on-site childcare was a high priority for faculty, staff, and graduate students. "The Child Care Services Advisory Committee gathered and analyzed data from peer institutions, national trends in childcare services, and employee demographics, and completed a childcare needs assessment of the BU community," she says. 

Once the University administration determined that a new center was necessary, the search for space began. At that point, the Lenox Street Tudor-style mansion, built as a private residence and later acquired by the University, was vacant (it was, in fact, the longtime home of BU Today). But the building needed to be modernized and reconfigured to become a preschool, says project lead Walt Meissner (CFA'81), BU associate vice president for operations. The University and studioMLA Architects worked closely with Brookline's Preservation Commission and its Planning Board to make sure the 1904 building would still fit in with the neighborhood, he says. The team felt it was important to keep as much of the building's integrity as possible, so period details like stained glass windows and massive fireplaces have been retained, with the latter now serving as reading nooks.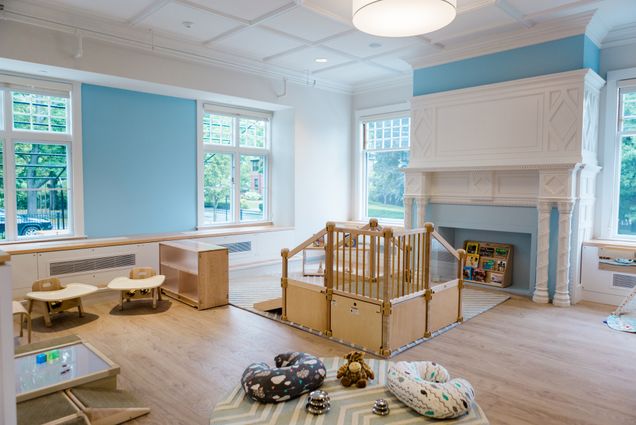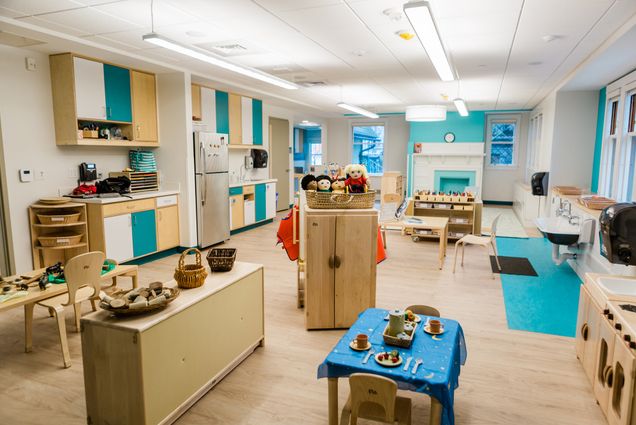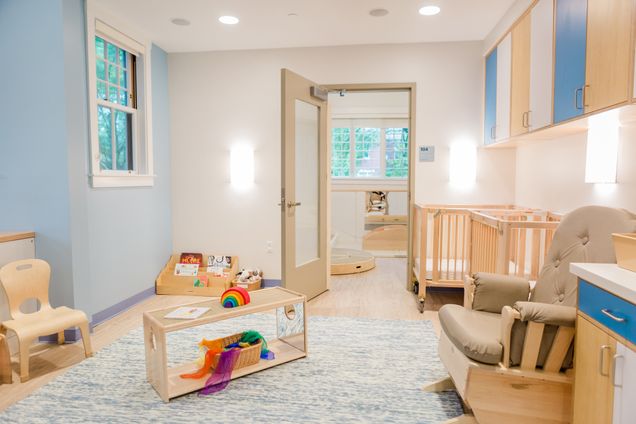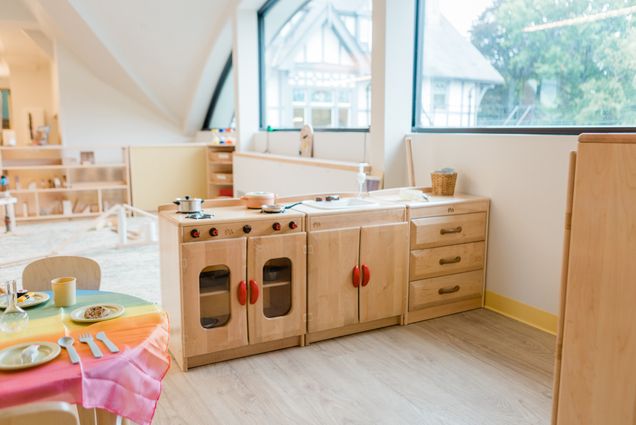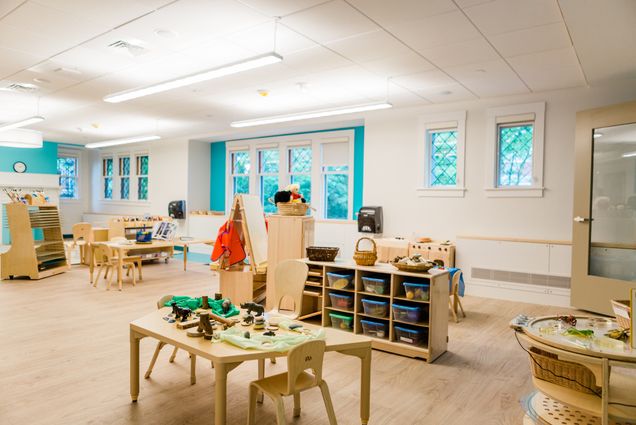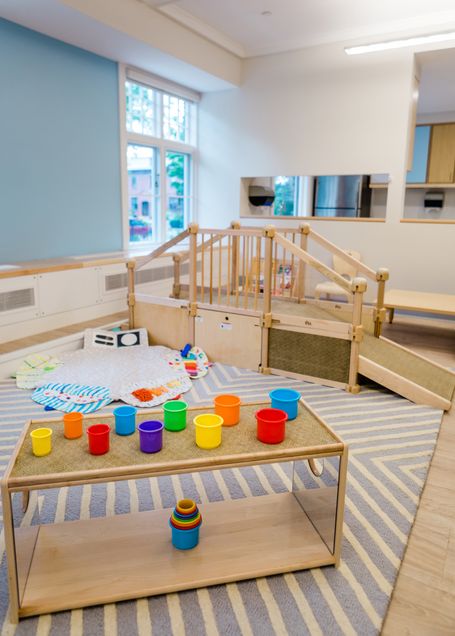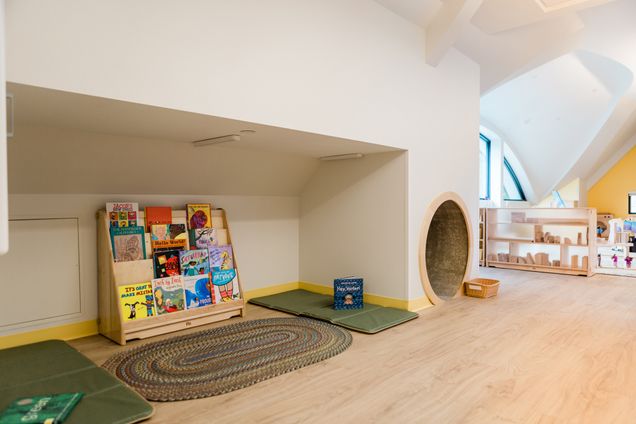 An important hallmark of the Children's Center is the staff's belief in mixed age classrooms, combining, for instance, children ages 2.9 to 5 years, which educators believe leads to modeling behavior and increased empathy. Such classrooms encourage educators to meet each child where they are in their development, Gruber-Grunert says, and "also allow children to progress on their own at their own pace. Children stay in classrooms for longer periods and stay with teachers longer, so there is continuity." The center's philosophy draws from well-respected educational approaches, including Constructivism, Montessori, and Reggio Emilia. Gruber-Grunert is working to form a partnership with Wheelock College of Education & Human Development, with the hope that some of its students might intern at the center in the future. 
According to a study published last year by the Economic Policy Institute, Massachusetts has the second highest childcare costs in the country, slightly better than Washington, D.C. The average monthly cost in the state was $1,743 for infant care and $1,258 for prekindergarten.
Full-time monthly tuition at the BU center ranges from $2,500 for infants to $1,775 for prekindergarten. While BU's costs are higher than the state average, they are on the "low side compared to other day care centers in the greater Boston area, including Harvard and MIT's centers," Gundogan says. Harvard, for instance, charges up to $3,225 for an infant spot, and about $2,100 for pre-K. Harvard and MIT partially subsidize their rates for some employees, but BU collected data that show that even at the highest level of subsidy, BU's rates were still often lower than Harvard's and MIT's, according to Gruber-Grunert. BU's tuition was ultimately developed based on market rates and what the University felt would be a fair value for the care provided to the children, Gundogan adds.

Whimsical spaces
The center's interior is calm and inviting, with lots of natural wood and light colors, something that staff say will feel inviting for the children. Gruber-Grunert notes that the infant rooms are a lot larger than typical infant rooms. An on-site lactation room makes it possible for a nursing mother to head to the center to breastfeed her baby during the workday (nursing is also welcome in the classrooms, Gruber-Grunert says).
One of the best parts of the center is its large outdoor space, which includes whimsical paths, forts wrapped around trees, and slides built into hills, along with small hammocks and musical chimes. There's a mud kitchen, a cycle path, a playhouse, and a climbing apparatus. Fruit trees and blueberry bushes line the perimeter, and behind a fence is a robust vegetable garden, with corn, peppers, tomatoes, lettuce, herbs, celery, chives, zucchini, and cucumbers already growing. It was designed and planted by Green City Growers, and the plan is for the children to help the teachers tend to the crops when they return, and classes will taste and cook everything, Gruber-Grunert says.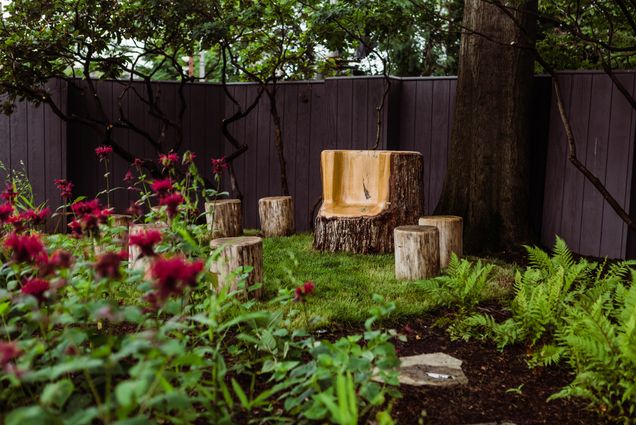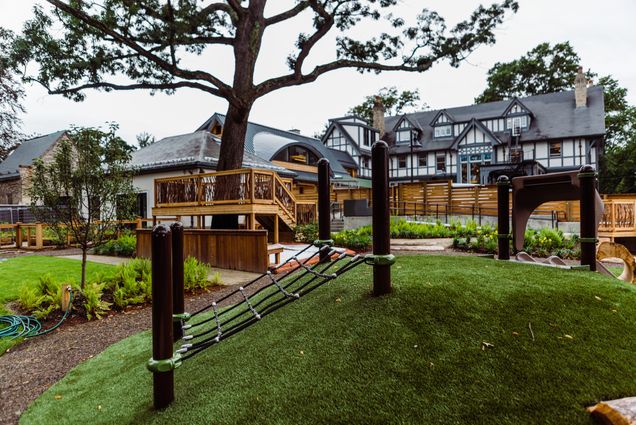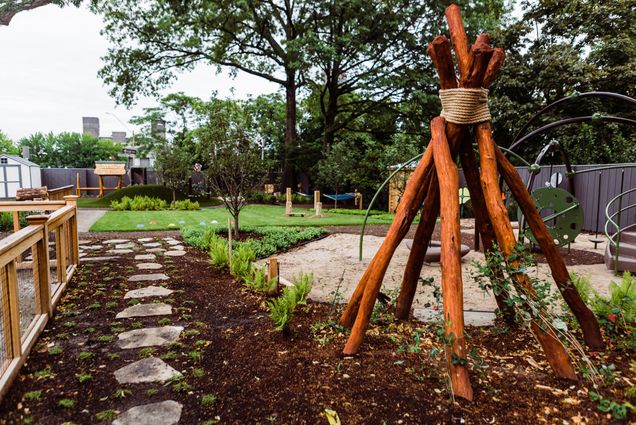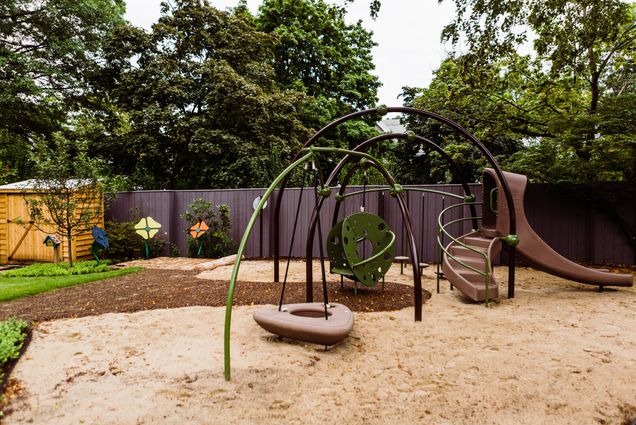 A converted garage attached to the playground serves as the center's garden studio and greenhouse. Gruber-Grunert envisions the space as messy, with plenty of room for spreading out during large-scale art activities, and doubling as a play area during inclement weather. 
Concerns about returning to school?
Parents around the country, concerned about the spread of COVID-19, are struggling as they weigh childcare options for the fall. The latest research says younger children are less likely to contract and spread the virus, but is still urging proper social distancing and frequent handwashing and sanitization. The Massachusetts Department of Early Education and Care has released its own guidelines, which BU's Children's Center is strictly following. 
For starters, the center will initially accept only 62 children, about two thirds of its capacity, in order to meet state social distancing guidelines. Families will be asked to take everyone's temperatures at home each morning and complete a required health survey. Once a family arrives at the center, they will be asked the same questions, and staff will check the children for any visible signs of illness. There will also be clear protocols for cleaning and sanitizing spaces. And the center's teachers will be part of the University's Category I testing plans, meaning they'll be tested for the virus at least weekly. All teachers and children who are able to do so will wear masks. In addition, the building has a new HVAC system and during the fall, teachers will be encouraged to open windows and spend as much time outdoors as possible.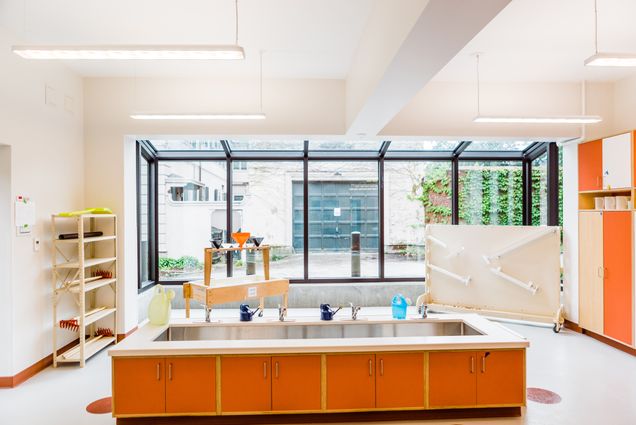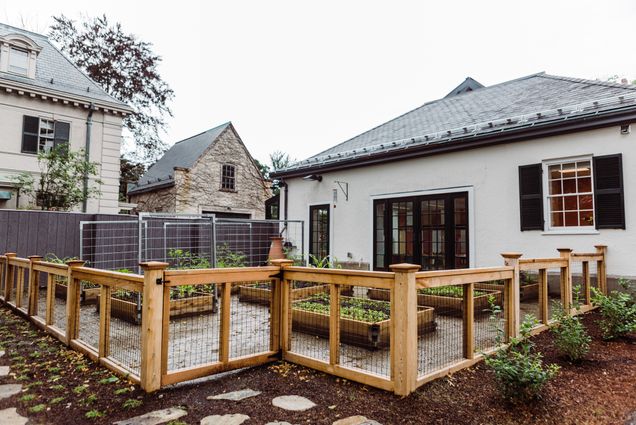 Gruber-Grunert and her staff have been strategizing carefully this summer about how to keep children and staff safe, and at the same time, creating opportunities for social distancing naturally. For instance, children in the preschool classrooms will each have their own art, science, and sensory bins, so two children can bring their bins to a table together, play with their own individual materials, but have shared playtime. "We want them to get back those experiences they've been lacking over the last few months," Gruber-Grunert says. 
Among the parents excited about returning is Sara Kenagy, College of Fine Arts director of online admissions, who has a son, now in elementary school, who went through the program and another going into his third year at the center. She lists some of the things she likes about the school, among them its teachers and its child-centered philosophy.
"The preschool children are allowed to make choices about their day, and choose what they want to do throughout the day," she says. "Children early on are encouraged to make decisions for themselves and to ask if space is available at a particular activity. These skills have become a part of who they are, resulting in them being very socially and emotionally aware." 
Most important, she says, her kids look forward to going to school every morning. "We value the close-knit community of families and children, and have made lifelong friendships there."
Find information about applying to the new center here.