Find Your Inner Artist
Brookline's Clayroom offers half-off studio fees every Monday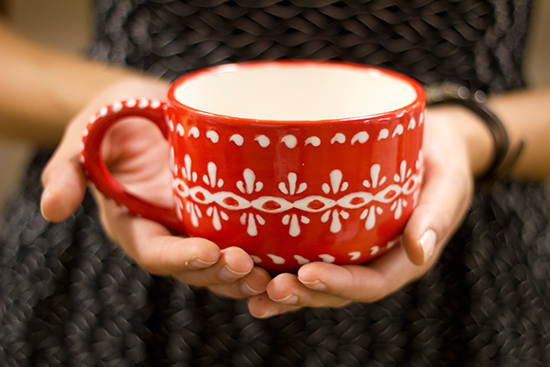 The colorful sign outside 1408 Beacon Street in Brookline hints at what lies inside: each letter in the word "clayroom" is encased in a brightly painted image of teakettles, flowerpots, plates, and coffee mugs. Clayroom is a popular destination for artists of all ages, from young children to college students and senior citizens, looking to decorate pottery purchased on site.
One reason for its popularity is the weeknight crowd-pleasing specials. Each Monday evening, half-off studio fees are offered. On Pizza Tuesdays artists get a free pizza dinner, and Wednesday's Wine and Cheese Night is a big hit with the 21+ crowd. (All special events run from 6 to 10 p.m.) But it's not just the casual setting and special perks that have earned Clayroom glowing reviews on Yelp and Groupon: it's also the expert advice from the friendly staff and the range of activities.
Amiable owner Doug Fisher has been managing the studio for over a decade and will guide you through the painting process. He assures painters he can fix any mistake that may come up along the way (especially important on Wine and Cheese Night).
Here's how it works: select the piece you want to decorate, then pick paint colors (ranging from pale pastel blues to fiery oranges and reds) from a wall of rainbow-colored ceramic tiles. The artistically challenged can choose from a set of stencils to create patterns and designs. Once you've finished your masterpiece and dried off any remaining blobs of paint with a hair dryer, it goes in the back for Doug to fire in the kiln. Pieces are usually ready for pickup in five days. (Rush firings are possible, but not guaranteed.)
Best of all, it's inexpensive. There's an $8 studio fee (remember it's half off tonight), plus the cost of the pottery (most range from $12 to $15). Clayroom also has a liberal BYOB policy and allows patrons to bring in snacks and beverages, adding to the festive atmosphere.
Some words of advice: if you're planning to paint with a group of friends, call ahead to make a reservation. Also, check Groupon for the latest deals. While the studio is open daily from noon to 10 p.m., arrive no later than 8 p.m. to ensure enough time to finish painting your piece. And remember, you can't leave with your piece since it has to be fired.
Clayroom is a fun destination for a group of friends looking for something a little different at a price that won't break the bank.
The Clayroom, 1408 Beacon St., Brookline, is open seven days a week from noon to 10 p.m. Regular studio fees are $8 per single painter ($4 on Monday nights after 6 p.m.), $6 ($3 on Monday) each for groups of four or more. Ceramic pieces range in price, but average $12 to $15. Take a Green Line C trolley to Summit Avenue. To make a reservation, call 617-566-7575.
Ashley Mayrianne Jones can be reached at ashjones@bu.edu.