What "Makes Us Fundamentally Human"
In MET class, prisoners bare their musical souls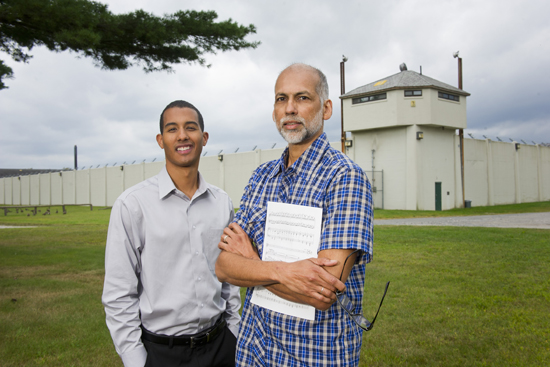 Class by class, lecture by lecture, question asked by question answered, an education is built. This is one of a series of visits to one class, on one day, in search of those building blocks at BU.
Jamie Hillman was surprised by the enthusiasm of the men in his freewheeling music class at MCI-Norfolk last spring, part of BU's Prison Education Program. But it wasn't until the instructor learned that the inmates, several serving life sentences, were singing the mournful Handel aria "Lascia ch'io pianga" in the shower, that Hillman (CFA'13), a College of Fine Arts doctoral candidate, realized that he was making a difference in their lives.
They have certainly made a difference in his. Faculty mentor and coinstructor Andre de Quadros says that Hillman "is traveling down the normal pathway of being a choral conductor and suddenly he goes wide angle and adopts a socially responsible lens to his work." For Hillman, the experience was rewarding beyond expectation, and a testament to the transcendent power of music. "You need a thick skin to survive in prison, and it was interesting, week by week, seeing people let their guards down," he says. "We called our classroom a safe haven."
This semester, de Quadros, a CFA professor of music and music education, and Hillman, who has been de Quadros' research assistant for two years, are continuing their efforts with a course titled Special Topics in History and Theory of Music. De Quadros is also teaming with Emily Howe (CFA'11), who holds a joint master's degree in choral conducting and sacred music, to introduce a music course to the women at MCI-Framingham. An advocate for community music initiatives, Howe conducts the 70-voice, nonauditioned Boston University Choral Society. She was a guest lecturer in the spring course that spawned this fall's MET music class at MCI-Framingham.
The goal of the MET program's first music appreciation class, consisting of 23 men of a range of ages, backgrounds, and races, was to cultivate an appreciation for music of diverse periods and styles through song, readings, writing, and discussion. But in their summary of course goals, de Quadros and Hillman added that they also wanted the class to "provide an outlet for self-expression and discovery" and "empower and validate" the participants.
"We were not expecting to have such an intelligent, sensitive, giving, kind, solicitous, sweet group of men, and we knew that about them from the first second," says de Quadros, who has worked with prisoners in other countries, most recently Thailand. Hillman believes the class attracted "the best of the men in the prison," mainly because the BU program has the same academic requirements as other freshman courses.
At the start of the class that explored music using the only instruments permitted in the medium-security prison—the body and the voice—all the students had declared that they could barely sing, and they emphatically refused to sing solo. Things changed as the weeks wore on. De Quadros, a conductor and a longtime human rights activist and pioneer in cross-cultural music programs, found the prisoners' participation "hilarious and touching—to see these tough guys sing children's songs like 'Miss Mary Mack,' and they did it in an unaffected way." They sang "Lean on Me" and "The Banana Boat Song." They learned harmonies. Their transformation, says Hillman, proved that music "gives voice to feelings that would normally be kept silent."
The students are no less exuberant in their own descriptions of the class. As one of the prisoners, serving a life sentence, writes on a prison blog, "The participatory approach to music compelled us to come out of our comfort zone and to do things that were both fun and silly." The prisoner goes on to note that beyond the fun and games, the class "got us in touch with that which makes us fundamentally human." The class, he adds, "even taught me a little about myself." On his midterm evaluation, another student refers to the professors as "a gift." Hillman and de Quadros "made it possible for me to let my guard down," he writes. "All the men respect each other and it's wonderful to see guys who sometimes find it hard to keep their head up or even talk to others now jumping around, singing, greeting each other, and so on."
Open to prisoners enrolled in the MET program, the class was inspired by de Quadros' work leading multicultural and prison choirs around the world, from Thailand to the Palestinian territories. "We tried for months to do something similar here in the Northeast," says Hillman, a Canadian choral conductor. "We offered to do this as volunteers; we sent the prison proposals which were caught up at the top, but when we contacted BU Prison Ed, it was pretty much immediate."
Hillman says that the majority of "courses like these are mostly about listening to music. But we feel that you have to actually make music to learn about it, so we did many different activities—singing, improvising, and performance projects when we broke up the class into groups of four or five." The men in the class also wrote poetry and talked about their personal experience of the music.
The result, writes one student in his evaluation, is not just more learning, but "fun learning." The "actual doing of the activities gives me a more direct learning experience than just reading out of a book."
In September, CFA presented its first Prison Arts Scholar Award to Hillman and Howe, in recognition of their teaching. "Jamie and Emily's commitment and fervor to music education in the prison system is a testament to their ability to teach and the power of the arts," said CFA Dean Benjamin Juárez in presenting the award. "Jamie and Emily are inspirations."
Hillman would say that the real inspirations are his MET students. For him, at home at the choral podium, the initially reluctant, makeshift chorus of 23 gave new meaning to that famous Handel aria, from the opera Rinaldo. It translates from the Italian to "let me weep for my cruel fate, and sigh after freedom."
This Series
Also in
November 30, 2018

October 31, 2018

August 3, 2018