IS&T maintains an institutional membership or subscription on behalf of Boston University for the following resources, allowing members of the BU community to take advantage of their benefits for both professional development and research.
Dimensions
Dimensions, part of parent company Digital Science, is an online data source linking publication, grant, clinical trial and patent data – providing a unique and modern approach to research data management. Common use cases may be to look up people or institutions that are doing research in a specific area, or to examine which sponsors are funding research in certain research areas. Additionally, the database tool has easy to use filtering, ability to save searches and analytical views for comparison purposes.
Anyone with an "@bu.edu" email address can use this service. Log into Dimensions by accessing this link and clicking Login. Provide your BU email address and you will be prompted to enter your BU login name and Kerberos password.
Gartner Research
Gartner, Inc. is a well-known information technology research and advisory company. Gartner provides technology-related information and insights to help their clients make informed decisions related to information technology. Gartner's website offers access to the latest research in a broad range of information technology topics, and reporting formats include everything from overviews to in-depth research to Gartner's well-known Magic Quadrants. Gartner's wealth of research findings and advice on technology markets, topics, and industries can help your planning processes, enhance your requests for proposals and support your purchasing decisions.
Anyone with an "@bu.edu" email address can use this service. Log in to Gartner using your BU login name and Kerberos password (if prompted).
EDUCAUSE
EDUCAUSE is a nonprofit association that helps higher education elevate the impact of IT. It's a community of IT leaders and professionals working together to tackle challenges and leverage opportunities that are constantly evolving within higher education. They welcome diversity, in viewpoints and experience, and believe in the transformative power of uncommon thinking for the common good. By offering webinars, facilitating community groups, publishing research, and more, EDUCAUSE provides the resources you need.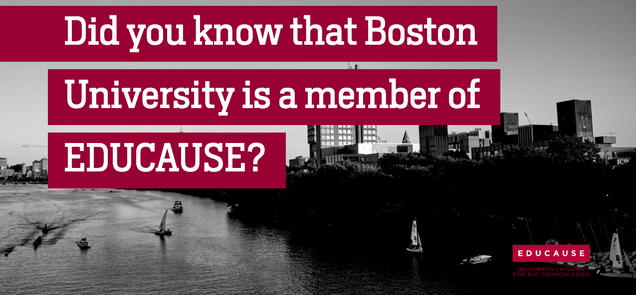 Want to learn more? Check out the infographic for a closer look at the benefits of BU's membership with EDUCAUSE.
NERCOMP
NERCOMP, the Northeast Regional Computing Program, is an affiliate of EDUCAUSE. "NERCOMP's mission is to enhance the communication and dissemination of information related to the use of computers, networks and information technology in education, academic research and educational administration throughout the Northeastern United States."
BU students, faculty and staff have affordable access to a wide variety of NERCOMP SIG (Special Interest Group) workshops and the Annual Conference at a discounted member rate.