Tagged: Science
Events from 4/9 – 4/13.
Article by Synapse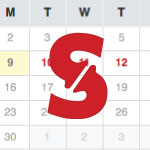 Check out some of the science events going on this week at BU.
MONDAY, APRIL 9:
Accessing alpha-Oxo/Imino Gold Carbenes via Gold-Catalyzed Alkyne Oxidation: A Non-Diazo Approach
Insights into the evolution of novel floral morphology. Dr. Elena Kramer, Harvard University.
TUESDAY, APRIL 9:
What a Particle Physicist Can Learn from Graphene.
WEDNESDAY, APRIL 11:
Parkinson's Disease and Epilepsy: Bridging the gap between clinical, molecular, and computational sciences to cure nervous system diseases
THURSDAY, APRIL 12:
"The Stellwagen Bank National Marine Sanctuary – Its Future"
FRIDAY, APRIL 13:
Opinion Diffusion, Consensus and Radicalization