Sargent Choice Brunch Is Back!
Jocelyn Baumgarten and Beth Braunegg, Dietetic Interns
We are excited to announce that Sargent Choice Brunch is making a comeback this Sunday, February 26th! We'll be cooking up some old favorites as well as some brand new Sargent Choice recipes.  Whether you're a sweet or savory "bruncher", there will be options to satisfy everyone's taste buds!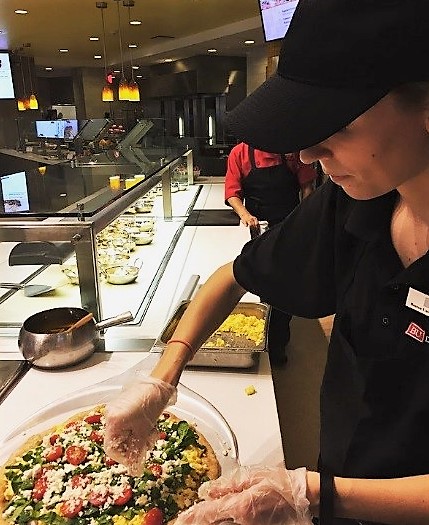 For the savory students: Get ready for our brand new Sargent Choice breakfast pizza.  Prepared on a crispy, whole wheat crust, this dish is packed with protein and veggies.  This pizza is a colorful mix of textures and includes eggs, diced onions, chopped tomatoes and spinach, and feta cheese!
We haven't forgotten about those who frequent the gluten-free station! Our next savory dish is a spicy egg taco with all the works.  Come by and load up your tacos with avocado, cheese, and more. If you have an allergy or just don't care for a topping, you're in luck as our tacos are self-serve.
For the perfect end to your brunch meal, check out the key lime dip!  The dip will be served with graham crackers for dipping and a candied lime wedge.  This dish provides a little taste of summer at the end of a long winter.
For those who prefer their breakfast items sweet and fancy, these two new recipes may be just what you're looking for.  We're all familiar with muffins, and scones are yummy too, so Sargent decided to throw them together and bake up some apple-cinnamon scuffins! This dessert item is just the right amount of sweet, with a nice crunch from the apples baked in.  We think you might just forget that this dessert is a great, healthy option.
We are excited for what will surely be another successful Sargent Choice Brunch!  So mark your calendars and we will see you at the dining halls on February 26th for the best meal of the day!