Why give to the Student Life Fund?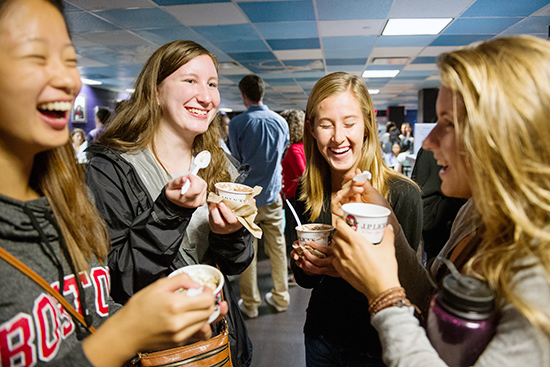 The Student Life Fund
The Division is committed to supporting all students throughout their BU journeys. We mentor and counsel, and promote an environment that encourages scholarly exchange and individual expression. The Dean of Students' Office is dedicated to providing a space that allows students to effectively engage in academic and intellectual work, community service, and residential, athletic, spiritual, and political activities that enrich their time here.
The Student Life Fund enables the Dean of Students to enhance all aspects of student life on campus that are non-academic. For example, Student Activities, Residence Life, Disability Services, Recreational and Club Sports, Career Development, and much, much more. In addition, the fund allows the Deans to provide support for students, particularly those facing unforeseen obstacles. Examples may include providing financial support for a student who has lost his/her belongings due to fire, theft, or other off-campus emergencies, to aid a student who has unexpectedly lost a parent or guardian or whose parent has lost employment, as well as to support families who have tragically lost a student.
If you have any questions in anticipation of supporting the Student Life Fund, please contact Christy Olson Loring at 617-358-1187 or e-mail colson@bu.edu. To make a gift to the Student Life Fund please click here.
We look forward to our partnership in support of the Boston University student experience. As a team, we can enhance the experiences of all our students and positively impact the lives of those in need.