Always Promising: The Future of Latin America
VIDEO: Pardee House Seminar
November 19, 2008

At the fourth and final Pardee House seminar of the semester, BU experts on Latin America from different disciplines came together to discuss why the "always promising" region has failed to live up to its potential for economic growth and development and how that might change in the future.
A full house attended the lunchtime seminar held November 19 at the Pardee House to hear from a panel of Boston University faculty members with expertise in the political, economic, public health and environmental issues in Latin America. Titled Always Promising: The Future of Latin America, the session was organized and moderated by Pardee Research Fellow Kevin G. Gallagher, Assistant Professor of International Relations. The panelists included Professor Carlos Blanco (International Relations), Professor Shane Hunt (Economics), Professor Kirk Dearden (School of Public Health) and Professor Robert Kaufmann (Geography and Environment).
All four panelists supported an argument, first presented by Professor Blanco, that significant economic growth and development in the countries of Latin America will require reform of the political and social institutions that carry out goverment policies and programs.
"A critical task for the region is reform of the state, and that implies major revamping of institutions," Professor Blanco said. Many institutions need overhauling to move toward more democratic operations and improved relationships with civil society, he said, including political parties, electoral systems, the presidencies of various republics, the armed forces and non-governmental organizations. Decentralization will be a key component of such reform, he added.
Discussing the prospects for economic development  in the region, Professor Hunt spoke of "convergence theory," which holds that countries at different levels of development will converge to become relatively equal if the less developed countries can adopt and adapt the advanced technologies used by the more developed countries, and if less developed countries can establish new institutions, such as financial institutions and educational systems.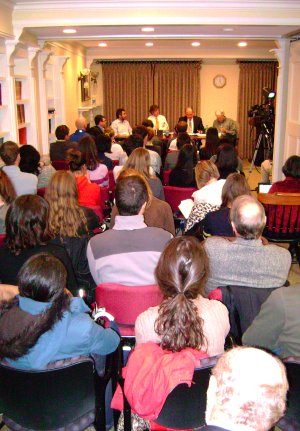 He said in the next 35 years, he expects that many countires in Latin America will have the opportunity for converenge with more developed countries but that convergence could be hampered by instability in goverments, which in turn compromises the potential for economic growth.
In looking at public health, Professor Dearden said that while some trends in the region show signs of improvement in recent years (decreased in infant mortality, fewer cases of acute malnutrition in children), there are huge challenges for countries to deal with both infectious and chronic diseases. Health care institutions need to focus more on prevention, and governments should play a larger role in directly providing health care services. In many cases, non-governmental organizations have become direct service providers to fill a void, when their role should be to provide technical assistance. Governments should be looking for promising models of health care delivery that are acheiving positive impacts, and then helping to scale up such systems, he said.
Professor Kaufmann said institutional reform is essential to environmental protection efforts as well. He talked about the Amazon Basin in Brazil, where they are moving away from "command and control" programs, such as setting aside nature reserves where development is prohibited, toward market-based programs where people are given financial incentives to protect the land. "These policies look good on paper, they are economically attractive and make a lot of sense, but if you don't have the institutions to regulate and enforce these policies, they are doomed to failure," he said.
This Pardee House Seminar was co-sponsored by the BU Latin American Studies Program.