Sucharita Gopal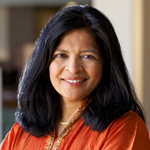 Faculty Associate
Faculty Research Fellow (2015-2018)
Professor and Director of Graduate Studies, Department of Earth and Environment, Boston University
suchi@bu.edu
617-353-5744
Education
BA, MSc, BEd, MPhil, Madras University; PhD, University of California, Santa Barbara
---
Expertise
Neural network applications in remote sensing and GIS domains, spatial analysis and statistics, and multi-scale spatial modeling.
---
Biography
Sucharita Gopal is Professor in the Department of Earth and Environment at the Boston University College of Arts & Sciences, as well as Research Professor at the Center for Cognitive & Neural Systems and Center for Remote Sensing. Her multidisciplinary research over the last 10 years has dealt with neural network applications in remote sensing and geographic information systems (GIS) domains, as well as applying spatial analysis to a variety of problems in biology, environmental science, public health, and business. Her current funded research includes examining spatial determinants of insectivorous bat diversity in Malaysia, and multi-scale models in remote sensing and GIS.
Gopal teaches courses on world regional geography, spatial analysis and GIS, environmental decision making, and economic geography. She co-wrote the Pardee Paper Sub-Saharan Africa at a Crossroads: A Quantitative Analysis of Regional Development, and has published academic papers in such journals as Geographical Analysis, Environment and Planning, Journal of Environmental Psychology, and International Journal of Remote Sensing.