Expert Panel Discusses "The Urban Century" at Pardee House Seminar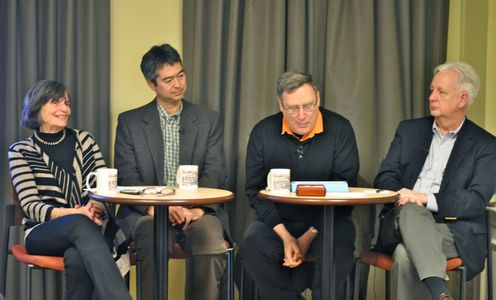 Three Pardee Center Faculty Fellows were joined by a former economic development official in New York City for a discussion on "The Urban Century: Local Challenges, Global Matters" during a Pardee House Seminar on Thursday, December 13.
Paul McManus, director of Boston University's Sustainable Neighborhood Lab project, moderated the panel, which included Prof. Nathan Phillips of the BU Earth and Environment Department, Prof. Susan Eckstein of the Sociology Department, and Steven Strauss, former head of economic development strategy in New York City under Mayor Michael Bloomberg and a 2012 Advanced Leadership Fellow at Harvard University.
McManus introduced the discussion of what he called "a very interesting set of challenges" posed by rapidly expanding cities around the world in the wake of the global financial crisis, environmental and social issues related to climate change, and changing trends in regional demographics and the global population.  He noted that many of the challenges stem from the contrast between interests in responding to challenges at the local versus global levels.
Prof. Eckstein discussed the "push-pull" forces that spur increased urbanization, particularly in developing countries, such as the "push" of poverty and lack of economic opportunity in rural areas versus the "pull" of increased opportunities for jobs and improved access to education in cities. She questioned whether urbanization should be viewed as an overall positive or negative trend, as it results in increased levels of urban poverty, an increase in gang activity and crime, and increased levels of pollution and traffic. She noted the explosive urbanization trends in developing countries, which now have many "mega cities", such as Mexico City, Sao Paulo, and Seoul, with populations of 20 million or more today, all of which had fewer than 3 million residents in the 1950s.
Prof. Phillips discussed his work studying the "urban metabolism" of cities, and Boston in particular.  By examining the flow of energy and materials coming into the city and waste products going out, you can understand the connections between human and natural systems.  For example, he discussed the noticeable difference in the level of carbon emissions in the atmosphere over Boston on week days, when traffic is heavy as people commute to work, versus weekends, when traffic is much lighter. He said understanding the sources of emissions can help decision makers identify opportunities for potential changes.
Steven Strauss said when thinking about the future of urban areas to "expect the unexpected" as climate change could have major impacts that create dramatic changes. Established cities need to have the ability to absorb shocks, such as Hurricane Sandy in New York, while the growth of mega cites will have a huge need to develop new infrastructure, transportation systems, and schools. Looking ahead 50 years, he said that the U.S. will no longer be the world's largest and strongest economy and that will translate into diminished status in other areas, such as education and manufacturing capability. He said while the U.S. will need to focus on repairing and updating aging infrasructure (such as the century-old subway system in Boston), developing countries will have the opportunity to build brand new state-of-the-art infrastructure, such as airports and transportation systems. He said the airport in New Delhi, India, which he had been to, is a good example.
The seminar was the first in a series of programs and publications related to "The Urban Century" to be sponsored by the Pardee Center in the coming year. A video of the seminar is available here.