Our Research
The Vision & Cognition Laboratory is directed by Alice Cronin-Golomb, PhD. 
Our principal research focus is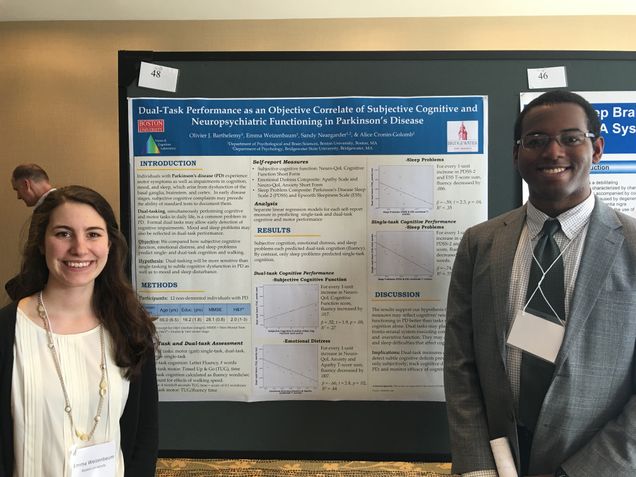 on the neural correlates of perception, cognition, and other psychological functions in aging and age-related neurodegenerative disease.  Our main methodology is behavioral and includes visual psychophysics, neuropsychological assessment, and sensory/cognitive neuroscience, with collaborators in neuroimaging.  A current emphasis is on the non-motor symptoms of Parkinson's disease (perception, cognition, mood, stigma, sleep, circadian function) and their interaction with motor symptoms, including consideration of motor subtypes (e.g., body side of PD onset, type of symptom at onset).  We engage in basic research and in the development of interventions to enhance quality of life.   Dr. Cronin-Golomb also has a long-standing interest in perception and cognition in Alzheimer's disease.  Her work and that of her students is supported by the National Institute of Health, the American Parkinson's Disease Association, the Boston University Digital Health Initiative, and the Boston University Interdisciplinary Biomedical Research Office, Affinity Research Collaborative (ARC).
What do we study?
Our primary research topics are listed below, along with the names of the students working on those projects. Individual lab members' web pages provide more information on these and other student studies.
Parkinson's disease (PD):
Dual-tasking

,

c

ognit

ion, learning and memory, creativity,

and walking:  Ollie Barthelemy

Q

uality of life, stigma

: Shraddha Kinger, Ryan Piers, Joshua Fox-Fuller, Rini Kaplan, Celina Pluim

Attentional training: Ollie Barthelemy, Shraddha Kinger, in collaboration with Dr. Joe DeGutis

, Boston VAMC

,

and Dr. Terry Ellis, Sargent College, BU, Center for Neurorehabilitation
Alzheimer's Disease, Collaborative Studies:
Digital Technology Initiatives for Precision of Measurement and Ecological Validity:
Measuring cognition and context (social setting, mood, alertness, motivation): Emma Weizenbaum.  Directed by Dan Fulford, Sargent College, BU

.

Measuring cognition

in the longitudinal Framingham Heart Study

:  Ryan Piers.  Directed by Dr. Rhoda Au, Boston University School of Medicine, Framingham Heart Study.
Brain Stimulation to Improve Cognition in Aging:
Using brain stimulation to improve working memory in older adults by restoring large-scale cortical interactions. Directed by Robert Reinhart, Department of Psychological and Brain Sciences, BU.   
Who participates in our studies?
Primarily, our studies recruit individuals who have been diagnosed with one of the disorders or conditions listed above (for example, Parkinson's disease) or healthy people of the same age group (usually aged 40 and older). These 'control' participants serve as an important reference, allowing us to know if test performance in our target population is, or is not, a normal aspect of growing older.  We also do studies of healthy aging.
Help scientists better understand these conditions. Learn how you can participate in a study.
What have we learned so far in our studies?
Research from our laboratory has been presented at national and international professional conferences and published in numerous peer-reviewed scientific journals.
Previous media coverage of our studies.  Our work has been featured by CBS News, Reuters Medical, CNN Medical News, Discoveries & Breakthroughs Inside Science (American Institute of Physics) syndicated science TV program, The Guardian (U.K.), the Los Angeles Times, the Boston Globe, and numerous other news media internationally.  Here are some reports on our recent work in Parkinson's disease and Alzheimer's disease:
American Academy of Neurology podcast, December 2016.  Effects of orthostatic hypotension on cognition in Parkinson disease, featuring our former student, Dr. Justin Centi, and the research he did in our lab.
MedScape article, December 15, 2016. Effects of orthostatic hypotension on cognition in Parkinson disease.
Faculti video, March 2016.  Visual factors and cognitive capacities in age-related neurodegenerative disease, featuring Dr. Cronin-Golomb.
Neurology Reviews, July 2015:  Environmental and behavioral interventions may alleviate nonmotor symptoms of Parkinson's disease
Neurology Reviews, May 2015:  Treatments for non-motor symptoms of Parkinson's disease.
Aspen Senior Care article, March 2015, The Red Plate Study.
And some from our own BU websites:
CAS Presents: Your Brain on Bingo with Alice Cronin Golomb (Nov. 2012)
Support for our studies
The lab is grateful for support from many sources, including the American Parkinson's Disease Association, the National Institute of Neurological Disorders and Stroke, the National Institute on Aging, and Boston University's Digital Health Initiative and Undergraduate Research Opportunities Program.  We also acknowledge Boston University's Interdisciplinary Biomedical Research Office for supporting our Affinity Research Collaborative on Alzheimer's disease.