News
Right now, our lab is conducting all its business remotely.  Please contact us by leaving a phone message
(617-353-6476) or sending an email (vcognition@gmail.com).
.
.
Congratulations to current doctoral student Shraddha Kinger for receiving a Clara Mayo Research Award from the Department of Psychological and Brain Sciences!  The award is for Shraddha's work on our online project, BOSS-PD (Boston University Online Survey Study of Parkinson's Disease) and its current offshoot, PD-COVID.
And congratulations to former lab member, Abhishek Jaywant, on being named a 2021 Rising Star by the Association for Psychological Science!  Abhi just published an important new paper, "Frequency and profile of objective cognitive deficits in hospitalized patients recovering from COVID-19", which you can access free online. https://www.ncbi.nlm.nih.gov/pmc/articles/PMC7884062/. He also published a popular op-ed piece called "What Working with COVID survivors taught me".
Two new lab papers came out in early 2021, one on retinal changes as a biomarker for preclinical Alzheimer's disease (with former doctoral student Yakeel Quiroz) and the other on the relation of contrast sensitivity to visual hallucinations in Parkinson's disease (led by former doctoral student Mirella Díaz-Santos, and with former doctoral student Rob Salazar and former undergraduate Zach Monge).  Congratulations to all collaborators!
Armstrong, G.W., Kim, L.A., Vingopoulos, F., Park J.Y., Garg, I., Kasetty, M., Silverman, R.F., Zeng, R., Douglas, V.P., Lopera, F., Baena, A., Giraldo, M., Norton, D., Cronin-Golomb, A., Arboleda-Velasquez, J.F., Quiroz, Y.T., Miller, J.B. (20).  Retinal imaging findings in PSEN-1-associated early onset familial Alzheimer's disease before onset of cognitive symptoms.  JAMA Ophthalmology.  doi:10.1001/jamaophthalmol.2020.4909.  Published online November 12, 2020.
Díaz-Santos, M., Monge, Z.A., Salazar, R.D., Gilmore, G.C., Neargarder, S., Cronin-Golomb, A. (2021).  Increasing contrast improves object perception in Parkinson's disease with visual hallucinations.  Movement Disorders Clinical Practice, 8(1), 51-59.  Published online November 17, 2020. doi.org/10.1002/mdc3.13104
Congratulations to Ollie Barthelemy on defending his dissertation!  Ollie held his defense in August 2020 on the project entitled, "Psychosocial impact on learning, memory, and creativity in populations at risk for dopamine network dysfunction".  As Ollie has already completed his internship, you may henceforth refer to him as Dr. Barthelemy.  Ollie is now a postdoc at Brown University and Butler Hospital. He's in the lower right of the Zoom photo (in DE-FENSE mode) with committee members Joe DeGutis, Alice Cronin-Golomb, and Sandy Neargarder (top row) and Mark Richardson and Michael Lyons (bottom row).   Great job, Ollie!
.
Congratulations to Emma Weizenbaum on winning the 2020 Walter G. McMillen Memorial Award for Parkinson's Disease Research, from the American Psychological Association's Div 20 (Adult Development and Aging)!  The McMillen award is designed to encourage graduate student interest in research on Parkinson's disease.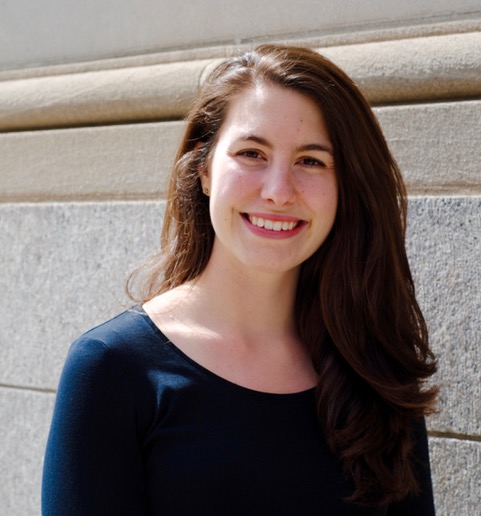 There is an award (plaque and honorarium) that is usually presented at APA's convention in August; at the remote conference Emma's award will be announced, with further acknowledgement of her accomplishment on the Division 20 webpage and in the Fall edition of the APA Division 20 newsletter.  The award is based on Emma's dissertation research.

Our lab has been honored with this award three times in the past, including to Justin Centi (in its inaugural year, 2011), to Deepti Putcha in 2013, and most recently to Ollie Barthelemy in 2017. Emma is a worthy addition to this list.  
Emma defended her dissertation in May (our lab's first doctoral defense by Zoom).  Her project was entitled, "Cognition 'in the wild': Using smartphones to assess cognitive variability in healthy adults and individuals with Parkinson's disease".  Here she is in the top row with her committee and other faculty including Alice Cronin-Golomb and Bonnie Wong; Michael Lyons, Vijaya Kolachalama, Dan Fulford; and John Torous.  She is currently on internship at MGH and has now accepted a postdoc to stay at MGH/Harvard Medical School.  Well done, Emma!
Rini Kaplan has been named a trainee in BU's NSF-funded Neurophotonics National Research Traineeship Program, where she will have access to professional development, mentoring, Student Leadership Council,  and more (http://www.bu.edu/neurophotonics-nrt/trainee-info/).  She is the first such trainee from our lab or from the Clinical Program.
.
Dr. Cronin-Golomb was an invited plenary speaker on the topic of "Non-motor symptoms of PD:  Seeing, thinking, feeling, sleeping" at 2020 Insight into Parkinson's: Future Frontiers, a global online Parkinson's conference, April 2020.
.
In April,
Samia Islam
 defended her senior honors thesis,
"Cortical thickness and cognition in the behavioral variant of frontotemporal dementia" (our first defense by Zoom!)  Her committee included Drs. Yakeel Quiroz (upper right) and Kristin Long (upper left).  In the fall, Samia will begin the PhD program at U Illinois Urbana-Champaign.  It's been great to have her working with us.
.
Emma Weizenbaum
 and our lab were featured in April for her smartphone cognition study in collaboration with the LAMP Consortium, of Beth Israel Deaconess Medical Center's Division of Digital Psychiatry.  Visit and scroll down to see Emma's video. 
https://www.digitalpsych.org/consortium.html
.
Many of our lab members presented talks and posters at the annual meeting of the International Neuropsychological Society in Denver in February 2020.  Many were also scheduled to present at meetings in March and April:  The meeting of the Eastern Psychological Society in Boston in March has been changed to an online version that will happen in June; the Cognitive Aging Conference in Atlanta has been postponed from April to probably fall, and we plan to share our findings then.
.
Scenes from INS 2020:  (left) Josh receives his award (described below), Emma gives her talk, Ryan presents his poster.
.
.
Current Students Spotlight:
—
Emma Weizenbaum (doctoral)
 has been selected for clinical internship at Mass. General Hospital.  We are glad she will not be leaving Boston!  Emma has also created a
blog
for the Institute for Health System Innovation and Policy at BU about her smartphone research on cognitive variability in healthy adults and in Parkinson's disease.  Shout-out to Emma on receiving funding from BU's Digital Health Initiative, and a Clara Mayo Research Award from the Department of Psychological and Brain Sciences, for this important and innovative research study.
—Josh Fox-Fuller (doctoral) received the International Neuropsychological Society's Phillip Rennick Award, a distinction that recognizes the best research presented by a graduate student at the 2020 Annual Meeting, for his work, Relationships between Cortical Thickness with Episodic Memory, Age, and In Vivo Pathology in a Colombian Cohort with Familial Alzheimer's Disease.  Josh was also selected by the INS Student Liaison Committee to be the new member-at-large for the 2020-2022 term. A third big reason for congratulations is that Josh was awarded an NRSA from NIH.  This is a 3-year award to support his project, "Working Memory in Preclinical Alzheimer's Disease: a Neuropsychological and Neuroimaging Investigation", collaborating with Yakeel Quiroz at MGH.  Josh also recently published his review of research on the Colombian cohort of people with familial AD.
—Ryan Piers (doctoral) produced strong work resulting in a grant award from the American Parkinson Disease Association to study telehealth CBT for depression in PD.
—
Celina Pluim and Rini Kaplan (doctoral)
are now representatives to the Association of Neuropsychology Students and Trainees (ANST), 
the trainee organization of the
Society for Clinical Neuropsychology (SCN)
, Division 40 of the 
American Psychological Association (APA)
.
—Undergraduate awards!  The Department of Psychological and Brain Sciences has conferred 2020 commencement awards upon 2 of our seniors:  Samia Islam has won the Richard Ely Honors in Psychology Award for "outstanding honors project", and Jackie Moran has won the Psychology Research Award for "excellent work in a lab, often registered for directed study or honors in psychology".  BU's Undergraduate Research Opportunities Program granted summer research awards to our rising seniors, Juliana Wall and Dong-Ho Kim; they also received UROP awards for the fall to continue their work, and a new award was made to Lucía Cerón Giraldo.
.
Former Students Spotlight:
An important journal article has just been published by former doctoral student
Uraina Clark
, "Addressing racism and disparities in the biomedical sciences" (U.S. Clark & Y.L. Hurd), in Nature Human Behavior, July 10 2020. 
doi: 10.1038/s41562-020-0917-7
. It's an excellent contribution to current hard conversations. Uraina's research program at Mt. Sinai focuses on neuropsychological problems in HIV including neural mechanisms, and the impact of various types of stress, such as childhood adversity or chronic stress, in cognition, behavior, and brain changes in people with and without HIV.  We are grateful for Uraina's terrific work.
.
News from the COVID-19 front:  Former doctoral student 
Abhishek Jaywant
is now a frontline worker, conducting brief psychotherapy with  inpatients at NY Presbyterian- Cornell's
new COVID Survivor and Recovery Unit
in NYC.  Abhi assures us that there are sufficient PPEs including N95s, surgical masks, and face shields.  Though he was not exactly trained for this situation, we know that Abhi will do a great job, as he has always done in everything.  We wish him safety and success– and apparently so does everyone who contributed to the Wall of Support!
**Update:  Abhi and colleagues have a journal article on what they have been doing, available through Science Direct, or contact us): "Behavioral interventions in acute COVID-19 recovery:  A new opportunity for integrated care" (A. Jaywant et al., General Hospital Psychiatry, 7 July 2020, in press, https://doi.org/10.1016/j.genhosppsych.2020.07.001).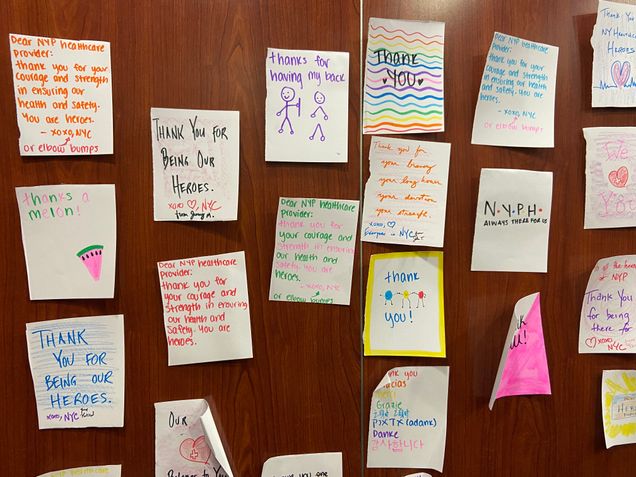 .
Our former undergraduate, Zach Monge, has been out of the lab long enough to get a Ph.D. from Duke.  Zach defended his dissertation in April on the topic, "Age-Related Differences in Mnemonic Neural Representations: Perceptual and Semantic Contributions", under the supervision of Dr. Roberto Cabeza.  Congratulations, Zach!

.
Recent papers from the lab:
Reynolds, G.O., Saint-Hilaire, M.-H.; Thomas, C.A.; Barlow, D.H., Cronin-Golomb, A. (2020).   Cognitive-behavioral therapy for anxiety in Parkinson's disease. Behavior Modification, 44(4), 552-579. Epub 2019 Mar 31.  PMID: 30931594. doi.org/10.1177/0145445519838828.
Fuller, J.T., Cronin-Golomb, A., Gatchel, J.R., Norton, D.J., Guzmán-Vélez, E., Jacobs, H.I.L., Hansseuw, B., Pardilla-Delgado, E., Artola, A., Baena, A., Bocanegra, Y., Chen, K., Tariot, P., Johnson, K., Sperling, R.A., Reiman, E.M., Lopera, F., Quiroz, Y.T. (2019). Cognitive and brain imaging markers of presenilin1 e280a autosomal dominant Alzheimer's disease: Findings from the Colombian kindred.  Journal of Prevention of Alzheimer's Disease, 6, 112-120.
Salazar, R.D., Moon, K.L.M., Neargarder, S., Cronin-Golomb, A. (2019). Spatial judgment in Parkinson's disease: Contributions of attentional and executive dysfunction. Behavioral Neuroscience, 133(4), 350-360. PMC6629466. 
Salazar, R.D., Weizenbaum, E., Ellis, T.D., Earhart, G.M., Ford, M.P., Dibble, L.E., & Cronin-Golomb, A. (2019). Predictors of self-perceived stigma in Parkinson's disease. Parkinsonism and Related Disorders, 60, 76-80. PMID:30297211
Wu, J.Q. & Cronin-Golomb, A. (2019).  Temporal associations between sleep and daytime functioning in Parkinson's disease: A smartphone-based ecological momentary assessment. Behavioral Sleep Medicine.  Published online June 14, 2019. https://doi.org/10.1080/15402002.2019.1629445
Cronin-Golomb, A., Reynolds, G.O., Salazar, R.D., Saint-Hilaire, M.-H. (2019).  Parkinson's disease and Parkinson-plus syndromes. In:  Oxford Handbook of Adult Cognitive Disorders, R.A. Stern & M.L. Alosco (eds.).  New York: Oxford University Press, pp. 600-630.  E-pub May 2019, doi: 10.1093/oxfordhb/9780190664121.013.28
Some our our recent publications describe studies led by former doctoral students Gretchen Reynolds on the use of CBT for anxiety in PD, Jade Wu using smartphones to examine sleep in PD, Rob Salazar on two studies:  predictors of self-perceived stigma in PD, and cognitive correlates of spatial judgment in PD, and Josh Fox-Fuller on biological and cognitive markers in the Colombian cohort of early-onset AD.  Collaborators on these projects include former students Yakeel Quiroz and Dan Norton and current student Emma Weizenbaum.  Gretchen and Rob also collaborated on our new chapter on PD and Parkinson-plus syndromes.
.
Memories of 2019
Dan Norton started a tenure-track faculty position at Gordon College in fall 2019, preceded by a visit to our lab.  It was also great to see former students Xiaolin Ren, visiting us from Beijing, and Mike Ward, in from the west coast and still working to cure AD.  Former students and current AD researchers Yakeel Quiroz and Rebecca Melrose finally met at the AAIC (AD) meeting in summer 2019 in LA.  Great to see so many former students making a difference. Our former undergraduate lab member, Beyza Sahin Gun, presented her senior thesis study on art in PD at the APS conference in Washington DC in spring 2019 as well as at the scientific session of the Massachusetts Neuropsychological Society, where she was named runner-up for the Nelson Butters award– unheard of for an undergraduate project.  Well done.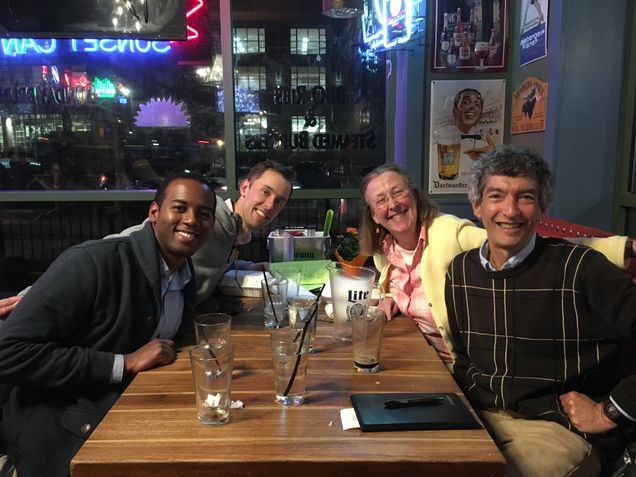 Above, from left, Ollie, Dan, Alice, and Mark Cronin-Golomb post-Dan's presentation.
Xiaolin visits from Beijing, 5-19         Rebecca and Yakeel, 7-19
.
Memories of 2018
Graduation time!  A toast to Erica Appleman and Jade Wu as they become distinguished alumnae of the BU Clinical Psychology program.  The celebration was enhanced by a visit from alum Abhi Jaywant, who is always welcome here.
Defenses!  March and April were busy with doctoral defenses by Jade on "Circadian rhythm and sleep in Parkinson's disease:  Associations with cognition and mood", and Erica on "Cognitive dysfunction, depression, and inflammation as potential pre-diagnostic markers of Parkinson's disease".  
They've now finished internships and started postdocs to Duke (Jade) and Bedford VA (Erica).  Their committees:  In common are Michael Lyons, Sandy Neargarder, and Alice Cronin-Golomb.  Jade also had Bonnie Wong, and Terry Ellis (not pictured, but see her below in Rob's defense photo).  Erica also had Marcy Tompson and Rhoda Au.

April is also when undergraduates defend their senior honors theses. Congratulations to our terrific undergrad, Beyza Sahin Gun, who presented her thesis on painting in individuals with Parkinson's disease to her committee, including Donna Pincus, Alice Cronin-Golomb, and Erika Wells (left photo).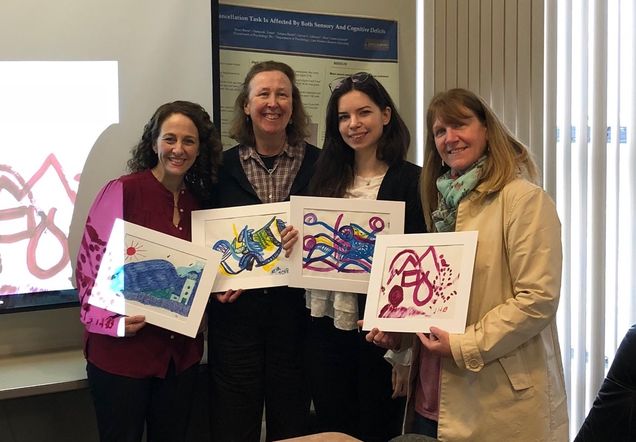 It's not all standing around for static group shots, as Jade and Erica demonstrate at the traditional post-defense celebration at Eastern Standard (right photo).
Memories of 2017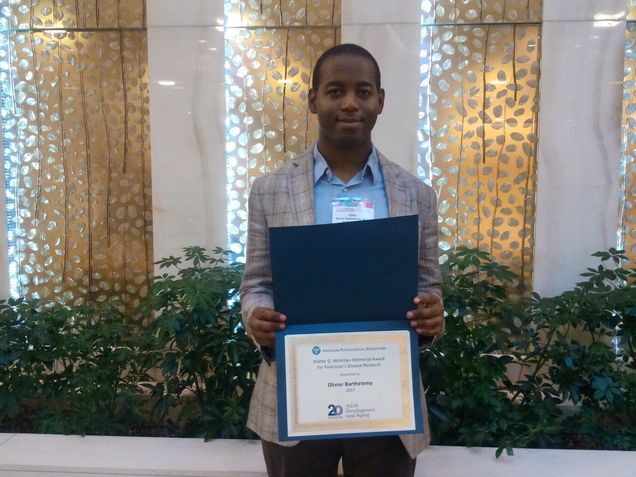 • Ollie Barthelemy won the 2017 Walter G. McMillen Award for Parkinson's Disease Research from the American Psychological Association, Division 20 (Adult Development and Aging). Here he is accepting the award at the APA meeting in August in Washington, D.C. Ollie is the third BU clinical neuropsychology student to win this award. Justin Centi won the inaugural award in 2011, and Deepti Putcha won in 2013.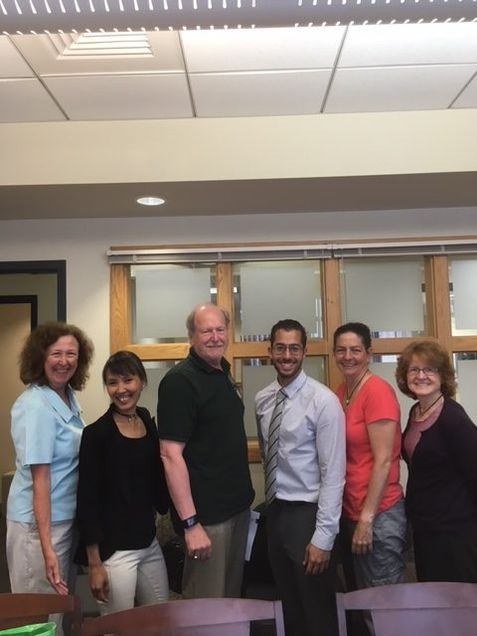 • Defenses and graduations! Rob Salazar defended his dissertation last June. His defense committee:  Alice Cronin-Golomb, Bonnie Wong, Michael Lyons, Sandy Neargarder, and Terry Ellis. Gretchen Reynolds donned the cap and gown for graduation in May.
• Erica Appleman and Jade Wu received Clara Mayo Research Awards from the Department of Psychological and Brain Sciences, spring 2017. Great support for great research!
• Jade Wu had a busy spring semester. Besides winning a Clara Mayo Research Award, she was also Featured Trainee in the January newsletter of the Sleep Research Society, and took first place in the Boston University 3 Minute Thesis competition. To see more of Jade in action, visit BU's website about it .
• Emma Weizenbaum was named the Outstanding Teaching Fellow of the Department of Psychological and Brain Sciences for academic year 2016-2017. Emma has been TF for PS101 and for PS338 Neuropsychology. Her students love her and so do the instructors she serves with.
• Joshua Fuller is no longer our "new" doctoral student, as he is now finishing Year 2. In 2017 he came to us from Texas A&M University, where he won a Graduate Fellowship, Honor Society of Phi Kappa Phi, and Brown Foundation- Earl Rudder Memorial Outstanding Student Award.
Former Student News
Jade Wu, PhD, is now a postdoctoral fellow at Duke University, specializing in health psychology with focus on behavioral sleep medicine and women's mental health.  Here's her new site where you can find out what she is up to.
Erica Appleman, PhD, is now a neuropsychology postdoctoral fellow at Bedford Veterans Hospital in Bedford MA.
Mirella Diaz-Santos, PhD (right) met up with another veteran of our program, Rebecca Melrose, PhD, at the 2018 Advanced Psychometrics Workshop at Lake Tahoe this year.  Both are based at UCLA but only now finally found each other.  Small world when you've come from the BU Clinical Psychology Program!
`

`
Karen D. Sullivan, PhD, ABPP opened her private practice, Pinehurst Neuropsychology, envisioning a new type of brain health experience for patients and their families. With a passion for psychoeducation and evidence-based recommendations, she has developed a regional following and loves to spread the word about the power of neuropsychology! You can learn more about how she is doing that in a 2017 article in an award-winning NC magazine for older adults. In 2016, Dr. Sullivan took her brain outreach to the next level with the I CARE FOR YOUR BRAIN program, offered both online and in retirement communities. The goal of her program is to combat misinformation about brain health targeted to older adults, including some so-called "brain fitness" products that have little to no scientific efficacy, with evidence-based recommendations that actually work.
Uraina Clark, PhD (Icahn School of Medicine at Mount Sinai, New York), and Daniel Seichepine, PhD (University of New Hampshire, Manchester) were named "Rising Stars" and they, along with Bonnie Wong, PhD of our lab, were invited to attend the Geriatrics Research conference: From Bench to Bedside Workshop, National Institute on Aging U13/American Geriatrics Society in October 2017 in Washington, D.C.
Yakeel Quiroz, PhD had her research on familial Alzheimer's disease featured in congressional testimony given in June, 2017 by the Director of the National Institutes of Health, Dr. Francis Collins—one of only three early-career investigators to be so featured. Watch the testimony here. Find out more about her very important research by clicking here. For a very different career path leading to the same AD study, see this profile of another of our former students, Dr. Mike Ward, from Genentech, Research and Early Development (gRED) news, Oct. 2016.
See our Awards and Recognitions page for a full list of accolades of our current students and some of our former students, too.
Your Brain on Bingo!
Watch this informative video, where Dr. Cronin-Golomb discusses Alzheimer's and Parkinson's diseases and the way visual cues effect patient's ability to comprehend Bingo.
Visual factors in Alzheimer's disease and food intake
Read about one of our publications in which food intake in Alzheimer's disease was increased by manipulating visual factors – in this case, changing the color of the dinner plates.