Vision & Cognition Laboratory
The Boston University Vision & Cognition Laboratory focuses on perception and cognition in aging and neurological conditions, with a special focus on Parkinson's disease. Our research has been presented at national and international professional conferences and published in numerous peer-reviewed scientific journals.

We are called the Vision and Cognition Lab because these are our traditional areas of research. The broader heading of what we do is Neuropsychology. Some people like to split this field into behavioral neuroscience, which focuses on fundamental brain-behavior relations, and clinical neuropsychology, which focuses on assessment and treatment of psychological and behavioral symptoms that arise from neurological conditions or other changes in the brain. We do both in our lab.
Current News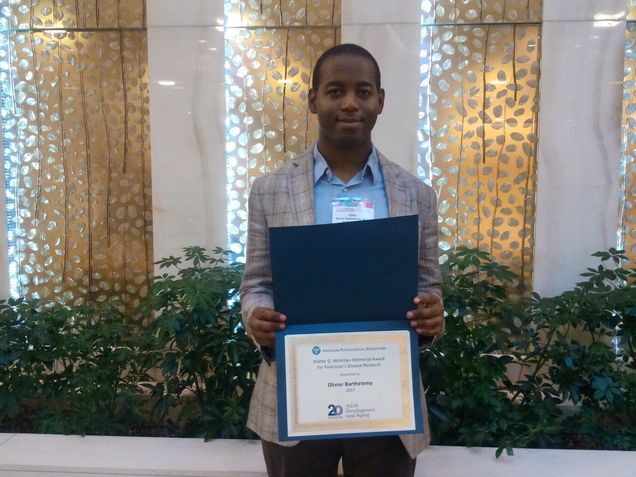 • Ollie Barthelemy has won the 2017 Walter G. McMillen Award for Parkinson's Disease Research from the American Psychological Association, Division 20 (Adult Development and Aging). Here he is accepting the award at the APA meeting in August in Washington, D.C. Ollie is the third BU clinical neuropsychology student to win this award. Justin Centi won the inaugural award in 2011, and Deepti Putcha won in 2013. Congratulations, Ollie!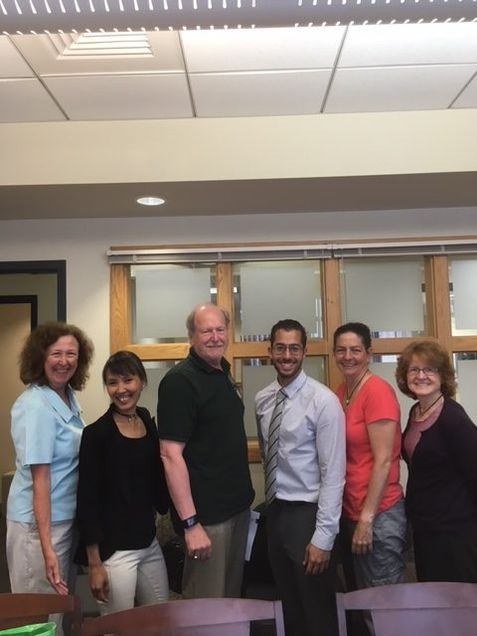 • Defenses and graduations! Rob Salazar defended his dissertation in June, and Gretchen Reynolds donned the cap and gown for graduation in May. Heartiest congratulations to both of you!

• Rob with his defense committee: Drs. Alice Cronin-Golomb, Bonnie Wong, Michael Lyons, Sandy Neargarder, and Terry Ellis (Left).

• Gretchen in her BU colors, with Alice (Right).

• Erica Appleman and Jade Wu received Clara Mayo Research Awards from the Department of Psychological and Brain Sciences, spring 2017. Great support for your great research, Erica and Jade!

• Jade Wu had a busy spring semester. Besides winning a Clara Mayo Research Award, she was also Featured Trainee in the January newsletter of the Sleep Research Society, and took first place in the Boston University 3 Minute Thesis competition. To see Jade in action, click here. And here is a link to BU's website about it . Well done, Jade!

• Emma Weizenbaum was named the Outstanding Teaching Fellow of the Department of Psychological and Brain Sciences for academic year 2016-2017. Emma has been TF for PS101 and for PS338 Neuropsychology. Her students love her and so do the instructors she serves with. Thanks, Emma!

• Joshua Fuller is our newest doctoral student. He comes to us from Texas A&M University, where he won a Graduate Fellowship, Honor Society of Phi Kappa Phi, and Brown Foundation- Earl Rudder Memorial Outstanding Student Award. Have a look here and here. Welcome to the lab, Josh!
Former Student News
Dr. Uraina Clark (Icahn School of Medicine at Mount Sinai, New York), and Dr. Daniel Seichepine (University of New Hampshire, Manchester) were named "Rising Stars" and they, along with Dr. Bonnie Wong of our lab, were invited to attend the Geriatrics Research conference: From Bench to Bedside Workshop, National Institute on Aging U13/American Geriatrics Society in October 2017 in Washington, D.C.

Dr. Yakeel Quiroz had her research on familial Alzheimer's disease featured in congressional testimony given in June, 2017 by the Director of the National Institutes of Health, Dr. Francis Collins—one of only three early-career investigators to be so featured. Watch the testimony here. She also has organized the COLBOS team for the Walk to End Alzheimer's. Please consider joining, and feel free to invite your friends/family. The walk will be on Sept 24 in Cambridge, MA. Click here to view the team's page. COLBOS is the nickname of her research project on familial AD (COL for Colombia and BOS for Boston). Find out more about her very important research by clicking here. For a very different career path leading to the same AD study, see this profile of another of our former students, Dr. Mike Ward, from Genentech, Research and Early Development (gRED) news, Oct. 2016.

See our Awards and Recognitions page for a full list of accolades of our current students and some of our former students, too.
Your Brain on Bingo!
Watch this informative video, where Dr. Cronin-Golomb discusses Alzheimer's and Parkinson's diseases and the way visual cues effect patient's ability to comprehend Bingo.
Watch the Video on YouTube »
Visual factors in Alzheimer's disease and food intake
Read about one of our publications in which food intake in Alzheimer's disease was increased by manipulating visual factors – in this case, changing the color of the dinner plates.
Read the story on CBS.com »