Alumni Spotlight: Luisa Godinez-Puig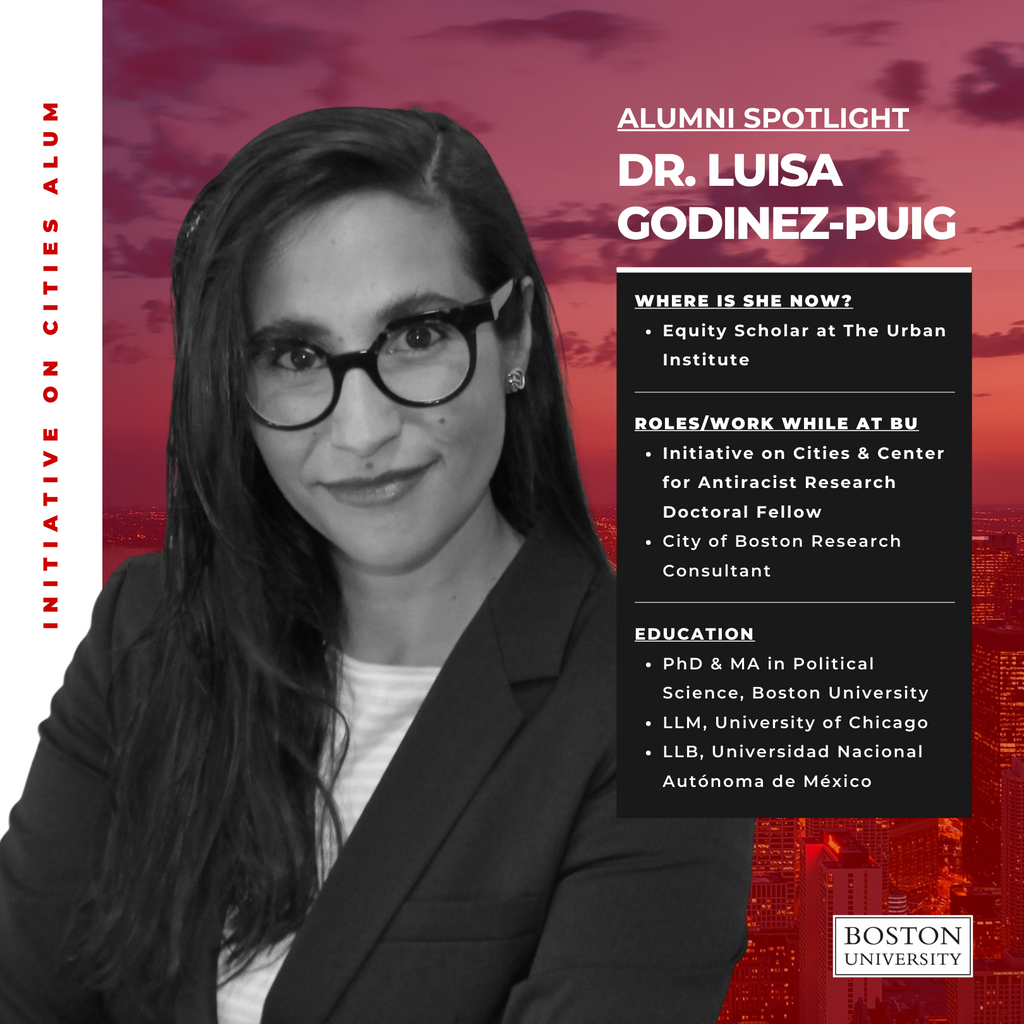 Alumni Spotlight is a series highlighting former affiliates of the Initiative on Cities (IOC).  We catch up with our alumni to feature their current work, updates, and accomplishments. Today, we highlight Dr. Luisa Godinez-Puig, a former Doctoral Fellow with the Initiative on Cities.
Luisa Godinez-Puig is an Equity Scholar at the Urban Institute, a D.C.-based think-tank on equity and social mobility. Before joining Urban, she worked as a doctoral fellow at the Initiative on Cities and the Center for Antiracist Research at Boston University. She was also a consultant for the City of Boston during her time at BU. Furthermore, she had stints as a research consultant at the Inter-American Development Bank and the Organization of American States in Washington, DC.
Luisa's work has been published in Urban Affairs Review, Public Health Reports, the Journal of Ethnopolitics, and the Monkey Cage blog of the Washington Post. At the Urban Institute, her research intersects race, ethnicity, racism, and urban politics, and her research agenda focuses on three main points:
Analyzing the politics behind government fragmentation from an equity lens and its effects on racial inequities.
Studying how local governments can implement equity-focused initiatives, how local policies affect racial and ethnic inequities and effectively distribute social safety net programs, and how local governments can implement technological developments with an equity lens.
Focusing on the potential of local participation to bridge racial and ethnic inequities.
Luisa holds a doctorate and an MA in political science from Boston University, a master of laws degree from the University of Chicago, and a law degree (JD equivalent) from Universidad Nacional Autónoma de México.
Recently, Luisa has published two research briefs. One is a case study on government outreach for the Child Tax Credit to immigrant communities in Boston. Another is an examination of how federal and state governments can leverage money transfers to promote more inclusionary housing in exclusionary local governments. You can read both briefs here:

Child Tax Credit Outreach
Federal & State Money for Inclusionary Housing