BU Establishing New Data Sciences Faculty Unit
New academic entity aims at preparing students for work of tomorrow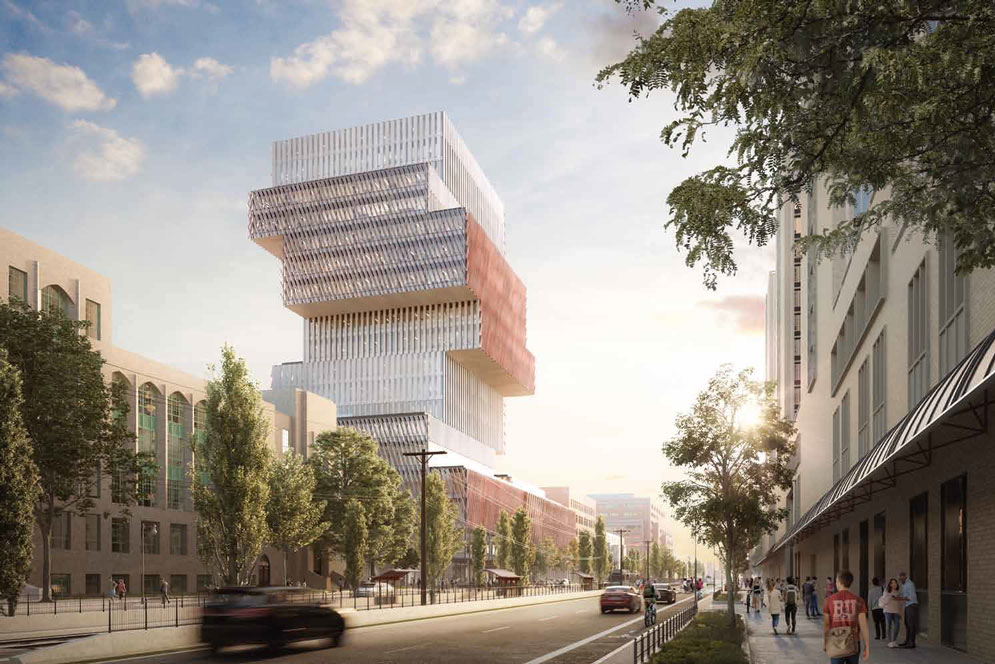 The creation of the Faculty of Computing & Data Sciences and the construction of the Center for Computing & Data Sciences (shown above) will help BU equip generations of students with data science expertise. Image courtesy of KPMB Architects. 
With BU planning to build a state-of-the-art Center for Computing & Data Sciences at the heart of its Commonwealth Avenue campus, President Robert A. Brown and Provost Jean Morrison announced this week they will propose to the Board of Trustees to create a novel collaborative, interdisciplinary faculty unit that will further strengthen the University's commitment toward this exploding field in research and education.
In a letter sent to the BU community, Brown and Morrison said the aim of the new unit, to be called the Faculty of Computing & Data Sciences (CDS), will be to bolster University efforts to hire and retain faculty across all the disciplines that intersect with computing and data sciences. And it will facilitate educational and research programs that will attract ambitious and academically accomplished undergraduate and graduate students who will be well prepared to do the work of the future. The new Faculty of Computing & Data Sciences, they said, will have a collaborative structure that serves as an interface between the traditional academic departments and faculty and students interested in computing and data sciences.
"The creation of the Faculty of Computing & Data Sciences and the construction of the Center for Computing & Data Sciences gives Boston University the ingredients to be a leader in the development of computing and data sciences and their applications across the University and to educate generations of students with this competency," says Brown.
Morrison, who also serves as BU's chief academic officer, says the distributed nature of the Faculty of CDS is well suited to a field that has been embraced by departments across the University.
"Student demand for education in computing and data sciences is pervasive across our schools and colleges," she says. "There are exciting opportunities for research in these disciplines and in their application, and the University is responding to these opportunities."
Brown says the structure of the new academic unit was recommended by a special Task Force to Envision Data Sciences at Boston University, chaired by Daniel Kleinman, associate provost for graduate affairs and a College of Arts & Sciences professor of sociology, and Azer Bestavros, a William Fairfield Warren Distinguished Professor, a CAS professor of computer science, and founding director of the Rafik B. Hariri Institute for Computing and Computational Science & Engineering.
"In meetings with the faculties of BU's schools and colleges the task force found support for a new kind of academic unit," Brown says. "The Faculty of CDS will be led by a newly appointed associate provost for computing and data sciences, and will be composed of members with full-time appointments in the new unit and faculty members with 50 percent appointments in the CDS and 50 percent in a traditional school or college."
Morrison says strategies for faculty hiring and academic programs will be developed in consultation with an academic advisory council composed of academic leadership and faculty from the schools and colleges with the largest interfaces with the Faculty of CDS. The Hariri Institute will have a similar advisory group focused on setting the research priorities of the Institute.
The provost will solicit input into who should serve as the associate provost for computing and data sciences, and will lead the formation of committees to advise on important administrative policies and strategic faculty issues such as tenure, curriculum, and new programs.
Bestavros praises the University's decision to create this type of new unit. "Setting up a faculty body with some significant number of members who are also embedded in existing departments and colleges marks an important departure from the typically siloed organization of academic units," says Bestavros. "It speaks volumes to BU's forward-looking institutional strategy that recognizes the significant synergies that result from connecting like-minded scholars from a multitude of traditional disciplines with one another."
The move to create a new faculty unit comes less than a year after BU unveiled proposed plans to build its Center for Computing & Data Sciences at the corner of Comm Ave and Granby Street. The dramatic building, which would bring the mathematics and statistics and computer science departments under one roof, would be the first major teaching center on the Charles River Campus in half a century, and if approved by the city of Boston, the tallest building on campus.
BU's investment in the world of data and computer sciences comes at a time when companies large and small are gobbling up unfathomable amounts of data every day and finding new ways to study and analyze and use it. Google handles 40,000 searches per second, or 3.5 billion per day. Four million videos are watched on YouTube a day, nearly 500,000 tweets are sent on Twitter every second, and roughly 11 million Apple Pay transactions are made every day.
Kleinman, whose role includes the oversight of BU's roughly 2,000 doctoral students, says the interdisciplinary nature of the new effort offers significant benefits to the University. "Ideally, it's about crossing boundaries and building bridges, so a traditional college and departmental structure is likely not the best way to bring the greatest possible benefits of data science to BU," says Kleinman. "Instead, we need a porous organization, one that interested faculty and students can enter with ease. Furthermore, given the challenges of building an interdisciplinary field in a disciplinary environment, which universities are, we need an entity that can offer tenure to faculty who might not easily fit in disciplinary units, and that can provide salary support for faculty fully or partially appointed in the new unit. The new Faculty of CDS has been conceived with a clear recognition of the challenges of building an interdisciplinary initiative in a university organized primarily around disciplines."
Stan Sclaroff, dean of Arts & Sciences and a professor of computer science, says the creation of the new Faculty of CDS will help deepen the data science research and teaching that is now happening in programs across the University, on both the Charles River Campus and the Medical Campus.
"The establishment of joint faculty appointments in the Faculty of CDS provides a crossroads for like-minded faculty and students who are applying data science methods in the social sciences, natural sciences, and humanities," says Sclaroff. "It also does so for faculty from the professional schools like LAW, Questrom, Communication, MED, School of Public Health, and elsewhere, whose research is propelled by massive advances in the computational and data sciences."
"Experts in fields like electrical and computer engineering, computer science, and mathematics and statistics are forging foundational advances in core areas of data science, like machine learning, algorithms, and statistics," he says. "Continued advances in these areas feed directly into cross-disciplinary, computational, and data sciences applied research. Thus, having a faculty of data science affiliation and access to community promises to be a powerful attractant for top faculty and students. And the planned Data Sciences Center provides a locus for the data science community on the Charles River Campus."
In their letter to the community, the president and the provost said they hope to have the detailed planning of the Faculty of Computing & Data Sciences well underway by the time the Board of Trustees moves to approve its formation at its September meeting.